Supporting the Melanoma Community on #GivingTuesday

From the desk of MRF CEO Kyleigh LiPira:
Tomorrow, November 29th is #GivingTuesday, a global day of giving to the charities that help support the causes that matter most. This year, our goal is to raise $100,000 to directly support the melanoma community and ultimately find a cure. Our advocates are truly amazing, they courageously share their stories to help educate the public and raise critical funds supporting pivotal and innovative research that continues to foster progress with new FDA-approved treatment options, so desperately needed. Read Nicolette's story, an ocular melanoma thriver who was diagnosed at the age of 22. She uses her story to raise funds for the CURE OM initiative through her Miles for Melanoma Team Nicolette's Eye Believers. Find courage in Shannon's story, who received her melanoma diagnosis at the young age of 13 and shared her story during Childhood Cancer Awareness Month in September. Finally, gain inspiration from Olympic Gold medalist, Summer Sanders' story as she recounts the biggest competition of her life - beating melanoma - and her current mission to use her platform to educate people on melanoma prevention and early detection.
Our funding comes 100% from the community we serve. We hope you will choose to invest in the MRF and the community we all belong to. It allows all of us to come together with one goal in mind: curing melanoma. Neutrogena™, our National Prevention Partner, will match the first $20,000 raised on Tuesday allowing us to make YOUR tax-deductible donation go that much further. Beginning tomorrow at 6:00AM ET, click the button below to make your donation - it takes just a few minutes to complete the form and bring us one step closer to a cure.
Thank you for supporting our mission. Thank you for sharing your stories with us and thank you for creating hope that will lead to the promise of tomorrow. Progress is Power!

With gratitude,




.
#GetNakedJax Supporting Women in Science

On October 13th more than 150 guests attended the second annual #GetNakedJax event at the Yards at TPC in Ponte Vedra, Florida. Event Chair and melanoma survivor Jason Sessions and his family are dedicated to helping create awareness about melanoma in the Jacksonville area, empowering and educating the community on the importance of skin screenings and early detection and funding critical research that will lead to more treatment options. In 2021, the event raised over $87,000 to support a pediatric melanoma research grant. This year, the event raised over $158,000 and will support a 2023 Women in Science Research Grant.
Thank you to the Sessions family and Jacksonville community for such an incredible event and all that you do to advance life-saving melanoma research!

Eye on OM Corner: Announcements for the Ocular Melanoma Community

In November, we celebrated ocular melanoma (OM) awareness month to increase awareness about OM, celebrate the patients and caregivers in our community and raise research funds for the next treatment breakthrough. Throughout the month we shared blogs and social media posts from patients and clinicians, helpful resources from partners like the American Academy of Ophthalmology, and patient testimonials from the recent Eyes on a Cure: Patient and Caregiver Symposium. Additionally, the next patient symposium was announced to be on March 31 – April 2, 2023 at Moffitt Cancer Center in Tampa, Florida and registration is now open!

Advancing OM education, CURE OM hosted an interactive "Ask the Expert" webinar on November 3, titled Liver Directed Therapies for Metastatic Uveal Melanoma sponsored by TriSalus Life Sciences, and you can also register for a second webinar titled Centering the Patient Voice in Research on November 29, sponsored by Castle Biosciences. An OM Patient Survey was shared to help guide the future of our OM research program, which will remain open until December 4.
Raising critical funds for OM research, you can text #EyeGetDilated to 707070 to make a fast and easy donation to CURE OM. On November 19, the fifth annual Your Next Step is the Cure 5k was hosted by CommUNITY Fundraisers Linda and Bernadette in Tampa, FL, bringing together more than 230 participants and virtual participants from 19 states and Canada.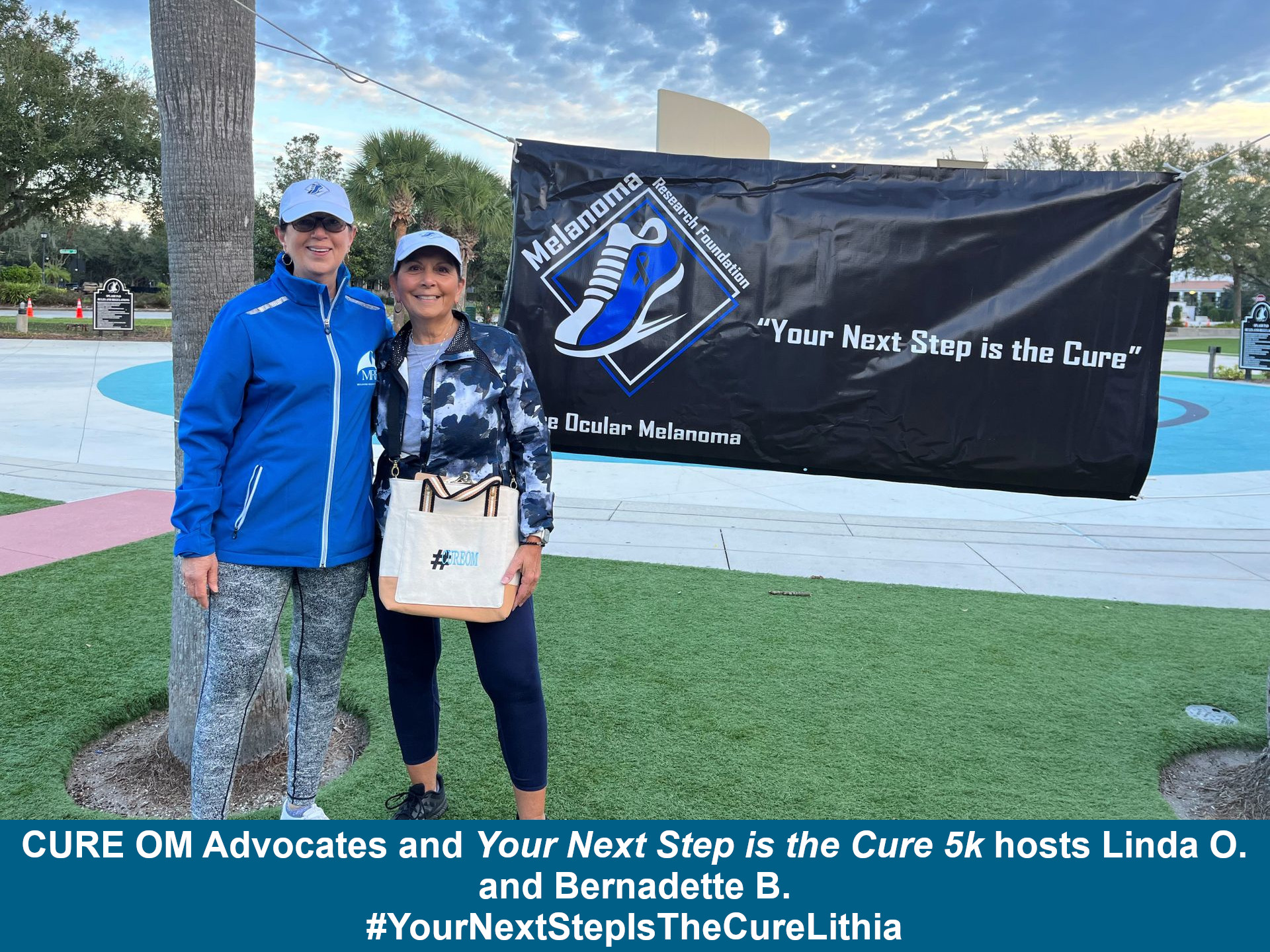 Thank you to everyone who made ocular melanoma awareness month such a success! OM patients and caregivers remain at the center of all that we do, and we are incredibly grateful for such a generous, engaged community.
Improving Access and Equity of Melanoma Care

The impact of socioeconomic status, race/ethnicity, place of residence, insurance status and other demographics cannot be understated when examining health outcomes for melanoma patients. On Friday, November 18, we hosted the Improving Access to & Equity of Melanoma Prevention & Care meeting to discuss different patient demographics and the potential disparities that exist in accessing quality care. Melanoma researchers, physicians and foundation partners participated in an impactful workshop focused on identifying populations at highest risk for lethal melanoma, improving access to melanoma prevention and care, and facilitating melanoma health communications.
Thank you to Platinum Sponsor Alkermes, Gold Sponsor Bristol Myers Squibb, Silver Sponsor Novartis and New Supporter Nektar for supporting this important collaborative workshop.
Uniting Mucosal Melanoma Patients and Researchers

Coming up on December 16 in New York City, patients and caregivers are invited to join researchers at a hybrid workshop focused on increasing collaboration between the patient and scientific communities. The meeting will focus on clinical challenges, clinical trials, basic/translational science and future collaborations in mucosal melanoma. Click the button below for more information about the meeting and how to register. Thank you to Alkermes, Bristol Myers Squibb, Nektar and Novartis for sponsoring this educational opportunity.

Mid-Career Bridge Grants: Apply Now!

Don't forget: We are accepting applications for Mid-Career Bridge Grants, a new grant type introduced this year with the final application deadline approaching quickly. The purpose of the Mid-Career Bridge Grant is to support established melanoma researchers who have pre-existing R01s and have applied for an NIH R01 grant that was scored, but not funded. The Mid-Career Bridge Grants will be awarded once more in 2022, with the final application deadline of December 15. More information can be found in the Request for Proposals (RFP).

A Hollywood Ending for the Miles Season

In November, Miles for Melanoma hosted two exciting events in Atlanta and San Francisco; both events exceeded their fundraising goal and in total raised more than $80,000 for melanoma research, education and advocacy! One event remains and we look forward to seeing our friends in Los Angeles on December 3 to finish out the 2022 Miles for Melanoma season. There's still time to register for the LA run/walk or donate to your favorite team, and THANK YOU to everyone who helped to make this Miles for Melanoma season a tremendous success!
If you attended a Miles for Melanoma event this year, we want to hear from you! Please take a moment to fill out this brief survey to tell us what you liked about the event, and which areas we can improve to make next year's run/walk even better. We look forward to seeing you there!


1420 K Street, NW 7th Floor Washington, DC 20005 | Tel: (800) 673-1290
Melanoma Research Foundation © 2023 All rights reserved.