Advocating for the Melanoma Community

From the desk of MRF CEO Kyleigh LiPira:
Next week, nearly 100 melanoma advocates from across the United States will gather in our nation's capital to share their story with lawmakers and advocate for the need for more federally funded research, access to telehealth, diversity in clinical trials and critical policies related to melanoma prevention. "Advocacy Days is a unique opportunity for melanoma advocates from all over the country to learn about the issues driving melanoma care, research and outcomes from leading experts and use that knowledge to advance care for melanoma patients no matter where they live. Sharing stories with members of Congress really gives the melanoma community a seat at the table," said Kim Watkins, Advocacy Officer.

Today is Rare Disease Day and an important inclusion to the Department of Defense (DoD) Fiscal Year 22 research ask is a specific funding request for rare melanoma research to support the ocular, mucosal, acral and pediatric melanoma communities. Although these forms of melanoma represent a small number of the overall melanomas diagnosed each year, they are significantly under-funded, have far fewer treatment options and often make these communities feel isolated and alone.

In addition to our efforts both on the federal and state level, the MRF leads a Global Melanoma Coalition since 2014 which involves 44 advocacy groups from around the globe. The goal of the coalition is to bring together the leading melanoma organizations, governments and pharmaceutical companies throughout the world to provide patients with the latest information on treatments, access and prevention strategies. "The Global Melanoma Coalition has successfully harnessed the collective power of melanoma organizations worldwide to raise awareness about melanoma prevention and treatments," said Kim Watkins. "The MRF is proud to lead and support this coalition of dedicated, innovative individuals."

If you would like to become more involved with the Advocacy program and receive the quarterly advocacy newsletter, sign up here and make your voice heard!

With gratitude,




.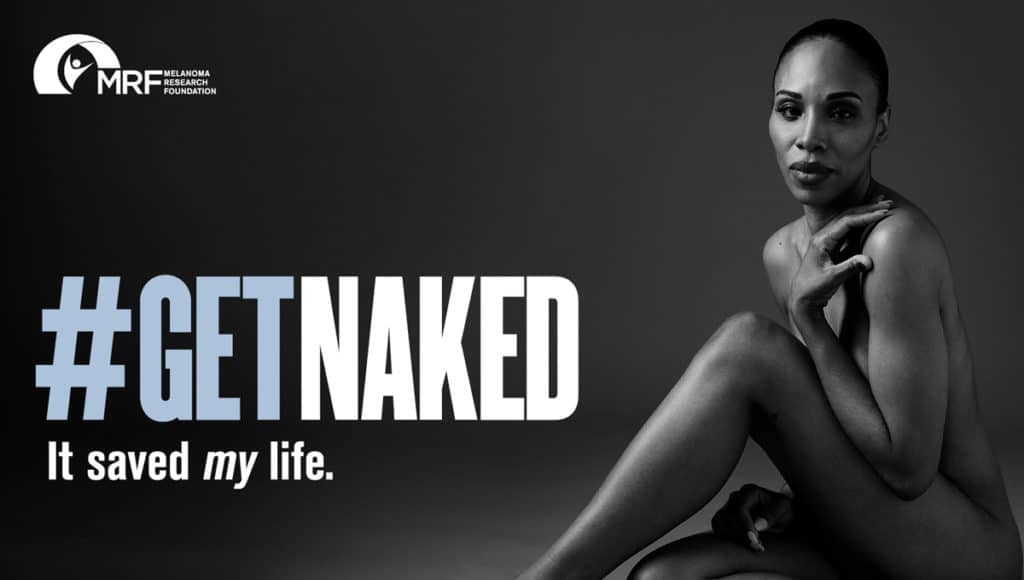 Increasing Awareness of Melanoma in Skin of Color

In addition to today being Rare Disease Day, February is Black History Month, an opportunity for our community to increase awareness and share resources from our Skin of Color & Melanoma initiative. Although melanoma is significantly rarer in those with darker skin, when it does occur it is often discovered at a later stage which leads to poorer outcomes. To begin the month, we shared the story of Monique Mack, acral melanoma survivor, "In the Sun" documentary participant and #GetNaked spokesperson. On February 13, Unsun Cosmetics founder Katonya Breaux shared an important video message about the importance of sun protection for all skin types. Last week we welcomed Dr. Crystal Aguh for an engaging presentation on Melanoma in Brown Skin, and yesterday Dr. Michelle Henry (@DrMichelleHenry) joined us on Instagram Live to debunk common misconceptions about Melanoma and People of Color.
Thank you to everyone who helped us increase education and awareness about this important topic. If you haven't already, today is a great day to #GetNaked for your monthly self-skin check, and be sure to remind your friends and loved ones too!

Family Establishes a Legacy Gift to Advance Research

In memory of Aaron Landenberger, his family has generously funded an Established Investigator Award to support Emily Bernstein, PhD from the Icahn School of Medicine at Mount Sinai for her research entitled "Chromatin Remodeling Alterations and Consequences for Melanoma Metastasis." Melanoma brain metastases occur in ~60% of metastatic melanoma patients, illustrating melanoma's striking ability to access and colonize the brain. Dr. Bernstein's project will investigate the role of a specific protein in metastasis using brain-tropic human melanoma cells in animal models through a series of experiments that recapitulate various aspects of the metastatic process to the brain and other organs. It is the goal of Dr. Bernstein and her lab to improve the understanding of brain metastasis with potential impact for the treatment of melanoma patients. More information about this project can be found here, and we encourage you to read a new blog written by Sally Landenberger about what inspired her to honor Aaron's memory by supporting melanoma research.
Research grants are awarded in cycles throughout the year, with the latest round of proposals entering review on March 1 and eligible for donor support. If you are interested in supporting a research grant in honor of a loved one, please contact donate@melanoma.org.
Eyes on a Cure: Ocular Melanoma Patient Symposium - Register Now!

In August, we hosted our first in-person ocular melanoma (OM) patient and caregiver symposium since 2019 (click here to watch session recordings and participant testimonials), and the next meeting is now just over a month away! The next Eyes on a Cure: Patient and Caregiver Symposium will be held March 31 - April 2, 2023 at Moffitt Cancer Center in Tampa, Florida. During the symposium, participants will have the chance to network with other members of the OM community, share a patient testimonial, learn the latest in OM research and treatment development, current and upcoming clinical trials, education and awareness resources and participate in psychosocial support activities. A limited number of travel scholarships are available, and applications are due by 5pm on Wednesday, March 1. Click here to download the scholarship application. View a draft agenda and register today; we look forward to seeing our friends in the OM community next month in Florida!
Thank you to Aura Biosciences, Immunocore, Castle Biosciences, Delcath Systems, Inc., Foghorn Therapeutics and TriSalus Life Sciences for their support of this patient education event.

Off to the Races: Miles for Melanoma is Back!

Last year, more than 4,500 participants in 16 cities came together to celebrate melanoma patients, survivors and caregivers while raising over $967,000 for melanoma research, education and advocacy. The 2023 season is right around the corner, and registration for our first two events in Washington, DC (May 6) and Boston, MA (May 13) is now open! If you are a member of either of these incredible communities, register today to get an early start on team recruitment and fundraising toward your goal. Registration for additional events will open in the near future; visit the Miles for Melanoma homepage to find a run/walk near you, mark your calendars and get ready to run, walk and raise life-saving funds to cure melanoma!

Mid-Career Bridge Grants: Apply Now!

Since 1998, the MRF has funded 271 innovative, high impact, basic, translational and clinical research projects, totaling more than $23 million in grant support. Last year, we introduced a new funding opportunity: Mid-Career Bridge Grants. The purpose of these grants is to support established melanoma researchers who have pre-existing R01s and have applied for an NIH R01 grant that was scored, but not funded. Mid-Career Bridge Grants will be offered in three application cycles, with deadlines of April 14, August 15 and December 15. For more information about this award and additional funding opportunities supporting researchers from medical students to established investigators, visit the Research Grant RFP page and download the Request for Proposals.

Welcome Kristina Baum to the Board of Directors!

In January, the Board of Directors welcomed its newest member, Kristina Baum, who has been a longtime advocate for the melanoma community. Kristina is an accomplished communications professional who has succeeded in roles in both the private sector and the highest branches of government, including serving as a lead communications strategist at the White House, in both houses of Congress, and as the chief spokesperson for Chevron Phillips Chemical Company.

As a three-time cancer survivor, she advocates for those battling melanoma through her work to raise awareness, fund research and find a cure. She is a regular contributor to national media on cancer research and a fundraiser for multiple charities and advocacy groups for melanoma patients and survivors. She has also advocated before the FDA on clinical trial design and medical countermeasures to brain metastases.

Click here to learn more about Kristina and visit our Board of Directors page to meet the additional patients, survivors, researchers and physicians that guide the vision, mission and progress of our organization.

Inaugural Meeting of the Dermatology Advisory Council

In mid-March, we will host the inaugural Dermatology Advisory Council (DAC) meeting and fifth annual #GetNaked reception in conjunction with the American Academy of Dermatology (AAD) annual conference. The DAC is a group of geographically and sub-specialty diverse board-certified dermatologists who will provide dermatological expertise within our mission areas of research, education and advocacy. The DAC will serve as subject matter experts, review research grants, promote awareness, prevention and early detection messaging to the general public and primary care providers, and participate in federal prevention advocacy efforts. We look forward to this important collaboration opportunity, and are grateful to Bristol Myers Squibb, EltaMD, Neutrogena and TiZO for their support of the meeting and reception.


1420 K Street, NW 7th Floor Washington, DC 20005 | Tel: (800) 673-1290
Melanoma Research Foundation © 2023 All rights reserved.