Encouraging Research Updates to Begin a Sun Safe Summer

From the desk of MRF CEO Kyleigh LiPira:
As we officially head into the summer season, the team at the MRF is energized by recent updates presented at the American Society for Clinical Oncology Meeting (ASCO) that bring promise and hope to melanoma patients and their families. Presentations from renowned melanoma experts provided exciting updates on neoadjuvant therapy which continues to look promising in high risk stage III patients, exciting data on Moderna's mRNA vaccine plus pembrolizumab with completely resected high risk stage IIIB/C/D and IV melanoma and promising results from a Phase I trial suggest that dual immunotherapy blockade (using LAG-3 and PD-L1 inhibitors) is also active in melanoma patients who had previously received adjuvant immunotherapy. Research creates hope and hope changes everything! If you need help finding a clinical trial, we have a wonderful resource with our Clinical Trial Finder Tool or to find a treatment center near you, click here.
Next month is UV Awareness Month and we encourage you to make sure you and your loved ones are protected from the sun's harmful UV rays. Stories from melanoma survivors like #GetNaked spokesperson Teddi Mellencamp are a powerful reminder of the importance of sun safety. Make sure you are wearing SPF 30+, seek shade, wear UPF clothing and avoid peak hours in the sun. Visit a Walgreens store near you to pick up limited edition MRF co-branded sunscreen and tag the MRF and Neutrogena on social media. $1 for every bottle sold directly supports our mission to eradicate melanoma.
With gratitude,

.
Promising Research Updates for Melanoma Patients Presented at ASCO

More than 40,000 oncology professionals from around the world attended the annual meeting of the American Society for Clinical Oncology (ASCO) in Chicago this June. Using hashtag #ASCO23, we shared melanoma research updates throughout the meeting, and highlights from this year's presentations include:
Neoadjuvant therapy in high risk stage III patients continues to look promising with next step trials to confirm optimal drugs, single vs. combination therapy, length of treatment and necessity of lymph node surgery in patients showing a major tumor shrinkage at time of surgery.

The trial of Moderna's mRNA vaccine (building upon the vaccine technology developed during COVID) plus pembrolizumab in 157 patients with completely resected high risk IIIB/C/D and IV melanoma now shows superiority for the combination arm in delaying time to metastases. Larger confirmatory trials are in development.

Promising results from a Phase I trial suggest that dual immunotherapy blockade (using LAG-3 and PD-L1 inhibitors) is also active in melanoma patients who had previously received adjuvant immunotherapy. Further studies are warranted.


The MRF-ASCO merit award went to Dr. Piyush Grover for his retrospective study of 613 patients with stage IIIA melanoma across Australia, Europe and US, which suggests that all stage IIIA patients may not need adjuvant therapy. Further study is needed to triage which stage IIIA patients would benefit from this treatment.

Three-year results (final analysis) show that adjuvant pembrolizumab in Stage IIB/C melanoma patients is superior to a placebo and should be discussed as a therapeutic option.

A retrospective study in mucosal melanoma patients in China, where the incidence is up to 25% of melanomas, suggests chemotherapy may be superior to immunotherapy.
In addition to the research presentations, we awarded the first annual MRF-ASCO merit award for an outstanding melanoma abstract presented by a trainee, hosted the MRF Breakthrough Consortium of 22 institutions focused on collaborative research, held multiple meetings with industry on possible partnerships, staffed our educational booth and shared information about our current research grant opportunities (apply by July 17!).

Thank you to everyone who engaged with us at ASCO, and to the physicians and researchers driving continued progress and creating new reasons for hope in the melanoma community. Save the date! The next ASCO Annual Meeting will be May 31 - June 4, 2024 in Chicago, IL.

Community Spotlight: Gail Terrell

As a self-described "health nut," when Gail Terrell experienced pain when leaving the gym, she assumed it was from that day's strenuous workout. It was later revealed to be more serious: a melanoma tumor. Following the discovery of a second tumor and surgery, at 57 years old, Gail was facing stage 3c metastatic melanoma. Her treatment plan would include the removal of 13 lymph nodes, 20 CAT scans and 12 MRIs over a 60 month period, as well as regular visits with her oncologist and dermatologist to monitor for any new changes. In a new guest blog post, Gail shared how her "strong mind, strong body" motto helped to overcome challenges, find grace in tough days and the perseverance needed to be a melanoma warrior.
TODAY: Ask the Expert About Mucosal Melanoma

How can medical exams already included in your annual wellness routine lead to the early detection of mucosal melanoma? Ask the Expert! Join us TONIGHT (June 29) at 7pm for an online panel discussion sponsored by Alkermes featuring Gynecologic Oncologist Dr. Mario Leitao, Jr., Restorative Dentist Dr. Robert Frey and Chris White, mucosal melanoma survivor, thriver and advocate.
Advanced pre-registration is required to participate in this webinar; please click here to register and receive the Zoom link. Please also share this opportunity with your friends and family, and then bring your questions and join an engaging conversation!
Mark your calendars: the next Ask the Expert webinar, titled "My Melanoma Treatment Stopped Working: What's Next?" sponsored by Replimune and featuring Michael Postow, MD, Chief, Melanoma Service, and Co-Director, Melanoma Disease Management Team, Memorial Sloan Kettering Cancer Center (MSK) will be on July 24 at 7pm ET.

Mastering Melanoma at Case Comprehensive Cancer Center

On Saturday, June 10, we partnered with Case Comprehensive Cancer Center to host a patient and caregiver symposium covering the latest news in cutaneous melanoma prevention, diagnosis and treatment. Participants were able to join either in-person or virtually; thank you to the presenters and panelists who contributed to engaging discussions on topics ranging from treatment advances to familial melanoma. Recordings from the presentations will be available in the near future for on demand viewing.

Thank you to Bristol Myers Squibb, Merck, Genentech, Regeneron and Foundation Medicine for supporting this educational opportunity.

Advances in Melanoma Advocacy

During Advocacy Days in March, a key legislative priority brought by our advocates was the expansion of telehealth access for Medicare beneficiaries through the permanent removal of geographic restrictions on who can use telehealth services and the elimination of originating site requirements that prevented patients from receiving telehealth services at home. This month, a bipartisan group of legislators in the House and Senate introduced the Creating Opportunities Now for Necessary and Effective Care Technologies (CONNECT) for Health Act of 2023, which includes these important provisions. We applaud our advocates for their work to advance these much-needed expansions to healthcare access and urge lawmakers to hold a committee hearing on this important legislation. To stay updated on this measure and all of the MRF's advocacy priorities, visit the Advocacy Action Center.

Also in recent advocacy news, the Congressionally Directed Medical Research Program (CDMRP) recently shared the story of melanoma advocate Trena Brown, who was invited to serve as a consumer peer reviewer in the Rare Cancers Research Program in FY22. As a metastatic acral melanoma survivor, Trena is committed to raising awareness about melanoma and skin of color, and we commend her dedication to increasing awareness and advocating for the melanoma community. Every year, our advocates talk to lawmakers about the importance of funding CDMRP research programs and the value of including patients in the grant review process. Stories like Trena's illustrate the need for policymakers to hear from you, so visit our Advocacy Action Center to find out how you can get involved.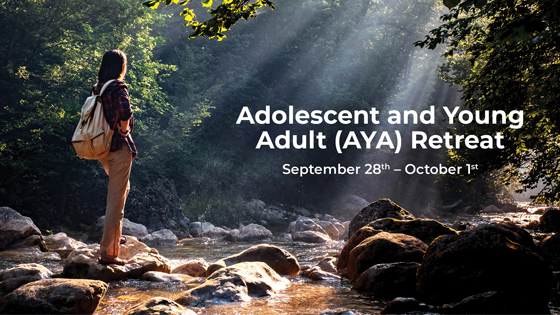 Young Adult Melanoma Survivors Reconnect with True North Treks

We're excited to announce a new partnership with True North Treks to host an inaugural wilderness retreat for young adult (18-39) melanoma survivors this September! The mission of True North Treks is to empower young adults and caregivers affected by cancer to "find direction through connection" on free multiday treks through remote wilderness destinations where they can reconnect with nature, each other and themselves. On September 28 - October 1, young adult melanoma survivors are invited to join a trek on the forested shores of Lake Superior in northern Michigan for education sessions, outdoor excursions and mindfulness activities to promote whole body wellness. Lodging, meals, activities and a day pack will be provided free of charge, and a $500 travel reimbursement is available. The registration deadline is July 28, although spaces are expected to fill well in advance of this date, so we encourage those interested to act quickly. For more information about this exciting new program and how to register, please email education@melanoma.org.

Miles for Melanoma Hits Its Stride

After kicking off the 2023 season in May, we raced into the summer season with two more great events this month. On June 3, the Memphis, TN community came together and raised more than $19,000 at their run/walk, followed by our friends in Denver, CO whose fundraising total topped $88,000! We're keeping the momentum going and racing across the country for upcoming events in Chicago, IL (July 16), Cleveland, OH (August 6), Twin Cities, MN (August 19), Philadelphia, PA (August 26), and a back-to-back weekend in Seattle,WA (September 16) and Morristown, NJ (September 17)! Even more events will be open for registration soon. Visit the Miles for Melanoma homepage to find a run/walk near you, mark your calendars and get ready to run, walk and raise life-saving funds to cure melanoma!
Thank you to our National Prevention Sponsor, Neutrogena and National Apparel Partner, Cabana Life, for your generous support of the Miles for Melanoma program.

Attend a Gala!

On Thursday, September 21, we will celebrate the 12th Annual Denver Gala with cocktails, a gourmet dinner, one-of-a-kind auction items and an awards program honoring melanoma patients, survivors and physicians. During the program, Stacey Sepp will receive the Advocate Award for being a powerful voice for the melanoma community, Zeina Dajani, MD will be presented with the Excellence in Prevention Award and Courage Awards will honor the bravery of Crystal Crowley, Mary Harty-Prather and Keith Woolley as they faced melanoma.

On October 26, the 22nd Annual New York Gala moves to a dazzling new venue at The Plaza Hotel for cocktails, a fabulous dinner and an incredible auction and awards program. A Humanitarian Award will be presented to Udai S. Kammula, MD, FACS for his contributions to melanoma research and treatment, the Excellence in Prevention Award will honor Samer Jaber, MD for his commitment to the prevention and early detection of melanoma. A very special Courage Award will celebrate #GetNaked spokesperson, Teddi Mellencamp, for sharing her own melanoma experience and using her platform to increase awareness. Chris White, a mucosal melanoma survivor, thriver and advocate, will be honored with a Courage Award for his bravery in facing melanoma and dedication to increasing awareness of this rare melanoma subtype.

For further information about MRF galas, to purchase tickets, learn about sponsorship opportunities, or make a tax-deductible donation, please email galas@melanoma.org.


1420 K Street, NW 7th Floor Washington, DC 20005 | Tel: (800) 673-1290
Melanoma Research Foundation © 2023 All rights reserved.