Medical Student Research Awards Announced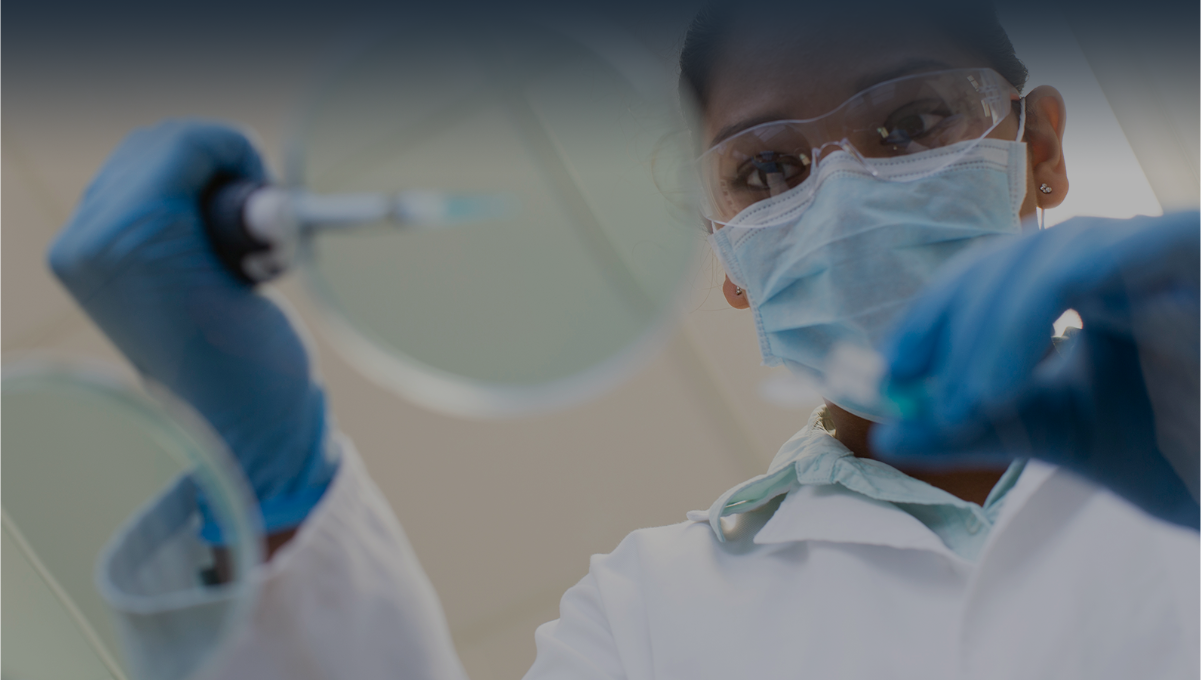 In addition to supporting established investigators and multidisciplinary research teams, the MRF is committed to funding the future of melanoma research by supporting the most promising studies being conducted by medical students early in their careers. Since 2011 and including the recipients below, the MRF has awarded 69 grants to medical students totaling over $200,000! In 2020, the MRF is proud to announce the award of 12 medical student research awards. Please join us in congratulating:
Usman Baqai
Mentor: Andrew Aplin, PhD
Institution: Sidney Kimmel Medical College at Thomas Jefferson University
Proposal Title: BAP1 Dependent Kinome in Uveal Melanoma
Samantha Black
Mentor: Keith Argenbright, MD
Institution: UT Southwestern Medical School
Proposal Title: Improving Melanoma Screening Education for Primary Care Providers Serving Patients of Skin of Color
*Looney Legacy Foundation Medical Student Award
Umair Khan
Mentor: Jerry Chipuk, PhD
Institution: Eastern Virginia Medical School
Proposal Title: The Mitochondrial Unfolded Protein Response Predicts the Immune Landscape During Melanoma
*Looney Legacy Foundation Medical Student Award
Jez Marston
Mentor: Douglas Nixon, MD, PhD
Institution: Weill Cornell Medicine
Proposal Title: Human Endogenous Retrovirus Expression Profiles in Acral Melanoma
*Silverstein Family Medical Student Award
Alexander Mathew
Mentor: Richard Price, PhD
Institution: University of Virginia School of Medicine
Proposal Title: Leveraging Focused Ultrasound to Sensitize Refractory Melanoma to Immunotherapy
*Randy Lomax Memorial Medical Student Award
Breanna Nguyen
Mentor: Daniel Kaplan, MD, PhD
Institution: University of Pittsburgh School of Medicine
Proposal Title: Examining the role of TGFβ activating Integrins B6 and B8 in melanoma
*Michael Atkins, MD Medical Student Award
Brennan Olson
Mentor: Daniel Marks, MD, PhD
Institution: Oregon Health and Science University
Proposal Title: The Neuroendocrine Role of Lipocalin 2 in Melanoma Cachexia
Victoria Orfaly
Mentor: Sancy Leachman, MD, PhD
Institution: Oregon Health and Science University
Proposal Title: Applying Cognitive Theory of Multimedia Learning to Melanoma Prevention Education in High School Adolescents
Megan Trager
Mentor: Larisa Geskin, MD & Yvonne Saenger, MD
Institution: Columbia University Vagelos College of Physicians & Surgeons
Proposal Title: Image-Based Deep Learning to Predict Melanoma Recurrence
Sarah Wang
Mentor: Andrew Dudley, PhD
Institution: University of Virginia School of Medicine
Proposal Title: Mechanisms of perivascular dispersal by brain-resident melanoma cells
*Christopher Westdyk Medical Student Award
Kevin Yang
Mentor: Nabiha Yusuf, PhD
Institution: University of Alabama at Birmingham
Proposal Title: Therapeutic intervention of melanoma
Angela Zaladonis
Mentor: Jeffrey Farma, MD, FACS
Institution: Lewis Katz School of Medicine at Temple University
Proposal Title: Immunization Effect in Patients with Multiple Primary Melanomas
The MRF is proud to support this important work and looks forward to following the progress of these innovative studies. For more information about the the MRF's research grant program and the additional scientific initiatives we support, visit the MRF Research Center.
2020 Advocacy Summit & Hill Day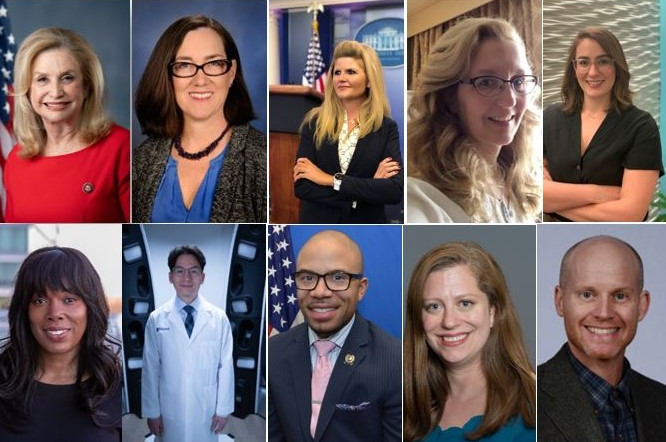 Act now! Registration closes TODAY, Friday, Feb. 28 at 11:59pm ET!
The MRF Advocacy Summit & Hill Day is almost here! On March 8 - 10, 2020, join melanoma patients, survivors and caregivers from across the United States to share your story in the halls of Congress and urge lawmakers to make melanoma research and education a national priority. This year's event features an incredible list of keynote speakers and special guests, including:
Rep. Carolyn Maloney (NY-12) will receive the inaugural Congressional Champion Award in recognition of her leadership in promoting skin cancer prevention and melanoma research.

Rep. Kelly Cassidy (IL)

, a melanoma survivor and recipient of a 2019 MRF Courage Award who championed a bill for no-cost skin screenings in the Illinois legislature. Rep. Cassidy is partnering with MRF advocates to introduce similar legislation in states across the US.

Tereska James

, Founder and President of the Brown Skin Too Foundation. In memory of her sister, Tanya, Tereska is a dedicated advocate for skin health and melanoma awareness in people of color.

Kristina Baum

, Director of Communications at the Office of Science and Technology Policy of the Executive Office of the President and a stage 4 melanoma survivor. Kristina will share her own experience with melanoma and how it inspires her work at the highest levels of government.

and more!
View the entire lineup of speakers and presentations on the draft agenda and register today to be the voice of the melanoma community on Capitol Hill!
Stewardship Report: Winter 2020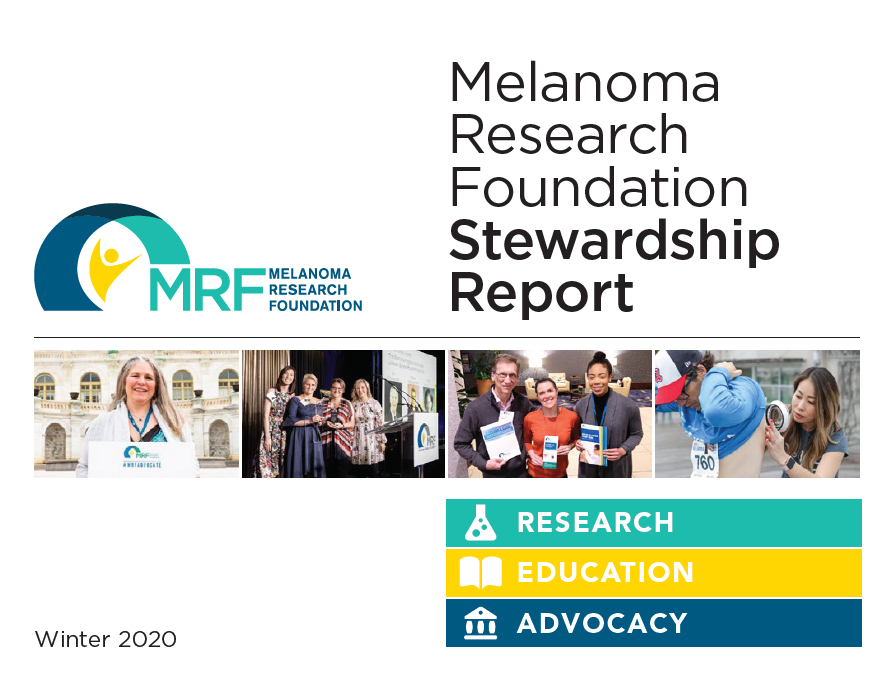 The MRF's work would not be possible without the generous support of the donors, fundraisers and industry partners who fund each new advance in melanoma research, education and advocacy. Guided by the principles of responsible stewardship of these funds to drive progress on behalf of our community, the MRF publishes a Stewardship Report to share what our community has accomplished together. Check out the most recent edition to learn about our latest investments in research, new and award-winning educational materials, legislative victories across the country, new resources for rare melanoma subtypes and more. Everything included in this report was made possible by the ongoing support of our incredible community - thank you!
Click here to view the MRF Stewardship Report!
VISION: The Patient-Powered Ocular Melanoma Registry

This week, the MRF announced a transformational new partnership with Massachusetts General Hospital Cancer Center (MGHCC) to advance the development and launch of VISION, the first ever patient-powered and patient-reported ocular melanoma registry! Central to this partnership is a generous financial gift to fund the launch and multi-year maintenance of the registry project. The MRF gratefully welcomes Massachusetts General Hospital Cancer Center as a foundational partner in this historic and critically needed research.
A patient registry is a critical tool to advance medical research, especially for a rare disease. Hosted by Global Vision Technologies' ClinicalPURSUIT registry platform, the VISION registry is unique in that it is patient powered and reported. In addition to strictly clinical data, patients and caregivers can regularly submit updates that present a holistic picture of their diagnosis, various treatments, outcomes, lifestyle and geographic details. It will also show preferences and other information that may reveal previously unseen patterns, commonalities, potential causes and new treatment targets. This will offer new collaborative opportunities with leading medical and academic partners, reveal a greater understanding of the rare disease and unlock much-needed breakthroughs in OM research and treatment development.
Progress on the VISION registry is accelerating rapidly, and it is expected to launch in the summer of 2020. For more information, visit www.ocularmelanomaregistry.org.
9th Annual Eyes on a Cure: Patient & Caregiver Symposium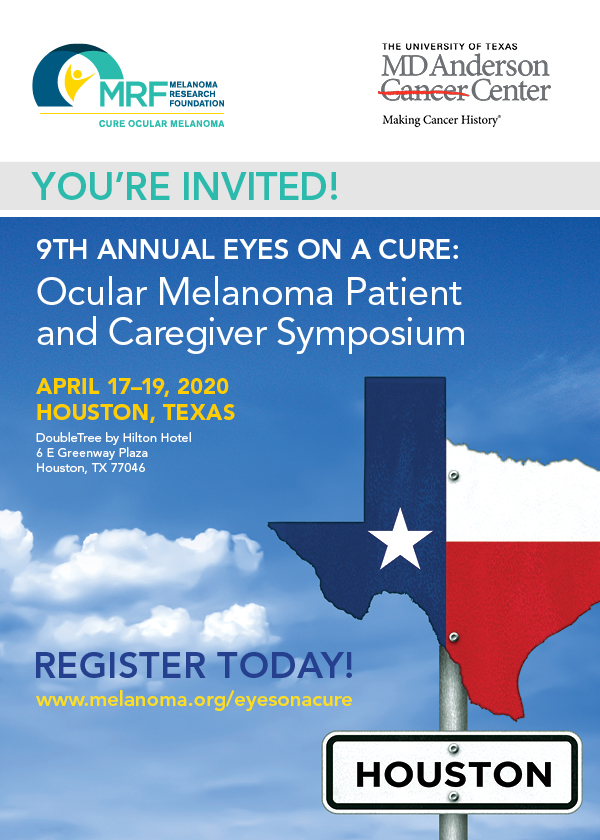 Join ocular melanoma patients, caregivers, physicians and experts at the 9th Annual Eyes on a Cure: Ocular Melanoma Patient and Caregiver Symposium!
Hosted in collaboration with MD Anderson Cancer Center, this year's conference will be held on April 17-19, 2020, in Houston, TX. In addition to comprehensive updates about OM science in the US, the MRF's CURE OM initiative will also welcome our partners from Ocumel Canada and look forward to sharing the latest information about OM research and treatment in Canada. Speakers currently confirmed include Sapna Patel, MD, Dan Gombos, MD, Marlana Orloff, MD, Marcus Butler, MD and more. We hope to see you there!
View a draft agenda and find additional information about the symposium, including lodging and travel discounts, and register today for the largest OM event of the year!
Make Mile High Memories at the Denver Gala!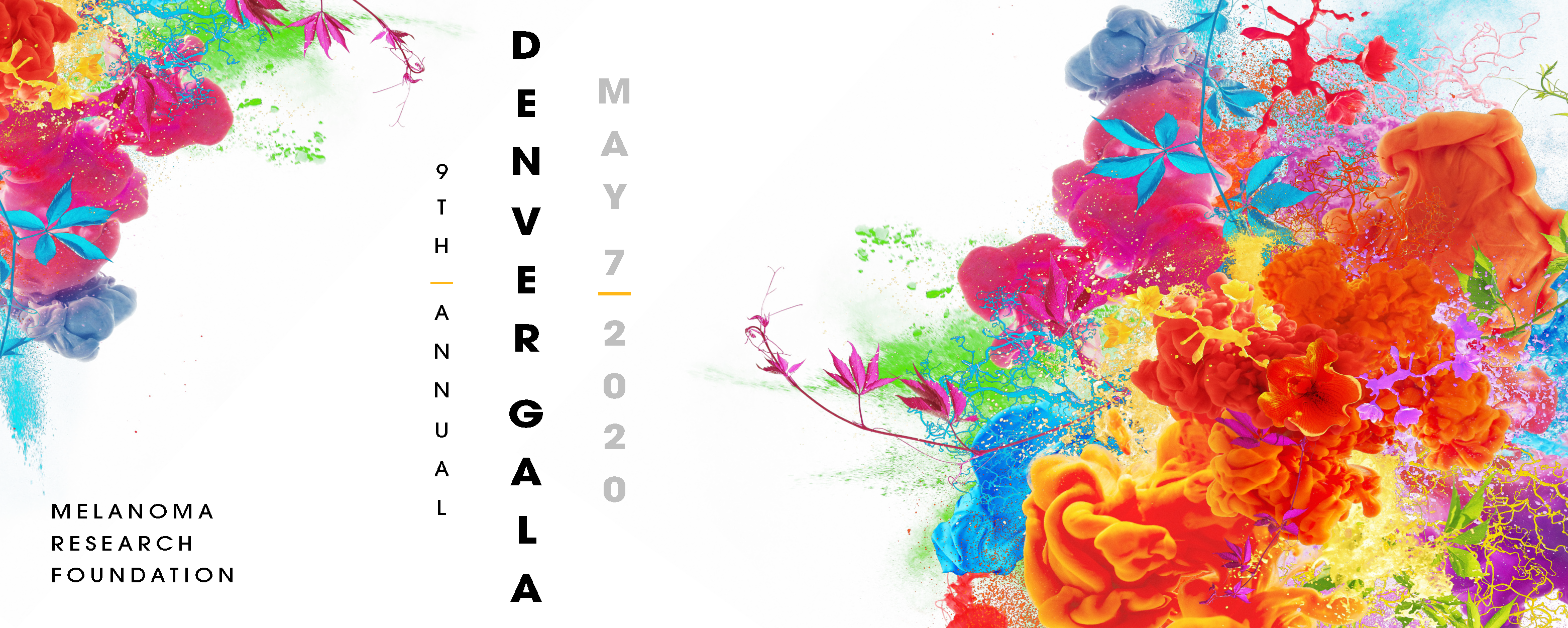 The 2020 Gala season begins on May 7, 2020 in Denver, CO and tickets are selling fast! Over the last decade, the incredibly generous Denver community has raised more than $1.4 million for life-saving melanoma research, education and advocacy, and this year's event will be our biggest and best yet. The 9th Annual MRF Denver Gala will be at Infinity Park Events Center, a new, state-of-the-art event space featuring fine dining samples, exquisite cocktails and a stunning audiovisual program. A special highlight of the gala will be the chance to win an exclusive, once-in-a-lifetime luxury vacation!
At the gala, the MRF will present the Humanitarian Award to Core Dermatology founder Stephanie Frankel, MD for her outstanding commitment to the treatment and care of melanoma patients. The Excellence in Prevention Award will recognize Robert Dellavalle, MD, PhD, MSPH, Professor of Dermatology and Public Health, University of Colorado School of Medicine, and Chief of Dermatology Service, Rocky Mountain Regional Veterans Administration Hospital. The Compassionate Care Award will recognize Anna L. Bruckner, M.D. Associate Professor of Dermatology and Pediatrics, Program Director, Pediatric Dermatology Fellowship, for her exemplary dedication to the pediatric melanoma community. Stefan Mokrohisky, MD, Carrie Rubin and Renee Wilson will be celebrated with Courage Awards for the bravery they exemplified in their fights with melanoma. The MRF extends special thanks to the Denver Gala Host Committee, led by Co-Chairs Paul and Lindsay Zubeck, Elise A. Barish and Nicole Neuschler, MD. Tickets, sponsorship opportunities and custom packages are now available, visit the event page or email galas@melanoma.org to learn more.
Celebrate heroes in the melanoma community and support life-saving melanoma research at the 2020 Denver Gala!
Patients & Caregivers Needed for Research Grant Review Panel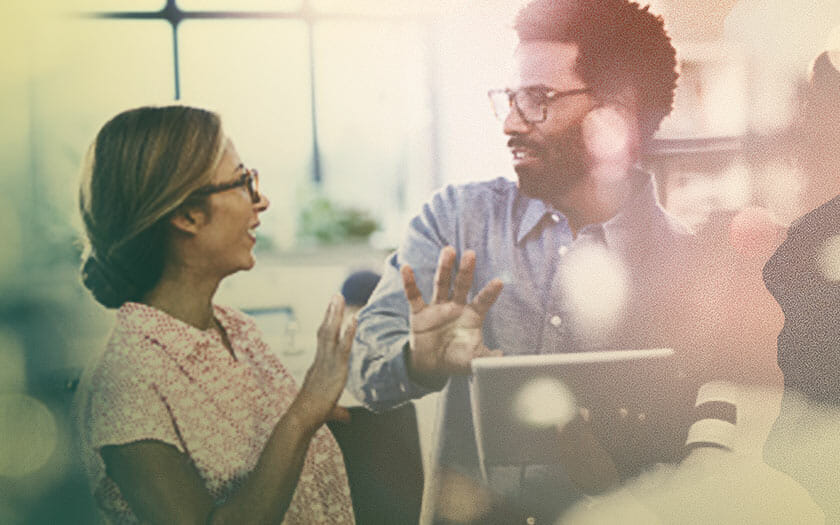 Since the first research grant was awarded in 1998, every proposal has been subject to rigorous peer review by a panel of scientists, physicians, researchers and melanoma experts. Because patients and their loved ones are those most affected by research advances and the development of new therapies, the MRF believes their input to be incredibly valuable to the grant review process. Beginning in 2019, melanoma patient advocates were invited to participate in the grant review process to share their perspective on which areas of research should receive grant funding. This program is expanding in 2020, and the MRF is currently seeking melanoma patient advocates to join a research grant review panel. Formal scientific training is not required, but those with a such a background are welcome to apply as well. Additional information on how to apply, eligibility criteria, estimated time commitment and other details are available in the MRF Research Center. Completed applications are due by Thursday, April 16, 2020. For questions about this program or additional opportunities to participate in melanoma science, email research@melanoma.org.
The Miles for Melanoma Season is Here!

Run/walk dates and locations are now confirmed for all 14 events on the 2020 calendar, and registration is now open for Washington, DC, New England and Memphis races! The MRF is proud to welcome Neutrogena as our National Prevention Sponsor, who not only makes this race season possible, but will also provide free skin care and sun protection product samples at every race. Our National Apparel Partner, Coolibar Sun Protective Clothing, has generously donated an official UPF 50+ race shirt for every participant who registers online and will be onsite at select events with additional items. The MRF is grateful to work with partners who share our commitment to the melanoma community - stay tuned for additional details, special guests and surprises we have in store this season.
View the 2020 Miles for Melanoma calendar and save the date for a race near you!
Save the Date: Pediatric Melanoma Summit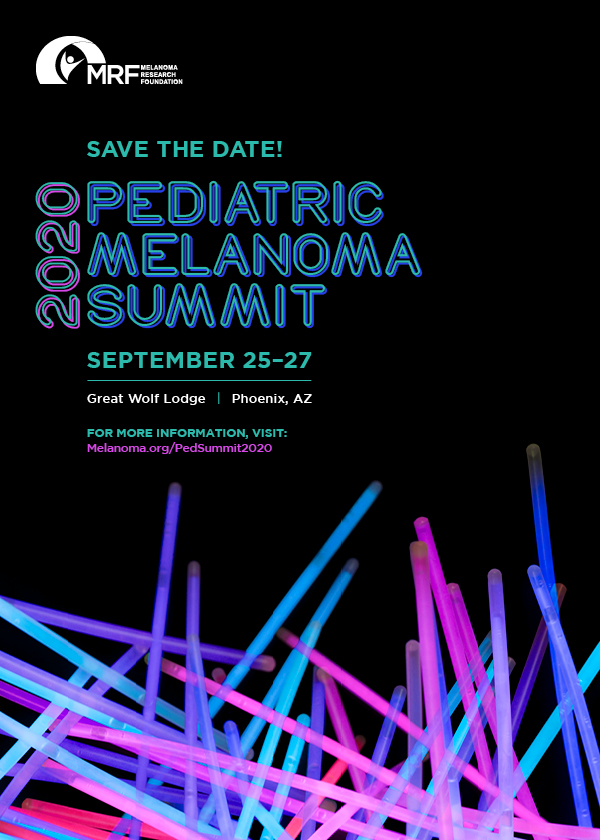 Save the date: the 7th Annual Pediatric Melanoma Summit will be on September 25-27, 2020 at Great Wolf Lodge in Phoenix, AZ! During this unforgettable weekend, pediatric melanoma patients, siblings and family members will come together to learn the latest news in pediatric melanoma research and treatment, meet new friends, find support - and make a splash in the giant indoor water park! In addition to scientific presentations by leading melanoma experts, the summit features a full agenda of emotional support and wellness activities using art, music, physical activity and more.
This year the MRF has partnered with United Airlines to offer discounted airfare for those traveling to Phoenix for the summit. Visit the event page for additional details and booking instructions, and stay tuned for a draft agenda, hotel information and more!
Melanoma in the News
Below is a sample of recent melanoma and indoor tanning news.

"Melanoma Research Foundation to Launch First Ever Patient-Reported Ocular Melanoma Registry," Melanoma Research Foundation
"These are the States with the Highest Risk for Melanoma Linked to UV Rays," CNN

"Prebiotics Help Mice Fight Melanoma by Activating Anti-Tumor Immunity," Sanford Burnham Prebys Medical Discovery Institute

"Cold Plasma Patch Could Make Immunotherapy More Effective for Treating Melanoma, Study Finds," UCLA

"Liquid Biopsy May Help Predict Relapse Risk in Patients with Advanced Melanoma," Cure

"Senators Mull Bill That Would Ban Anyone Under 18 From Using Commercial Tanning Beds," ABC Columbia

"Industry-linked Studies More Favorable to Indoor Tanning, Researchers Say," Stanford Medicine

"MD Anderson's Hussein Tawbi, MD, PhD Named to President's Council on Science and Technology," Melanoma Research Foundation




1420 K Street, NW 7th Floor Washington, DC 20005 | Tel: (800) 673-1290
Melanoma Research Foundation © 2020 All rights reserved.