COVID-19 and the Melanoma Community
From MRF CEO Kyleigh LiPira, MBA:
Dear MRF community,
We hope this month's SPOTlight finds you and your families safe and well. As you all know, the last 40+ days have been an incredibly challenging time in our world's history. In the cancer community, it has brought forward issues we have never faced before. Now, along with the trauma of cancer diagnosis there is increased anxiety because of the challenges posed by COVID-19. Patients cannot meet with their physicians in person, procedures deemed "elective" are delayed and some clinical trials have been shut down. One thing we have realized is that Cancer Has No Curve and we must continue to support our community no matter what else is happening in the world. There have also been challenges for our MRF-funded researchers whose labs have been closed rendering them unable to continue their work for the short-term.
However, the melanoma community is an amazing one. Many labs have been able to quickly pivot their work to COVID-19 related research and many melanoma researchers are working on the front lines of COVID-19 vaccine development. How amazing would it be to have the vaccine come from the melanoma community? We want to assure our community that no matter what, the MRF will remain here for you. Over the last month and a half, we have adapted many of our educational offerings to be virtual and we have moved many of our Miles for Melanoma run/walks and Galas to later dates. We are also actively creating new content and helpful resources through partnerships with leading melanoma doctors throughout the United States and abroad.
Next month is Melanoma Awareness Month and the team at the MRF is working even harder to make sure that we are bringing much-needed support to our community. To that end, we have launched a virtual Miles for Melanoma walk for the entire month of May and registration is free! All month long we will be hosting exciting contests and other surprises for our participants with great prizes and a goal of together walking across the United States – 3000 miles – and raising $75,000.
We will also be launching our new #GetNaked awareness campaign – stay tuned! – featuring not only a melanoma survivor but also a leading NYC-based dermatologist! We hope you will share this messaging with your community through your own social media channels. You could save a life by sharing this information with a loved one.
Lastly, we hope you will consider supporting our work, at any level. Whether you join our Miles for Melanoma virtual team, tune in to watch a webinar, share one of our educational posts or make a tax-deductible donation. All of us can do our part to create a world without melanoma.
Sincerely,

On Your Marks, Get Set...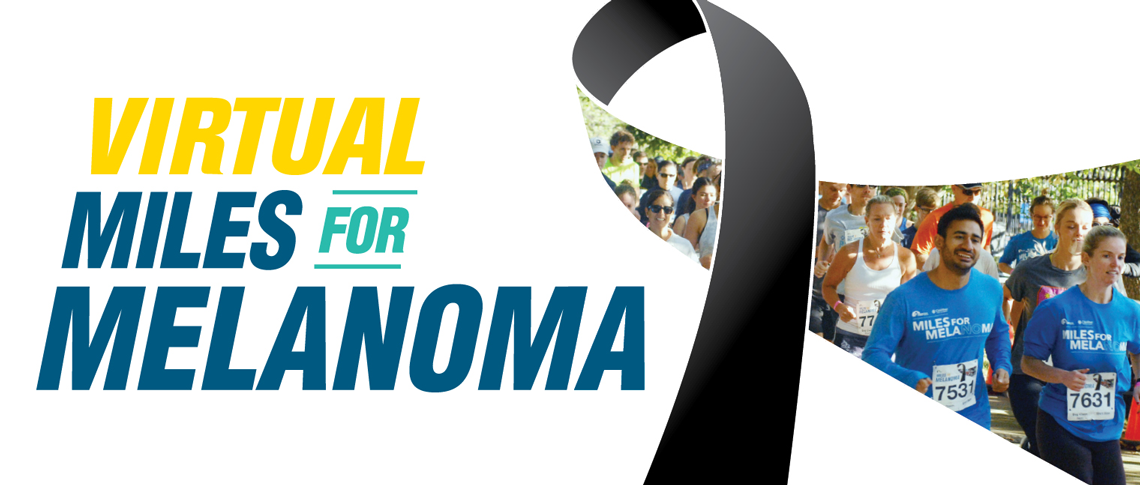 Go! The 2020 Miles for Melanoma season was originally scheduled to begin this Saturday, May 2, in Washington, DC. While it may be a little while longer until we can walk or run together in person (and we will!), we can still take steps towards a cure at the first ever VIRTUAL Miles for Melanoma run/walk! In celebration of Melanoma Awareness Month, throughout the month of May our goal is to "walk" coast to coast, logging 3,000 collective miles with a goal of raising $75,000!
Registration is free, and participants who raise $100 or more will receive a UPF 50+ Miles for Melanoma race shirt from our friends and National Apparel Partner, Coolibar! Register your team today and then join us at 2pm on Saturday, May 2 for a virtual opening ceremony hosted by emcee, ESPN sports journalist and melanoma survivor, Holly Rowe! Following the kick off, get outside or hit the treadmill and start raising funds and logging those miles!
We look forward to an exciting virtual race this month, and then coming together later this year for in-person run/walks across the country. Visit the Miles for Melanoma page to view the updated schedule of 2020 events.
Register today for the 2020 Virtual Miles for Melanoma run/walk!
Cancer Has No Curve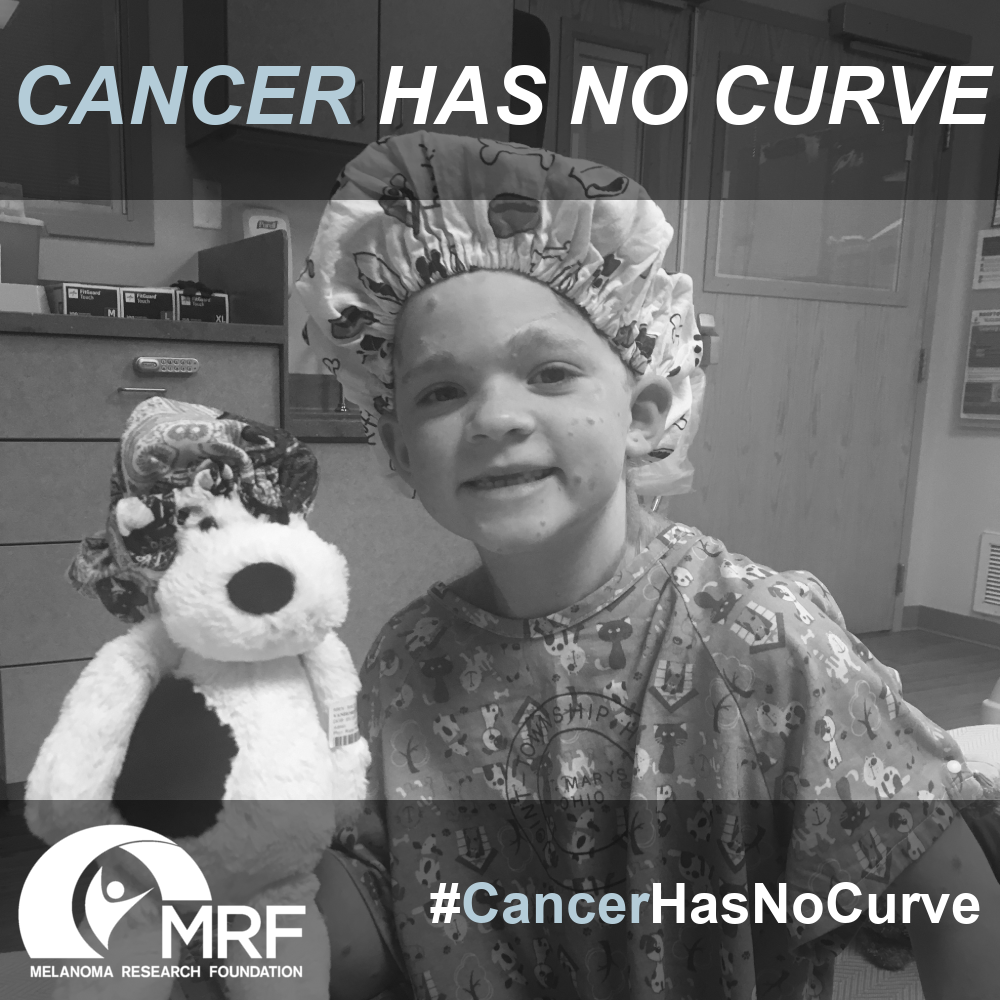 In recent weeks, across the country and around the world we've seen unprecedented disruptions to our personal, professional and social lives. By postponing even the most significant life events and staying apart now, together we will "flatten the curve" and emerge on the other side of the pandemic. However, putting everything on hold is not an option for many melanoma patients, caregivers, physicians and researchers. Life-saving treatments must continue, clinical trials studying breakthrough therapies must advance, new patients are diagnosed every single day and desperately seek information and support. Cancer Has No Curve. Melanoma was here before, it is here now and it will be here when the COVID crisis passes. Continuing our work for this community is critically important, especially in times like these, and we are so grateful for those who have stood with us in extremely challenging times. From sharing your time and talent in an April 30 in 30 virtual event, attending a live online webinar, lacing up your shoes for a virtual Miles for Melanoma run/walk or, if you're able, making a tax-deductible donation, even while we're apart this community is standing together like never before. From birthday Facebook fundraisers to giving the $5 that would usually be spent on a morning coffee, every act of kindness impacts our community now more than ever.
Thank you for standing with us.
MRF Advocates in Action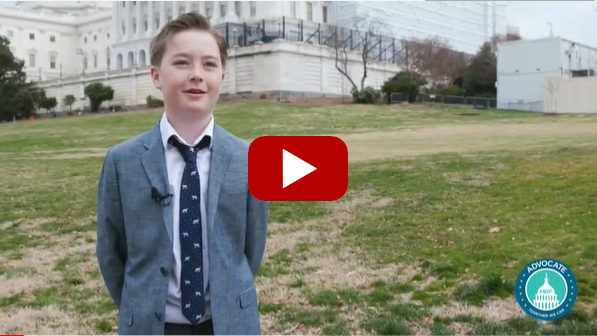 Whether in person, by phone or online, a dedicated group of passionate volunteers provide a powerful voice for the melanoma community. What does it mean to be an MRF Advocate? Watch our newest video to go behind the scenes at the 2020 Advocacy Summit & Hill Day!
Ready to get involved? We NEED your help to preserve and increase federal resources for melanoma research; click here to tell the Senate to protect federally-funded melanoma research programs! Last year only 11% of excellent-rated research received funding because of budget limitations, possibly leaving an important research breakthrough on the table. The MRF is grateful to Congress for creating a separate line item for Defense-funded melanoma research in the Fiscal Year 2020 Defense Appropriations bill, and to the advocates who made it happen.
Researchers: the Request for Proposals (RFP) is currently open and 6 award types are available. Visit the Congressionally Directed Melanoma Research Program page to learn more and apply.
Visit the Advocacy Action Center to learn about the legislation we're currently tracking, and join the MRF Advocacy Network today!
April 30 in 30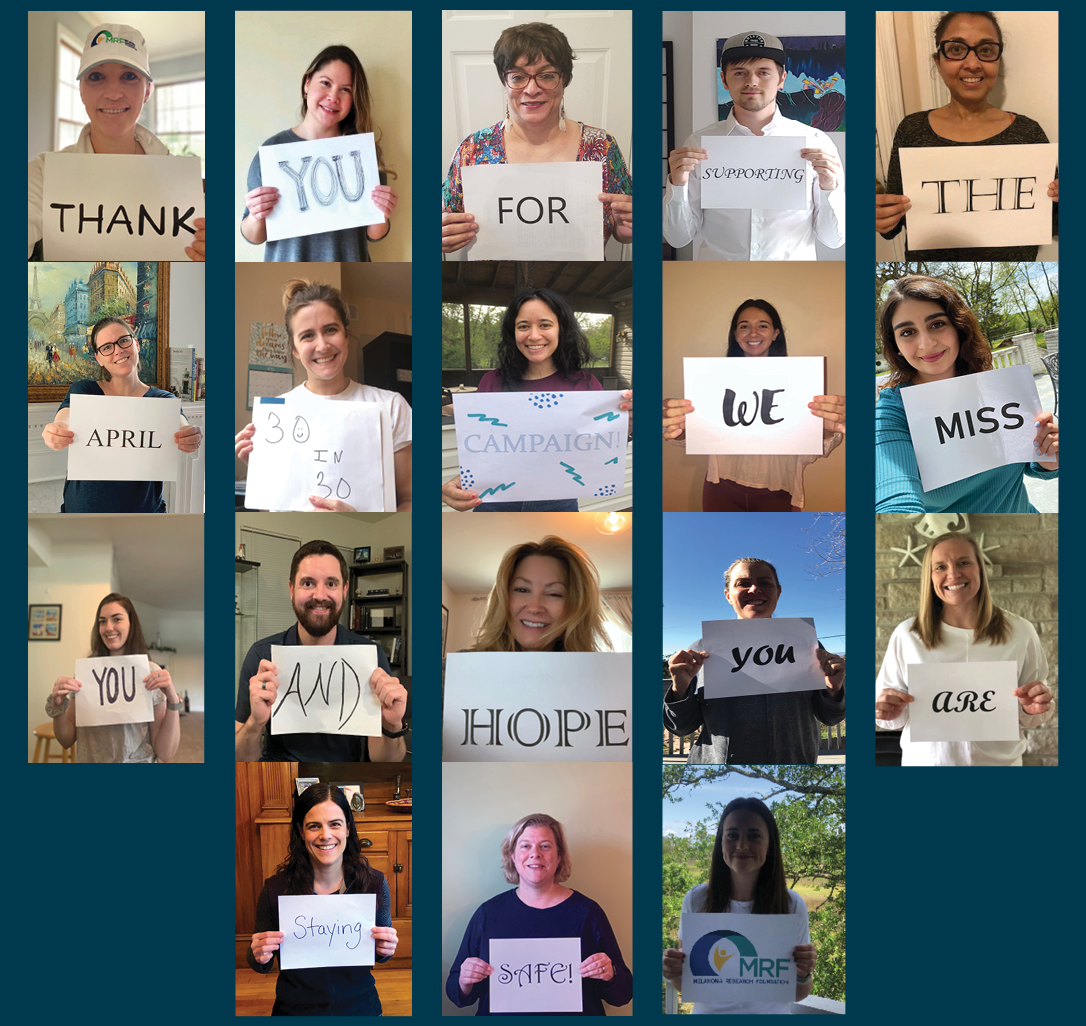 WOW! What an inspiring month April has been. Thank you to everyone who proved that even when we're apart, we can work together and we are so excited to celebrate all that we accomplished this month - while having a lot of fun along the way. It's not too late to participate in one final event - join us for a trivia night TONIGHT at 7 pm ET. We will celebrate all that we accomplished with this campaign, announce our raffle winner and have other MRF prizes to give out! Register here to receive your Zoom link!
Over the past 30 days, more than 100 people participated in 25 events and raised over $15,000 to support 5 medical student research grants. This research could lead to a future breakthrough and ultimately a cure for melanoma and you played an essential role in that! You have supported the MRF and small businesses across the country by participating in the April 30 in 30 campaign and we loved getting to spend time with you all during this month's activities. Congratulations on a successful month filled with learning, fight and hope, and we can't wait to see you - in person this time - soon!
Thank you to everyone who participated, and especially to our generous friends who donated their time and services to host an event this month: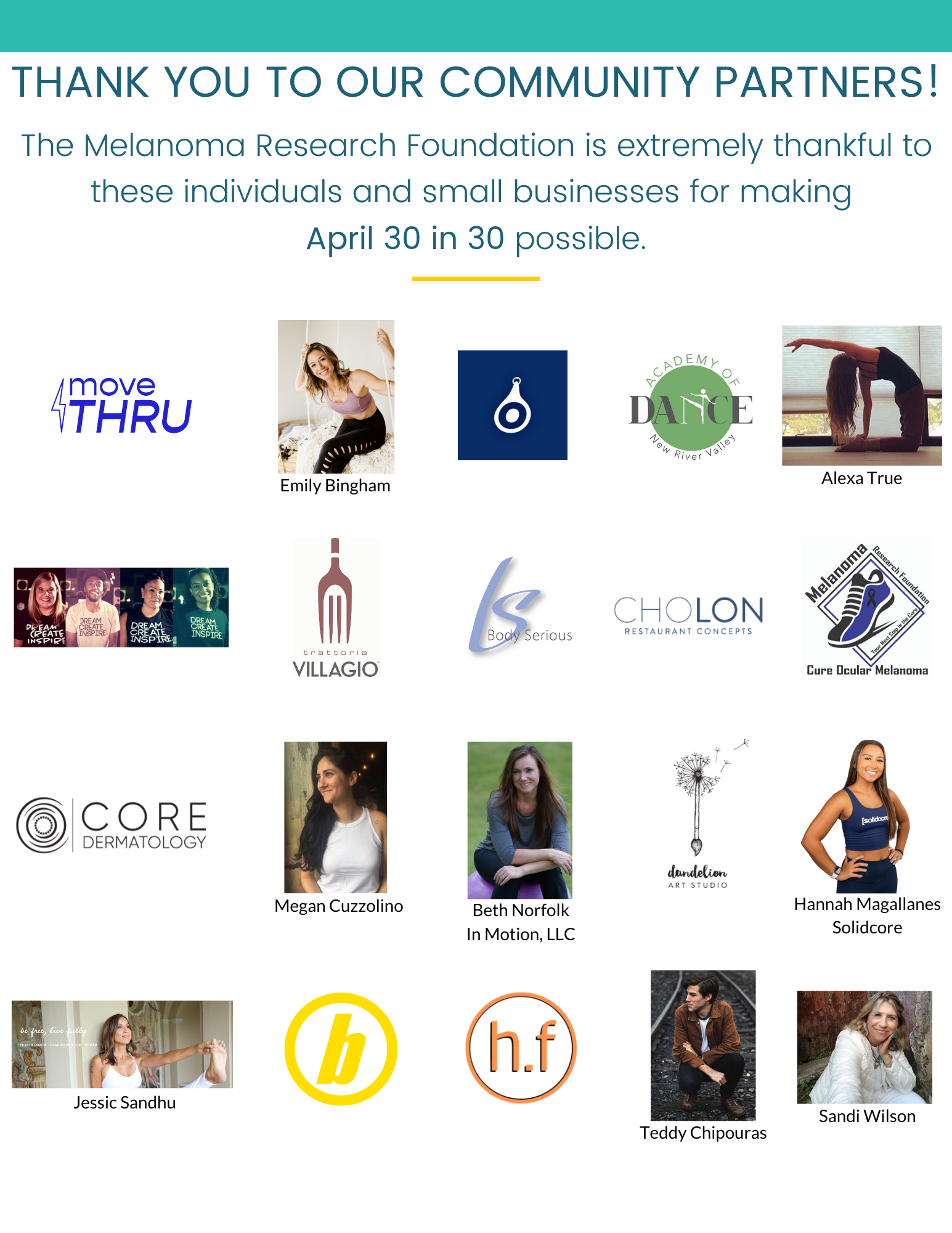 Attend a Rare Melanoma Summit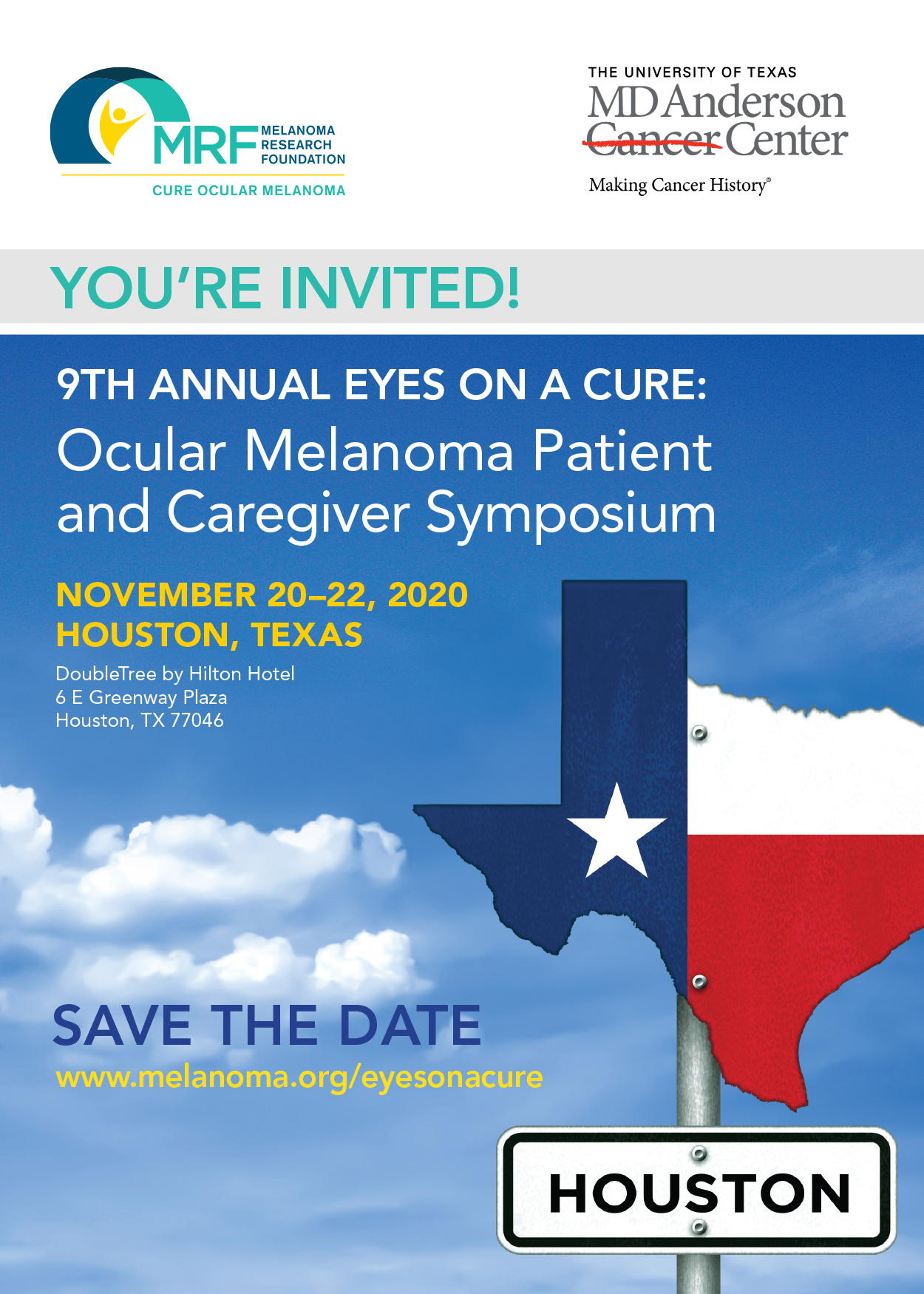 In response to national health guidance and travel restrictions, earlier this year the MRF made the difficult but necessary decision to postpone all of our spring events, including the highly anticipated Eyes on a Cure: OM Patient & Caregiver Symposium scheduled for April. While we had hoped to see all of our friends in Houston this month, the time apart has left us only more excited to come together at the rescheduled summit on November 20-22, 2020! The venue and lodging will remain the same, with information about the discounted CURE OM room block available in the coming weeks - stay tuned! Note: If you had previously registered for the symposium when it was scheduled for April, we do ask that you complete a new registration for the November event. We appreciate your flexibility as we adapt to and work through changes on the national health landscape, and look forward to seeing everyone this fall!
Register today for the 9th Annual Eyes on a Cure: Patient & Caregiver Symposium!
For our pediatric melanoma community, while we will continue to closely monitor the evolving situation and always place our community's health and safety first, the 7th Annual Pediatric Melanoma Summit is currently planned to proceed as scheduled! Join young pediatric melanoma warriors, their siblings and family members at Great Wolf Lodge in Phoenix, AZ on September 25-27, 2020 to learn the very latest news in pediatric melanoma research and treatment development. In addition to hearing from world-renowned researchers and physicians, the summit is a great opportunity to meet other families - often for the first time - who understand what it's like to be a part of the pediatric melanoma community. For the younger crowd, or even the young at heart, pack a swimsuit and get ready to make a splash at the giant indoor water park! A full agenda with speakers, panel discussions and a wide range of activities for those of all ages will be available soon.
Register today for the 7th Annual Pediatric Melanoma Summit!
The MRF Attends American Association for Cancer Research Annual Meeting - Virtually!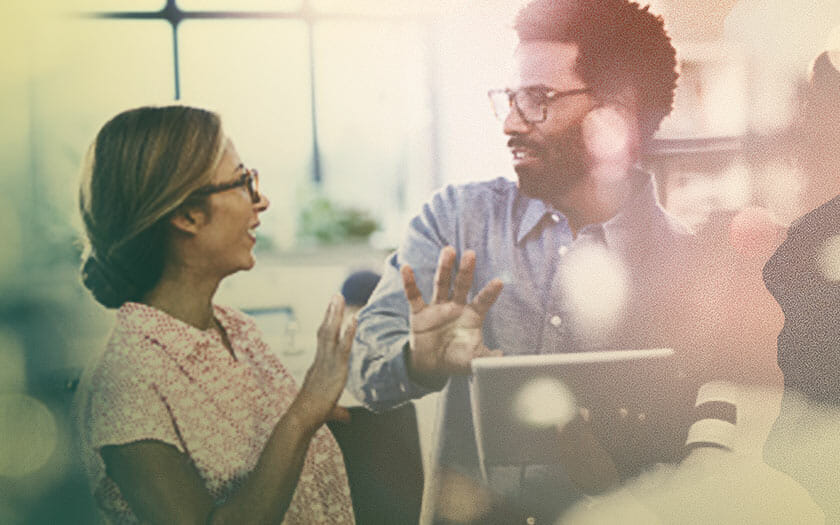 Approximately half of melanoma patients have a mutation in the BRAF gene, making them eligible for two categories of FDA-approved treatment options: combination targeted therapies (BRAF + MEK inhibitors) and immunotherapy. While many patients initially respond well to these treatments, resistance to therapy eventually occurs in the majority of patients. Since these therapies work through different mechanisms, researchers are studying whether combining these therapies, either together or one after another, can improve survival. Data from a clinical trial addressing this important question was presented in the opening plenary session of this week's annual meeting of the American Association of Cancer Research, held virtually due to COVID-19.
Dr. Grant McArthur of the Peter MacCallum Cancer Centre in Australia reported that both the duration of response and time until melanoma progression could be lengthened by combining a checkpoint inhibitor (atezolizumab) with two BRAF + MEK inhibitors (cobimetinib and vemurafenib) when compared to treatment with BRAF + MEK inhibitors alone. More data is needed before it can be known whether overall survival, the gold standard for outcomes, is improved. Additional trials such as DREAMseq are currently enrolling patients to test whether treatment sequencing will improve overall survival. Patients interested in learning more or participating in a melanoma clinical trial can visit the MRF Clinical Trial Finder. To learn more about the clinical trial process and bust some common myths, visit the Clinical Trials page.
Melanoma Awareness Month Goes Global

Over the past decade, there has been a dramatic change in the melanoma treatment landscape with more treatment options and better outcomes for patients than ever before. However, this is not the case for far too many people around the world. Recognizing the global need for bringing the patient voice to the melanoma space, in 2014 the MRF brought together organizations from around the world to create the Global Coalition for Melanoma Patient Advocacy. This coalition shares best practices between member countries on topics like Education, Prevention, Treatment and Advocacy, while serving as a key source of information and inspiration for new groups around the world seeking to develop melanoma programs in their countries. Since its founding, it has grown to include 34 organizations from 27 different countries and is enthusiastically supported by not only its partners around the world, but also the global patient, health care and pharmaceutical communities.
This May, the coalition will join our partners at Euromelanoma to launch an international awareness campaign in over 50 countries worldwide. In addition to sharing the importance of sun safety and regular self skin checks (plus a creative new way to remember each month!), the campaign will include the 2020 Melanoma Skin Cancer Report. With contributions from leading dermatologists in the US and abroad, this report shares current skin cancer statistics and future projections from the World Health Organization, highlighting the need to take strong actions now to change mindsets and behaviors across the globe.
Stay tuned for the official press release on Friday, May 1 explaining more about the campaign, and a month-long series of social media posts to share with friends and family, wherever they are across the world!
"COVID-19 and Melanoma: Helpful Links, Resources and Cancer-Specific Info," Melanoma Research Foundation

1420 K Street, NW 7th Floor Washington, DC 20005 | Tel: (800) 673-1290
Melanoma Research Foundation © 2020 All rights reserved.