Melanoma Awareness Month Recap
From MRF CEO Kyleigh LiPira, MBA:
Dear MRF community,
It is hard to believe that we are wrapping up Melanoma Awareness Month which started with the unveiling of the 2020 #GetNaked campaign. This year, we are proud to feature Dr. Ellen Marmur, a renowned board-certified dermatologist based out of NYC who is not only a skin cancer and melanoma survivor but an incredible advocate for prevention and early detection. You can read her story here.
All month long, the MRF was intensely focused on disseminating our prevention messaging through multiple channels. This month welcomed a new partner, Dermtech, who sponsored a weekly "Ask a Derm" session that was shared via Facebook LIVE. Each week, sessions were hosted by dermatologists who spoke about self-skin screenings, telemedicine, early detection methods and new technology that is able to alleviate the standard invasive biopsy. If you missed any of these sessions, you can view them on the MRF Facebook page. We also hosted a LIVE webinar with our partner Oncosec on "Melanoma Clinical Trials – A Panel Discussion" which featured Dr. Adil Daud from UCSF, a patient and caregiver perspective. This important educational tool addressed many common questions related to clinical trials and debunks myths such as "clinical trials are a last resort" or "I will receive a placebo."
Coming next month, the MRF will be releasing a survey to our patient and caregiver community on the impact of COVID-19 on their care and wellbeing. This survey will help the MRF determine the best resources and most helpful programming needed to meet those needs. In addition, the MRF's Scientific Advisory Committee (SAC) is currently working on several projects. The first involves collaborating with Key Opinion Leaders at academic institutions across the United States who are developing registries to address the impact of COVID-19 on melanoma patients. One registry collaborates with cutaneous oncologists/dermatologists and their surgical/medical oncology counterparts within the national Melanoma Prevention Working Group. This group aims to determine the potential harms of delayed melanoma detection, surgical treatment (including wide excision and sentinel node biopsy) and initiation of systemic adjuvant therapy in newly diagnosed patients. The second project involves the creation of a national registry/database for melanoma COVID-19 patients, one regionally based in an epicenter and the other to support assessment of melanoma patients in an all cancer registry. The data collected will be optimized for melanoma patients, so that the maximal amount of information can be gleaned. We look forward to sharing more information with our community next month as we roll out this survey.
Sincerely,

Melanoma Research in the COVID-19 Era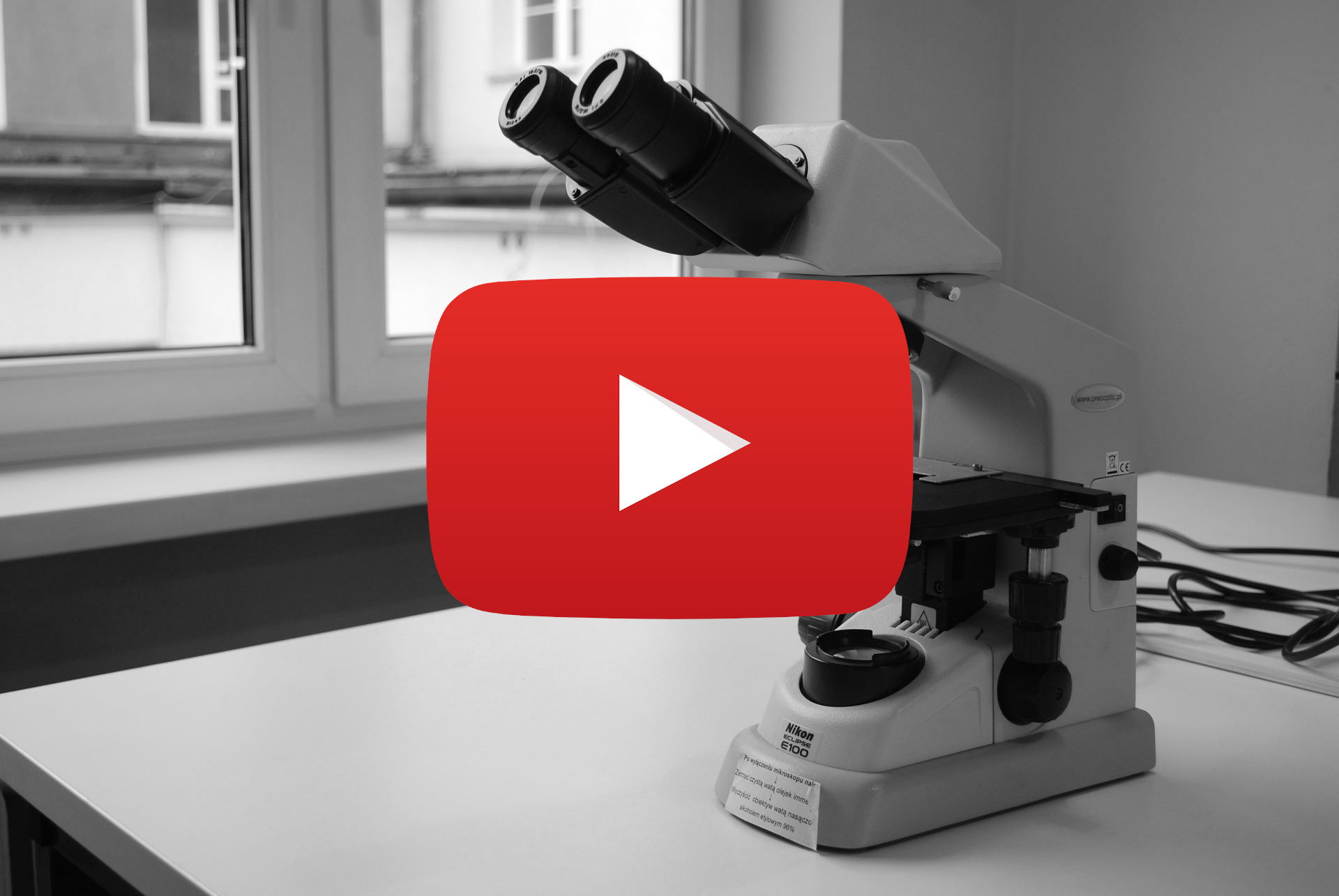 Depending on where you are in the world, daily life probably hasn't been the same for the last 3 months or more. The effects of a near-global shutdown are felt far and wide, with so many aspects of our lives simply paused. However, while vacations can be postponed, takeout replaces sit-down dining and social gatherings have gone virtual, there are some things that can't possibly be put on hold. Cancer Has No Curve. At the MRF, we have sought new and innovative ways to make sure our important work continues, and we're not alone in this effort. In recent months, MRF-supported researchers and physicians around the world have applied creative solutions to maintain the life-saving progress that melanoma patients and caregivers rely on each and every day. As a means of encouragement in difficult times, we asked our partners in the US and abroad to share how their work continues in the COVID-19 era.
Take a global tour of our international research network to learn how melanoma research continues in a world that's otherwise standing still.
Attend a Virtual Gala!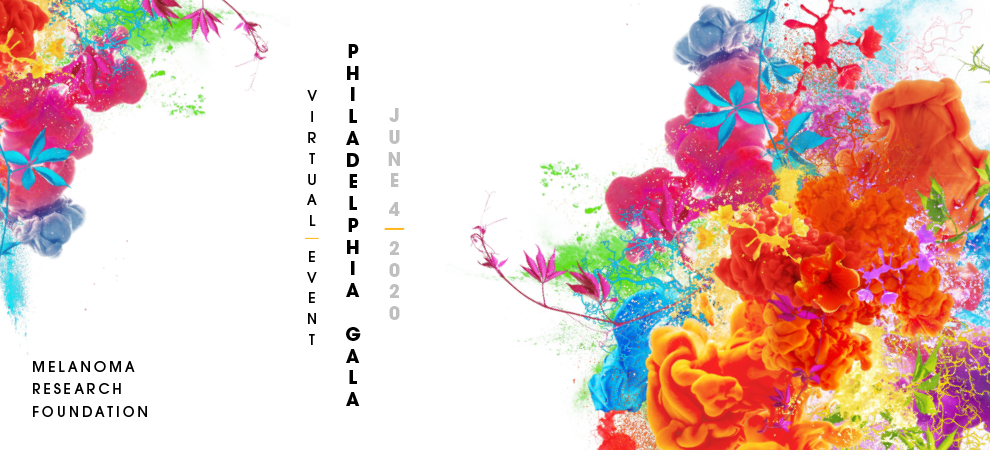 During these unprecedented times with COVID-19, many of the larger academic labs have been shut down and melanoma research has come to a halt. As institutions slowly begin to reopen, it is critical that no more time is lost. With the MRF Virtual Gala events, the MRF will be granting to a local institution as a re-start up fund for their melanoma research team.
To support those on the front lines in the fight against melanoma, the MRF is hosting two VIRTUAL Galas in the month of June. Philadelphia on June 4 and San Francisco on June 18, you are invited to join both from the comfort of home!
The Inaugural Virtual Philadelphia Gala presented by Castle Biosciences will be on June 4 at 7pm EST. YOU can be a part of giving back to the Philadelphia melanoma community by joining us for a virtual night of fun and celebration. Be a part of funding a grant to the Thomas Jefferson University Melanoma Program by donating to the Fund-A-Grant portion of the event, bid on amazing auction items or purchase a chance to win a once in a lifetime vacation. Join us from the comfort of home as we honor Andrew Aplin, PhD, Associate Director for Basic Research at the Sidney Kimmel Cancer Center, with a Humanitarian Award. Dr. Aplin is a member of the MRF Scientific Advisory Committee and an innovative leader in the melanoma research field. Dr. Aplin was the recipient of the CURE OM Unite! research award in 2016 and his lab now coordinates a leading collaboration of OM researchers. The MRF will present a Courage Award to Robert Kane in recognition of the inspiring bravery he showed in facing melanoma. Gala attendees will have the opportunity to bid on exciting items in an online silent auction and the chance to win a once-in-a-lifetime vacation package. We do hope you will join in the celebration by joining us online to help us get research back up as soon as possible.
RSVP today for the Virtual Philadelphia Gala presented by Castle Biosciences on June 4!
Following an exciting event in Philadelphia (or wherever you may be!), we're going to the west coast for the Virtual San Francisco Gala on Thursday, June 18! The MRF will recognize the University of California, San Francisco (UCSF) Helen Diller Family Comprehensive Cancer Center Melanoma Program with a Humanitarian Award. In recognition of the strength she exemplified in facing melanoma, Paige Crist will be honored with a Courage Award. An exciting silent auction will feature one-of-a-kind items and attendees will have a chance to win their choice of two unforgettable vacation experiences. The Fund-a-Grant will support the UCSF Melanoma Program allowing it to restart the cutting edge melanoma research that has benefited patients across the country.
RSVP today for the Virtual San Francisco Gala!
Don't forget: we're still planning to celebrate in person at our annual galas in Denver (August 6 - tickets now available), New York (October 15 - tickets available soon!) and Chicago (November 5 - tickets now available)! To learn more about all five 2020 galas, including sponsorship opportunities and custom packages, visit the MRF Galas page.
Miles for Melanoma Goes Coast to Coast and Back Again!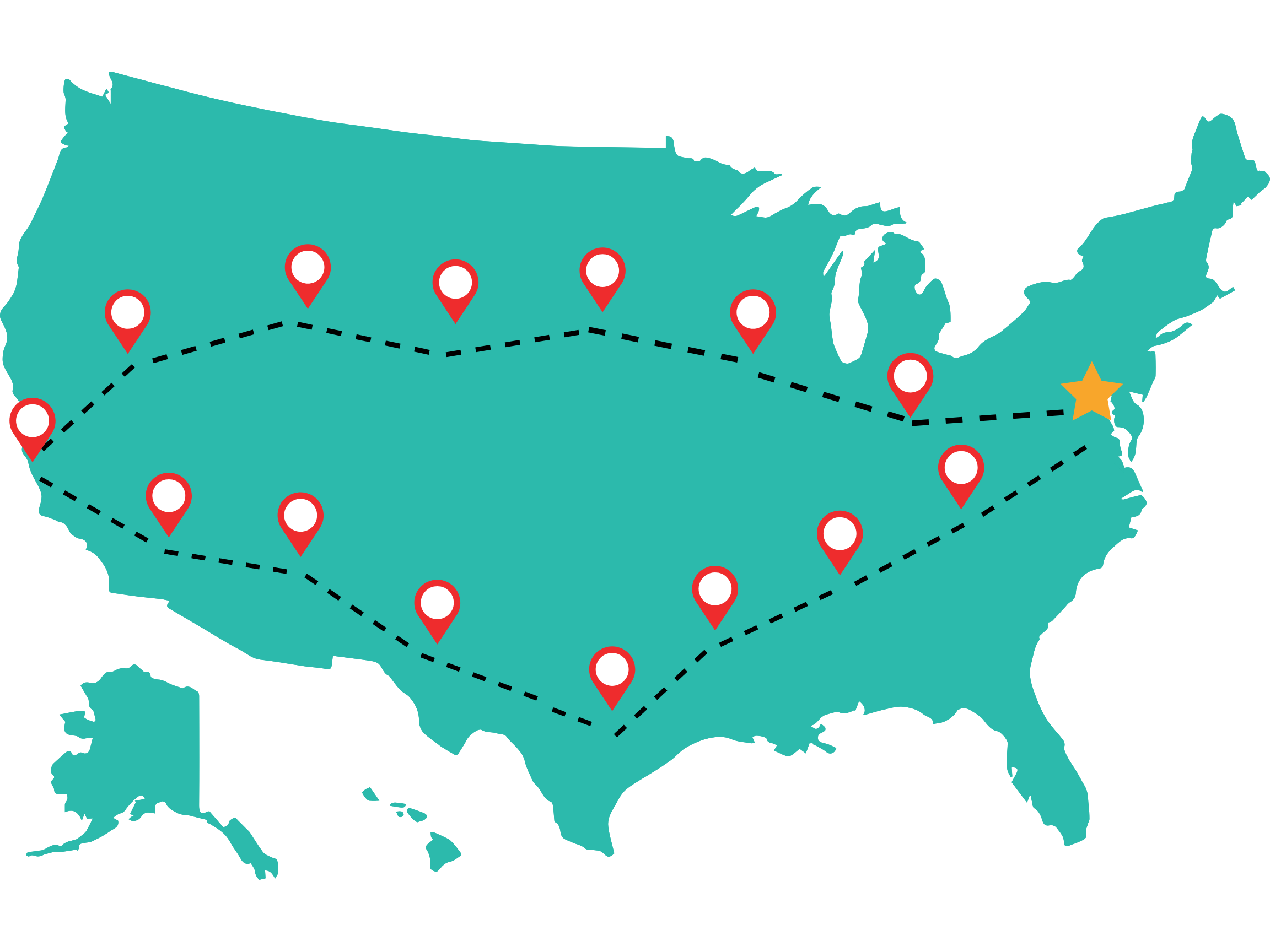 The 2020 Miles for Melanoma season was originally scheduled to begin this month but due to social distancing requirements, all of our in-person May events had to be rescheduled. But just because we can't currently gather together doesn't mean we can't take great strides towards a cure for melanoma. This month the MRF launched the first ever VIRTUAL Miles for Melanoma run/walk with the ambitious goal of logging 3,000 miles - roughly the distance from coast to coast across the US. Following an online opening ceremonies on May 2, our community began adding up the miles as they walked, ran and biked through their communities. Not only did we meet our goal weeks ahead of schedule - our dedicated supporters DOUBLED it before the month was over! Logging over 6,000 miles, the Virtual Miles for Melanoma event covered the distance from the Atlantic to the Pacific Ocean, and then back again! Most importantly, participants raised over $32,000 for life-saving melanoma research!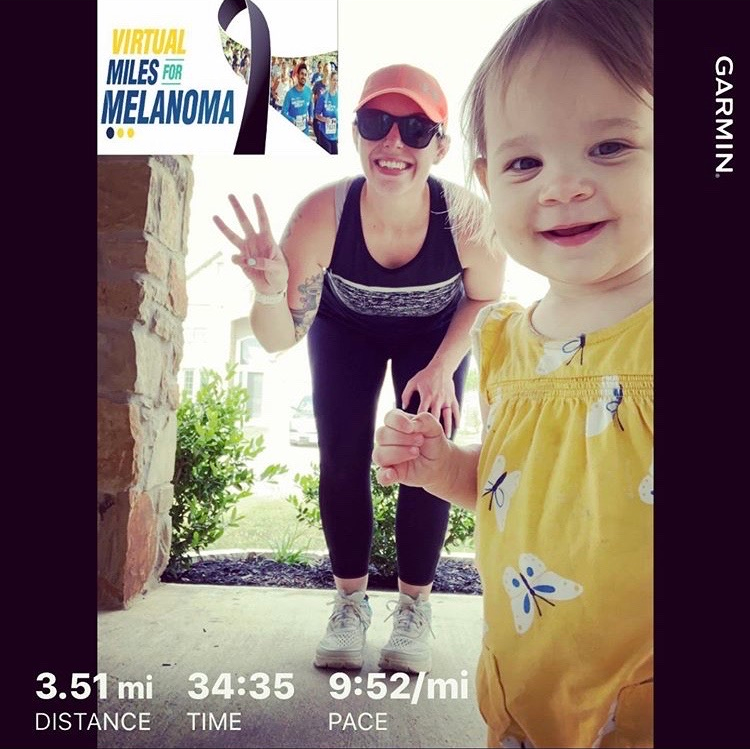 Thank you to everyone who stepped up to make this event such a success and shared your progress throughout the month! For everyone who raised $100 or more, be on the lookout for your official UPF 50+ Miles for Melanoma race shirt from our friends and National Apparel Partner, Coolibar. If you raised $250 or more, a gift bag filled with skin care products and other treats will arrive in the near future courtesy of the MRF's National Prevention Sponsor, Neutrogena. The MRF is grateful to our partners for their generous support of our community and our shared mission to cure melanoma!
Tune in to the MRF's Facebook Live broadcast this Sunday, May 31 at 2pm ET / 11am PT as we wrap up an incredible event with an online closing ceremonies hosted by ESPN Sports Journalist, MRF advocate and melanoma survivor Holly Rowe! We look forward to announcing our fundraising totals, congratulating our top teams and recapping some of the highlights of a historic month. Don't forget that we still have a full calendar of events ahead of us, and we look forward to seeing you all in person soon. Visit the Miles for Melanoma page to view the updated schedule of 2020 events.
Learn From Your Living Room with Facebook LIVE!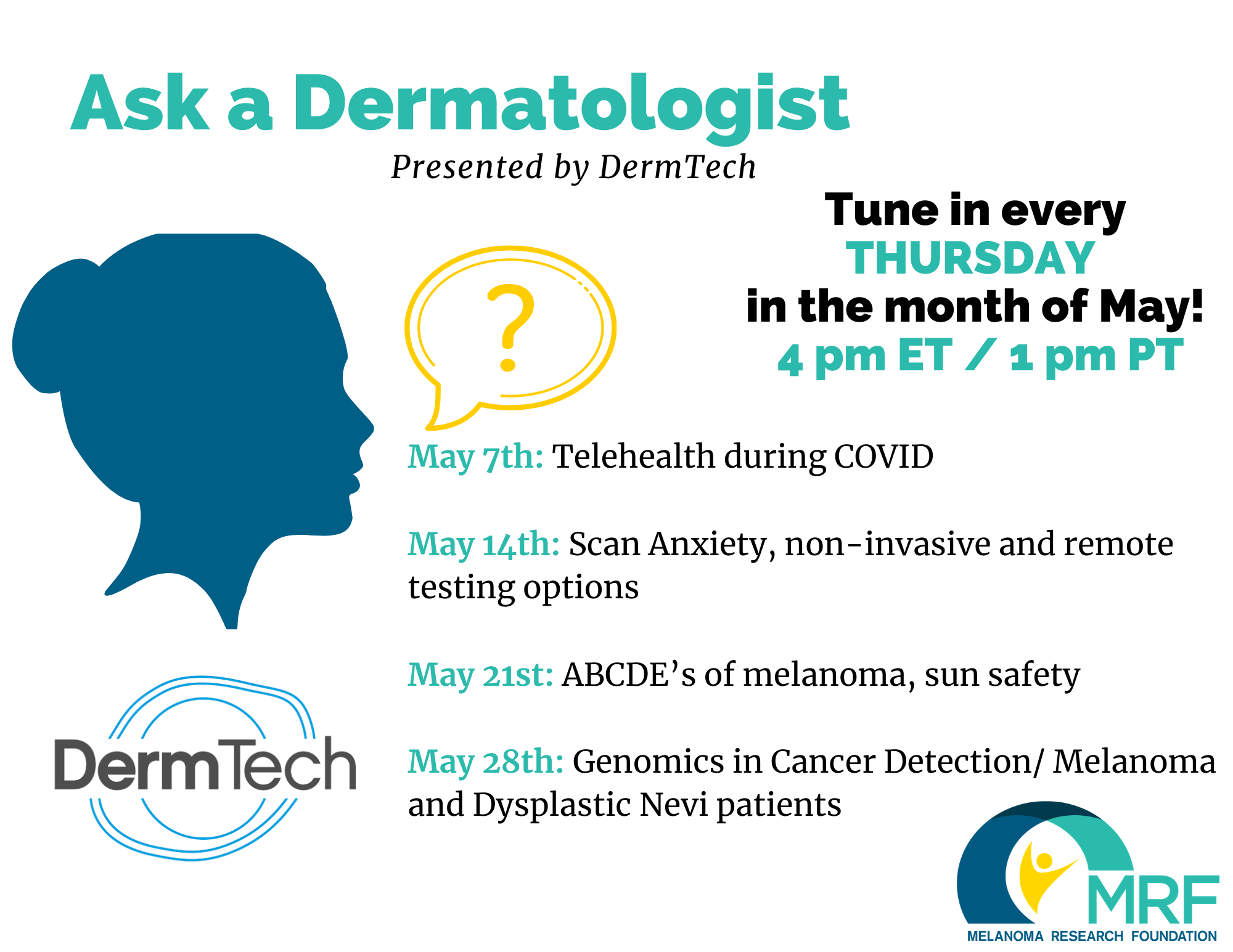 As we continue to practice responsible social distancing, virtual platforms have become an increasingly important resource for melanoma education. During Melanoma Awareness Month, the MRF partnered with Presenting Sponsor DermTech, leading dermatologists and melanoma experts to host weekly "Ask a Derm" interactive sessions on Facebook Live. Every Thursday at 4pm ET, viewers from around the world tuned in to learn about topics including:
In addition to the weekly Ask a Derm broadcasts, the MRF was grateful for the opportunity to share additional educational resources thanks to our partners at Castle Biosciences and Devils Backbone Brewing Company:
On Saturday, May 23, Dr. Suraj Venna and Dr. Patricia Lucey (INOVA Schar Cancer Institute) joined the MRF and its Official Beverage Partner, Devils Backbone Brewing Company, for Sun Safety with Devils Backbone, an engaging discussion on how to enjoy the outdoors responsibly this summer.
On Wednesday, May 27, the MRF hosted the inaugural Meet the Researcher live session featuring Dr. Andrew Aplin (Thomas Jefferson University Hospital). Dr. Aplin, who will be honored with a Humanitarian Award at the Virtual Philadelphia Gala Presented by Castle Biosciences, discussed his research and how COVID-19 is impacting research labs across the country.
The MRF is grateful to the many experts who gave their time and expertise this month, and to our generous partners who made these programs possible. We look forward to sharing additional online presentations in the future!
Cause Marketing Partners - Thank You!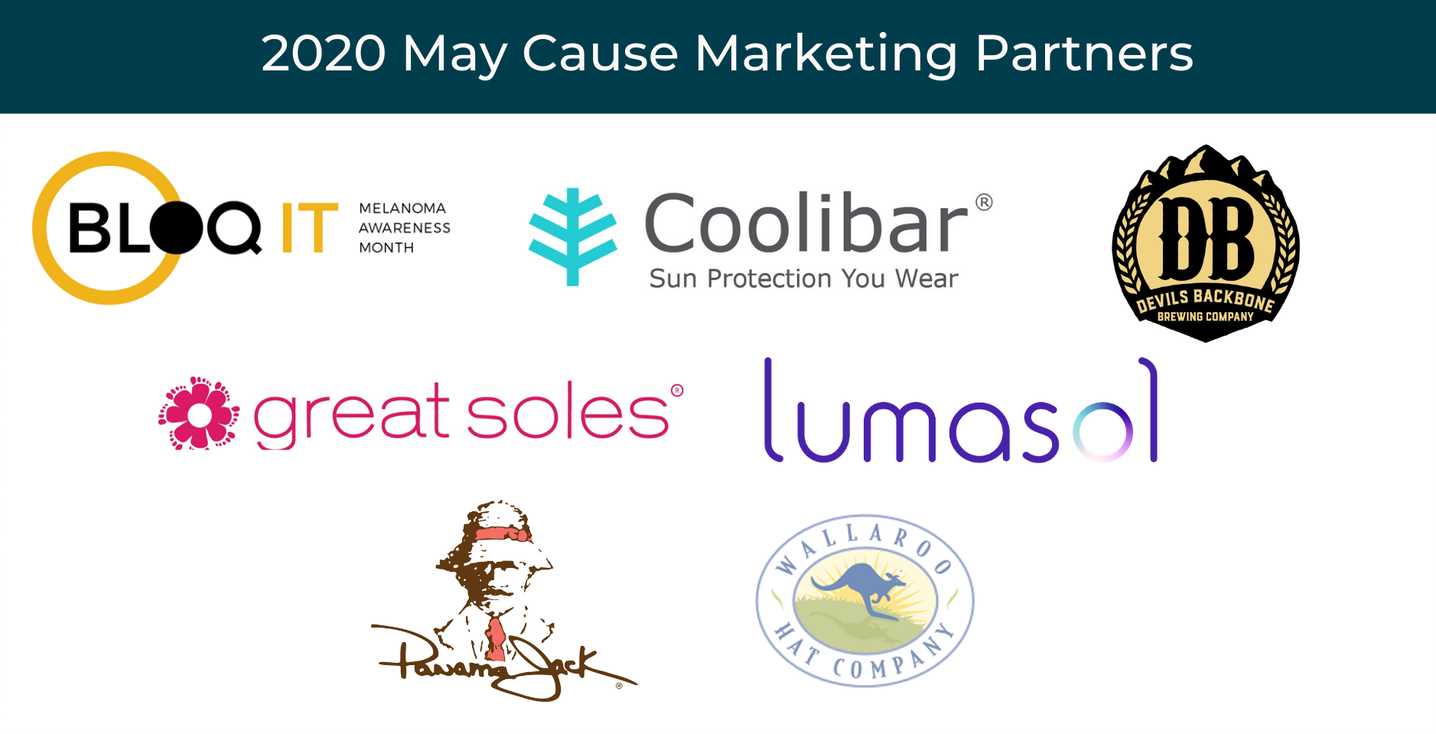 Thank you to our cause marketing partners! Throughout the year, the MRF is grateful to work with so many dedicated partners who share our mission and help to increase melanoma education and awareness. We're especially grateful for those who go out of their way to support the melanoma community with special programs and promotions during Melanoma Awareness Month.
Do you know of a business or organization that would be a great fit as an MRF cause marketing partner? Visit the MRF Cause Marketing page to learn about the different levels of support and benefits that are available, or email events@melanoma.org to learn more!

Learn from your Living Room with the #CancerHasNoCurve Resource Center
Normally in the month of May, MRF staff are flying all across the country to host awareness events, patient symposia and other programs to increase melanoma education and awareness. Because that's not a possibility this year, our team has been hard at work developing new resources and ensuring that life-saving education about melanoma prevention, diagnosis and treatment can continue in a virtual capacity. Every Monday in the month of May, new educational resources were added to the #CancerHasNoCurve Resource Center featuring leading experts and focused on a wide variety of topics related to melanoma. Learn more about topics added this month including:
The MRF is grateful to the researchers, physicians, patients and caregivers who generously donated their time and expertise to produce these new resources including, by date of publication, Alexander Shoushtari, MD (Memorial Sloan Kettering Cancer Center), Ryan Sullivan, MD (Massachusetts General Hospital Cancer Center, Harvard Medical School), Alan Nguyen, LCSW (University of Texas MD Anderson Cancer Center), Jean Hartford-Todd, CCLS (Duke University Health System), Adil Daud, MD (UCSF Helen Diller Family Comprehensive Cancer Center), Patrick Rebholtz (melanoma survivor), Brent Morris (melanoma caregiver), Ahmad A. Tarhini, MD, PhD (H. Lee Moffitt Cancer Center), J. William Harbour, MD (Sylvester Comprehensive Cancer Center of the University of Miami Miller School of Medicine), Marlana Orloff, MD (Thomas Jefferson University Hospital) and Mitchell Fane, PhD (Johns Hopkins School of Public Health).
In addition to the #CancerHasNoCurve Resource Center, these presentations will also be available on the Webinars page of the MRF Education Institute.
Advancing Research & Science
Despite significant challenges affecting labs across the country, progress in melanoma research continues and the MRF remains committed to leading our community towards a cure. Here are some recent highlights from the world of melanoma science and upcoming opportunities for research funding: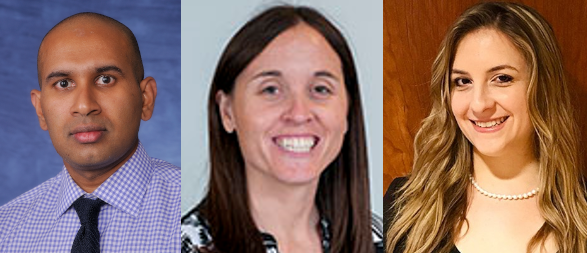 Join us in congratulating Diwakar Davar, MD (Mentor: Hassane Zarour, MD), recipient of the 2020 Melanoma Research Foundation Breakthrough Consortium – Bristol-Myers Squibb (MRFBC-BMS) Young Investigator Research Team Award to Advance the Field of Translational Immuno-Oncology. Dr. Davar is an assistant professor of medicine and medical oncologist/hematologist at the University of Pittsburgh Medical Center. With Co-PIs Meghan Mooradian, MD, Massachusetts General Hospital/Harvard Medical School (Mentor: Ryan Sullivan, MD) and Julie Stein, MD, Johns Hopkins University (Mentor: Janis Taube, MD), Dr. Davar's proposal is titled Integrative Analysis of Prognostic Factors to Neoadjuvant Nivolumab/CMP-001 in Stage III B/C/D Melanoma and seeks to improve the use of neoadjuvant immunotherapy agents to prevent melanoma recurrence in high-risk melanoma patients while avoiding adverse effects of treatment.
Federal Funding Opportunity - Apply Now!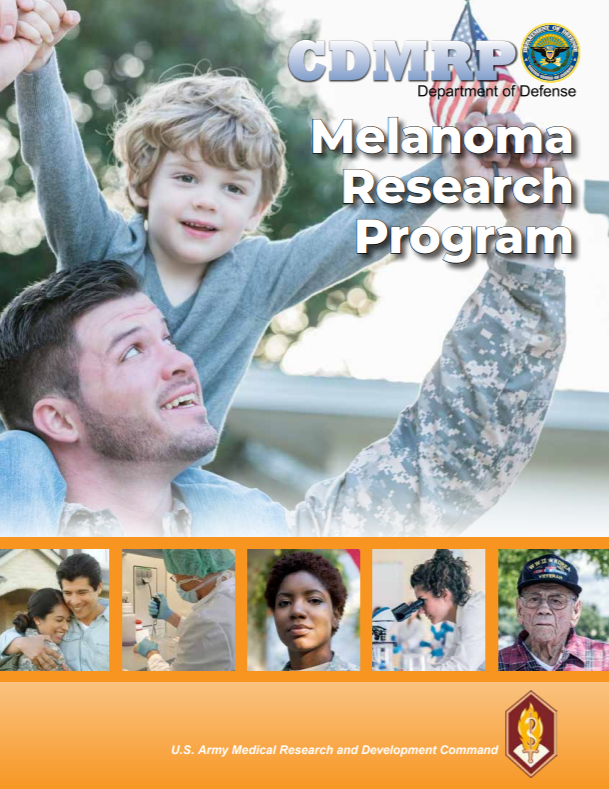 The Congressionally Directed Melanoma Research Program (CDMRP) is currently accepting pre-applications for 6 different award types supporting individual investigators and research teams studying melanoma. Pre-applications are due by June 20, 2020 and those invited to apply must submit proposals by September 24, 2020.
MRF advocates were instrumental in the creation of the CDMRP in 2018 with an initial budget of $10 million, the first time melanoma research was eligible for dedicated Department of Defense funding. In 2019, advocacy efforts doubled this funding to $20 million to benefit American service members, their families and the general public. Even with this increase, only 11% of highly rated research proposals were able to be funded and this year the MRF is advocating for a further increase to $35 million in dedicated research funding - click here to contact your lawmakers and urge their support!
For researchers interested in submitting a pre-application, the MRF recently partnered with Donna Kimbark, PhD to present Melanoma Research Program Funding Opportunities: Tips for Success to explain the federal application process and tips to increase the chance of your application being selected. Dr. Kimbark has worked at the Congressionally Directed Medical Research Program since 2002, managing funding programs for multiple disease types and leading the Funding Opportunities Advancement team, where she coordinates the creation and approval of grant solicitations.

The American Society of Clinical Oncology (ASCO) 2020 Virtual Meeting is happening now! Traditionally one of the largest oncology conferences of the year, the annual ASCO meeting unites researchers from across the world to share the latest news in cancer research and treatment development. Even though this year's meeting will be held virtually from May 29-31, the MRF will be an active participant and we look forward to sharing the latest melanoma news that is presented during the conference. As in previous years, the MRF Breakthrough Consortium (MRFBC) convened an annual meeting in conjunction with the ASCO conference, bringing together leaders from the 20 MRFBC member sites to discuss the latest developments in melanoma clinical trials, updates on research projects funded by the consortium and more. We look forward to sharing updates from both the MRFBC meeting and ASCO conference in the near future!
Update: Patient-Led Ocular Melanoma FDA Listening Session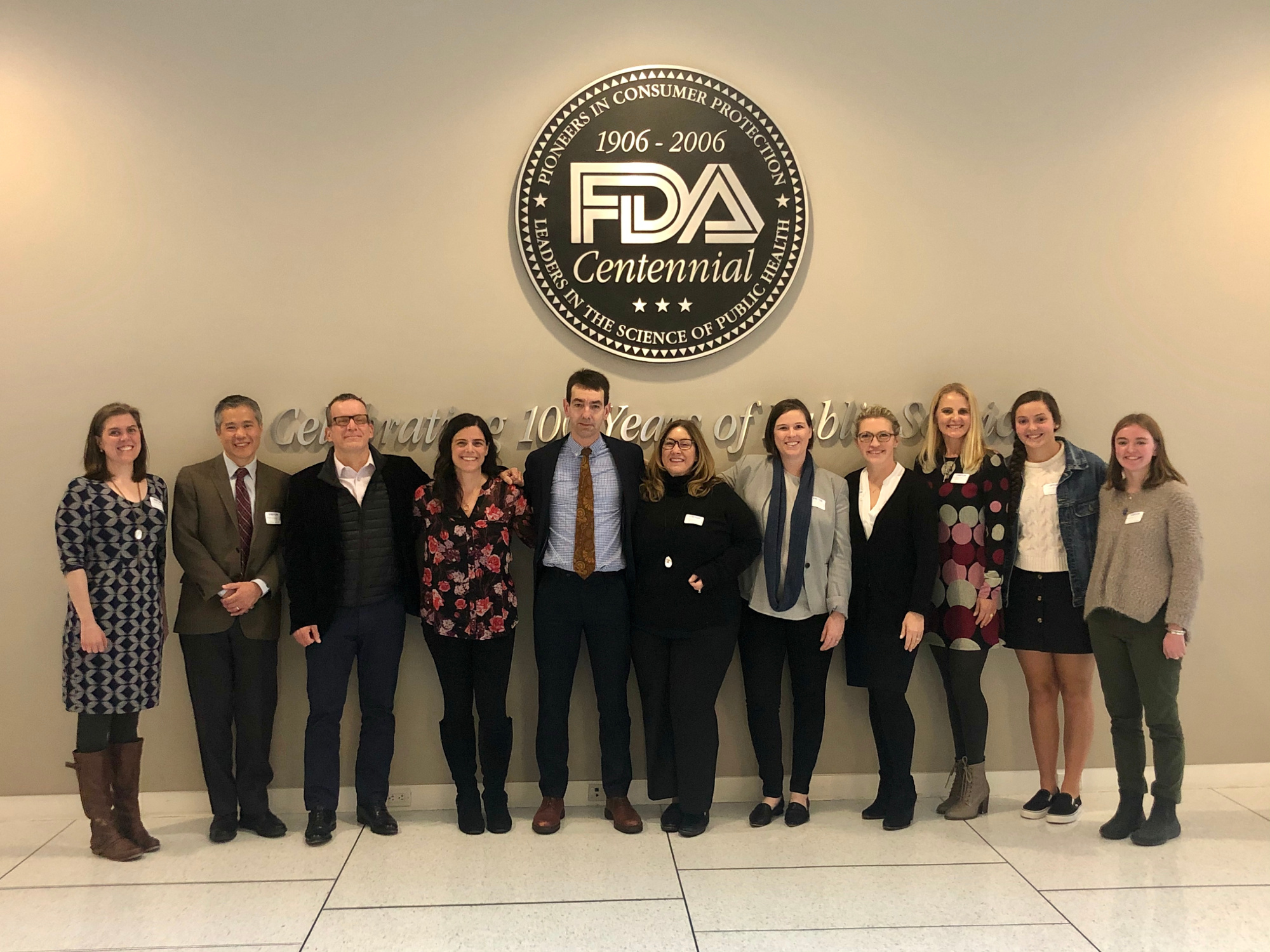 On January 27, 2020, the Melanoma Research Foundation's (MRF) CURE OM initiative led by Senior Advocacy Officer Cassie Beisel conducted a first of its kind Patient-Led Ocular Melanoma Listening Session at the U.S. Food and Drug Administration (FDA). Patients, caregivers and medical professionals met with eighteen FDA leaders to share their stories and discuss the needs of the OM community. Their stories focused on the lack of standard of care, misdiagnoses, the need for single arm clinical trials, financial toxicity of the disease and the toll it takes on both patients and caregivers who have been impacted by this orphaned disease. Eleven individuals attended in person at the FDA and four community members phoned in to share their journeys. In direct response to the patients' call for action regarding their commonality of misdiagnosis, the MRF has been invited to participate as a patient advocacy voice on the Collaborative Community for Ophthalmic Imaging (CCOI). The hope is to advance earlier detection of OM through AI interpretation.
Due to COVID-19, the FDA had to put the official report on hold to focus on the immediate needs of the pandemic. The MRF is excited to announce that the report from that session is now available on the FDA website and the MRF's website!
Click here to read the Executive Summary from the first-ever FDA Patient-Led OM Listening Session
Visit the MRF at the COVID Advocacy Exchange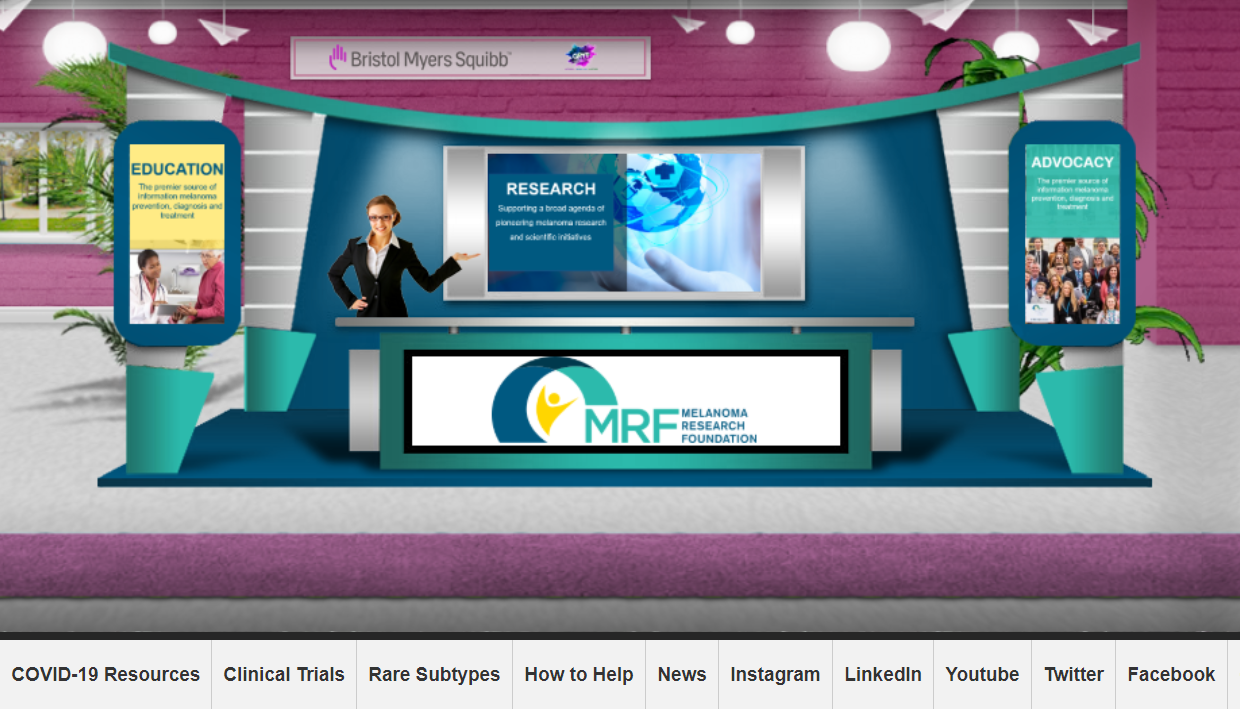 In response to the unprecedented and evolving situation related to the COVID-19 pandemic, the MRF has joined our partners at Bristol Myers Squibb, GRYT Health and advocacy organizations across the globe at the COVID Advocacy Exchange. This virtual platform brings together organizations supporting multiple disease types to share resources and information that may be helpful during the current health crisis. Participants can visit the MRF's virtual booth 24/7, and live panel discussions will be hosted every Thursday featuring experts from a wide variety of patient advocacy organizations. Register today for the COVID Advocacy Exchange and be sure to "visit" the MRF booth in the virtual exhibit hall!
Attend a Rare Melanoma Summit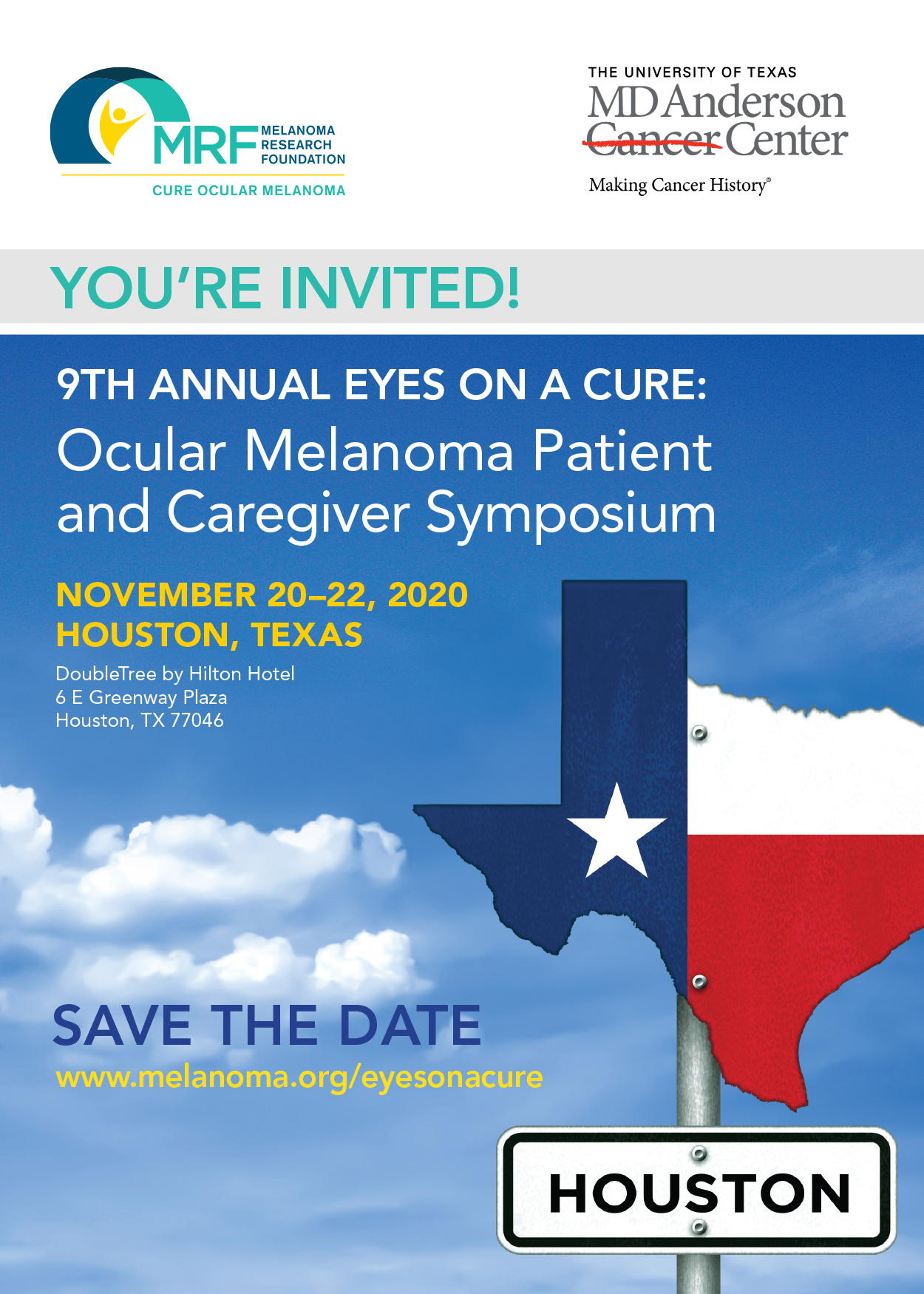 In response to national health guidance and travel restrictions, earlier this year the MRF made the difficult but necessary decision to postpone all of our spring events, including the highly anticipated Eyes on a Cure: OM Patient & Caregiver Symposium scheduled for April. While we had hoped to see all of our friends in Houston earlier this year, the time apart has left us only more excited to come together at the rescheduled summit on November 20-22, 2020! The venue and lodging will remain the same, with information about the discounted CURE OM room block available in the coming weeks - stay tuned! Note: If you had previously registered for the symposium when it was scheduled for April, we do ask that you complete a new registration for the November event. We appreciate your flexibility as we adapt to and work through changes on the national health landscape, and look forward to seeing everyone this fall!
Register today for the 9th Annual Eyes on a Cure: Patient & Caregiver Symposium!
For our pediatric melanoma community, while we will continue to closely monitor the evolving situation and always place our community's health and safety first, the 7th Annual Pediatric Melanoma Summit is currently planned to proceed as scheduled! Join young pediatric melanoma warriors, their siblings and family members at Great Wolf Lodge in Phoenix, AZ on September 25-27, 2020 to learn the very latest news in pediatric melanoma research and treatment development. In addition to hearing from world-renowned researchers and physicians, the summit is a great opportunity to meet other families - often for the first time - who understand what it's like to be a part of the pediatric melanoma community. For the younger crowd, or even the young at heart, pack a swimsuit and get ready to make a splash at the giant indoor water park! A full agenda with speakers, panel discussions and a wide range of activities for those of all ages will be available soon.
Register today for the 7th Annual Pediatric Melanoma Summit!
Note: With the evolving situation related to the COVID-19 pandemic, we highly recommend purchasing trip insurance when making travel arrangements for 2020 events. Regulations and public health policies across the country are subject to change in the coming months which could force the MRF to make changes to these events. The health and safety of our community will always be our highest priority, and any changes will be communicated in as timely a manner as possible. The MRF is not liable for any funds lost to changes or cancellation of transportation or lodging reservations due to circumstances beyond our control.

Melanoma Awareness Month Goes Global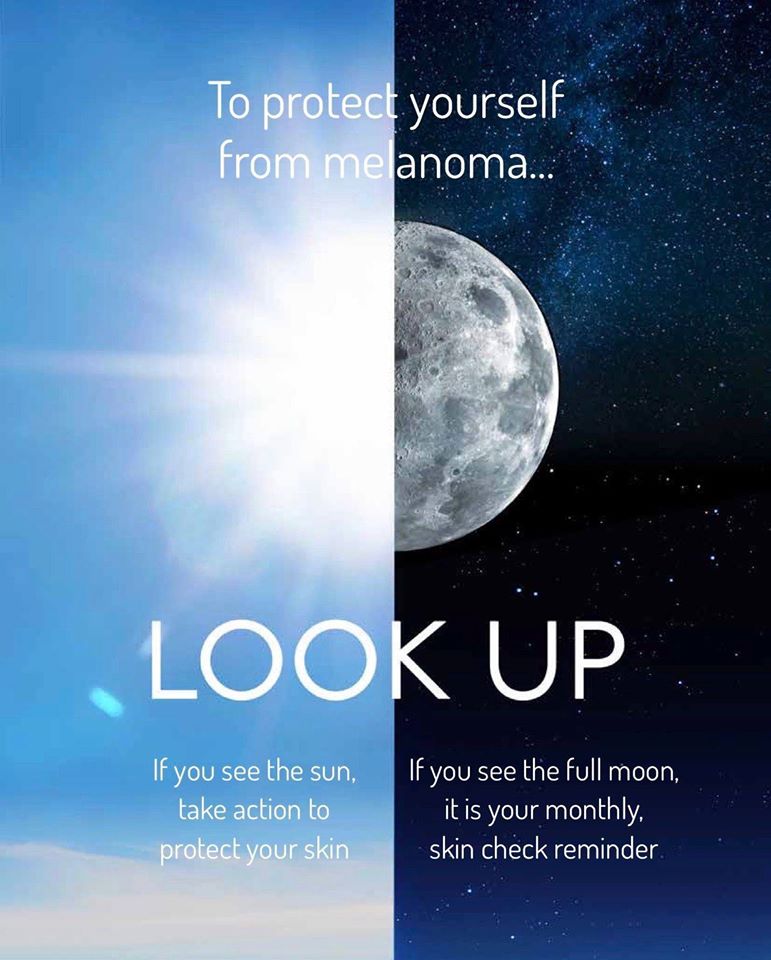 This May in celebration of Melanoma Awareness Month, the Global Coalition for Melanoma Patient Advocacy joined our partners at Euromelanoma to launch an international awareness campaign in over 50 countries worldwide. In addition to sharing the importance of sun safety and regular self skin checks with daily social media content, this year's campaign introduced a new way to remember monthly skin checks - if you see a full moon, it's time to #GetNaked! The campaign led off with a joint press release introducing the 2020 Melanoma Skin Cancer Report: Stemming the Global Epidemic, identifying key focus areas in the global fight against melanoma. With contributions from leading dermatologists in the US and abroad, this report shares current skin cancer statistics and future projections from the World Health Organization, highlighting the need to take strong actions now to change mindsets and behaviors across the globe.
Thank you to everyone who helped to share this month-long series of social media posts with friends and family, wherever they are across the world!
"What is Nail Melanoma? 21-Year-Old Details Spotting Skin Cancer on Nail," TODAY

1420 K Street, NW 7th Floor Washington, DC 20005 | Tel: (800) 673-1290
Melanoma Research Foundation © 2021 All rights reserved.