A Commitment to Our Community
From the desk of MRF CEO Kyleigh LiPira, MBA:
The Melanoma Research Foundation (MRF) was founded in 1996 by Diana Ashby, a young woman who was frustrated that, despite significant advances in other forms of cancer, melanoma patients like herself lacked effective treatment options. Her frustration with the status quo became determination to create change, and that powerful legacy lives on nearly a quarter of a century later as the MRF has become the largest independent organization devoted to melanoma. But more important than devotion to a disease is our deep commitment to a community. As a national organization, we work with diverse communities across the country and people who are all passionate, dedicated and work tirelessly to advance our mission and educate those around them about the risks of melanoma.
In recent months, our country has faced a series of compounding challenges that have profoundly affected nearly every aspect of our lives and left many with incredible levels of uncertainty, anxiety and even fear. While no one has been completely spared, for the more than 1 million Americans currently living with melanoma in the US – the patients and caregivers we hear from every day – the feelings of insecurity are even greater. Through our recent Cancer Has No Curve campaign, the MRF made a promise to our community that we will remain hard at work each and every day, fighting on their behalf, advancing life-saving research and finding new ways that we can offer our support. To that end, we have been creating immense amounts of content to fill gaps where we would normally hold in-person events and sent out a survey to over 70,000 individuals to help us identify other ways that COVID-19 has impacted their life. This information will help us create more resources to aid in this time of extreme crisis.
Today, we reiterate and strengthen that commitment.
Melanoma is statistically much more common in fair skinned men over 50, but it does not discriminate by age, race, gender, socioeconomic class or creed. In fact, despite representing only a small number of overall diagnoses, melanoma mortality rates are significantly higher in people with darker skin and access to treatment remains a challenge in too many communities across the US. For this reason, MRF awareness campaigns like #GetNaked, #EyeGetDilated and #SeeSpotSeeDoc highlight a diverse mix of patients, caregivers and families and we remain committed to sharing these important stories. In addition to these campaigns, the MRF has its materials available in multiple languages and has conducted outreach and built relationships with advocates and partners who can bring our melanoma education and awareness messages further into new or underserved communities. New online resources dedicated to increasing access and limiting disparities in care will continue to be a priority area of expansion in our Education Institute. If even one person who previously thought they were not at risk for melanoma benefits from these initiatives and it results in a self-skin check or first visit to a dermatologist, it will have been a success.
Most importantly, the MRF is committed to listening. Every new initiative and program expansion started from the same place: the patient voice. Through roundtables, needs assessments, listening sessions and online surveys – or even impromptu conversations at events – knowing what is most needed by our community steers the future direction of our work. Now, as always, we want to hear from you and encourage you to become an MRF advocate. From new areas of research, targeted outreach opportunities, overcoming challenges in accessing a correct diagnosis and timely care and more, your voice can affect positive change for years to come. Age, race, gender, socioeconomic class or where you live in the country should not determine your diagnosis, treatment or melanoma outcome.
We can and will one day live in a world without melanoma. But as we work toward that goal, we are determined to live in a world without myths and misconceptions, disparities in care and outcome inequality.
Thank you for sharing your important perspectives and continued support as we increase our efforts, grow our community and walk together towards a cure for all.
Sincerely,

Fund the Future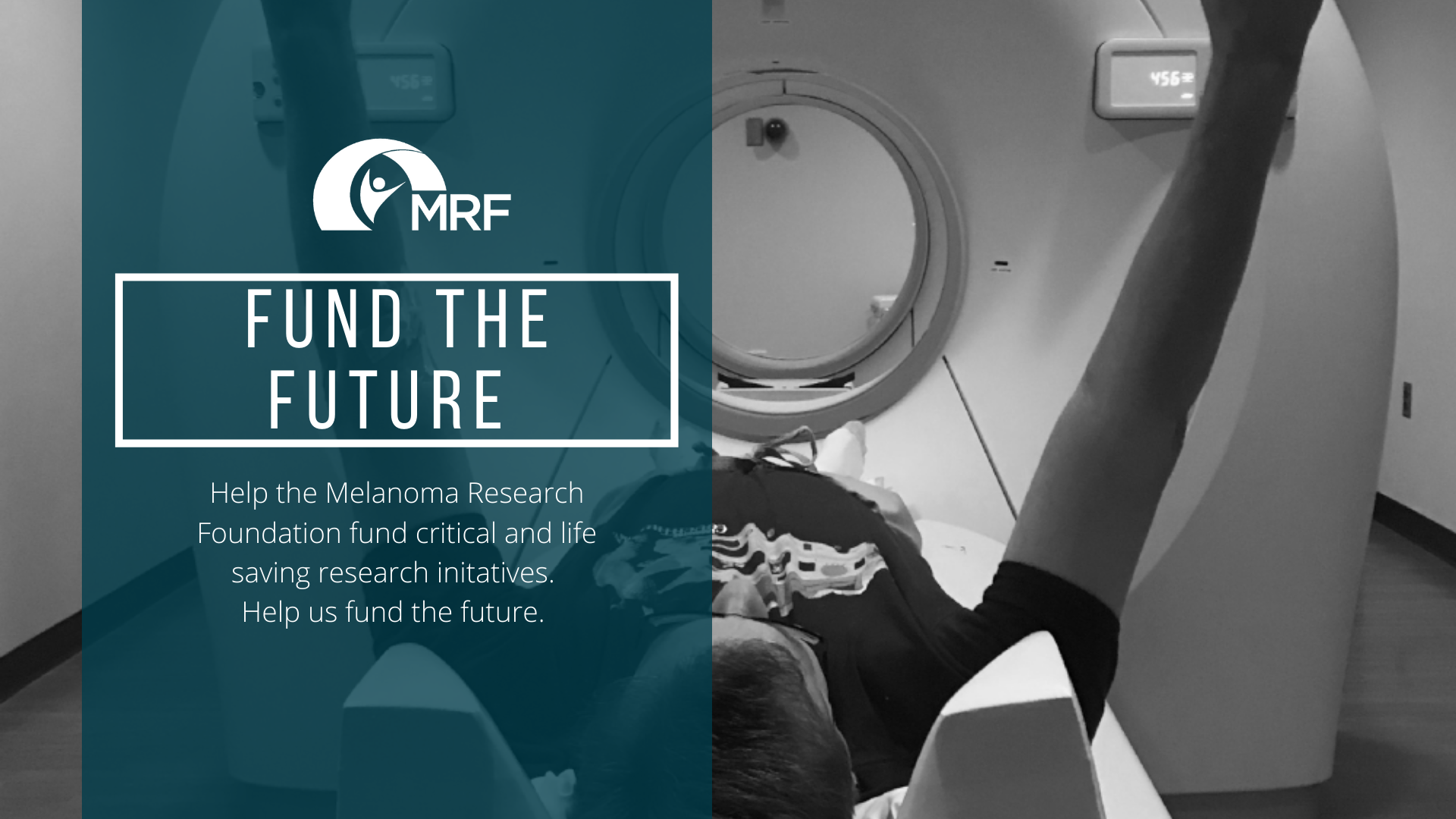 For over 20 years, the Melanoma Research Foundation has supported the most promising melanoma research and the development of new life-saving treatments, all through the incredible generosity of our community. Now more than ever, we need your help. Due to the impact of COVID-19, we have seen a decline in our ability to raise critical funds and this decline directly impacts the MRF's ability to advance research. This research could save lives and one day lead to a cure for melanoma.
We need your support to "Fund the Future" and help the Melanoma Research Foundation continue to lead progress in critical research and treatment development. Together, as a community, we can continue this life-saving work and ultimately find a cure.
Make a tax-deductible gift today and support research that could save lives!
Miles for Melanoma Goes Virtual!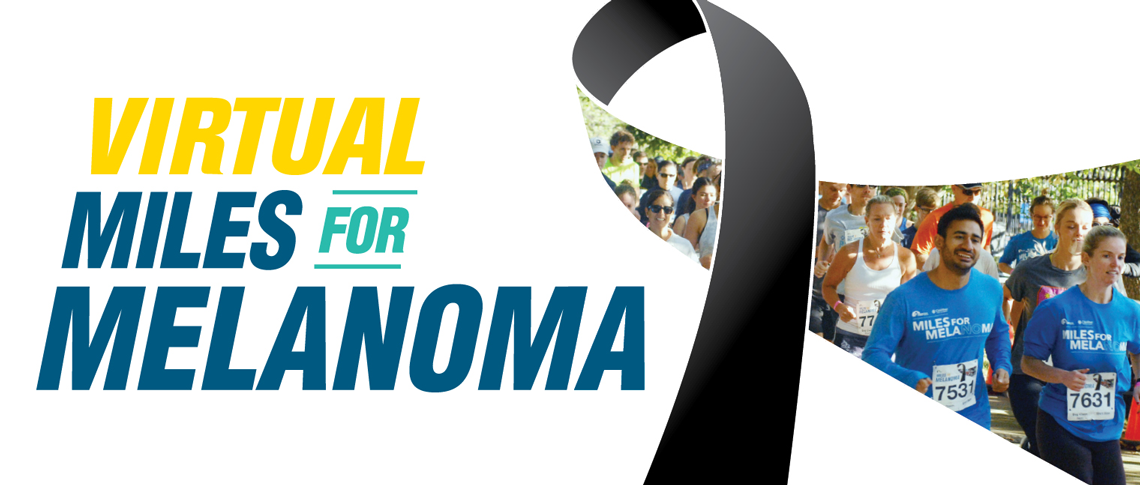 The first ever Virtual Miles for Melanoma Denver run/walk was held on June 13th and was a great day for the Denver melanoma community to come together even while apart. From the socially distanced safety of sidewalks, backyards and living rooms, survivors and supporters came together to celebrate courageous individuals in the melanoma community and raise much-needed funds for new research. Welcomed by emcee and longtime MRF supporter Mike Nelson, Chief Meteorologist at Denver7, the virtual event included an online guide to skin exams from Stephen Ho, MD, FAAD (Swedish Medical Center Sarah Cannon Cancer Center, our virtual skin check sponsor), powerful stories from ocular melanoma caregiver Paulina Edge and melanoma survivor Addison Brush and a full schedule of online fitness activities from generous local sponsors Alchemy 365, Barre Forte, www.jennkyoga.com and The Barre Code. The MRF recognized top fundraisers at the event, including top individual fundraiser Dean DePaolo and the top fundraising team, On Your Marks. Congratulations to Dean, Team On Your Marks and everyone who generously contributed to support the Denver melanoma community! The MRF extends a special thanks to our National Sponsor Novartis, National Prevention Partner Neutrogena and National Apparel Partner Coolibar!
After an amazing day in Denver, we're back to the East Coast for two great virtual events in July! Register today for the Virtual Miles for Melanoma DC run/walk on July 11th and then join us at the Virtual Miles for Melanoma New England run/walk on July 18th.
View the entire 2020 Miles for Melanoma calendar and register for a race near you!
CommUNITY Fundraiser: Team Addison Claws Out Cancer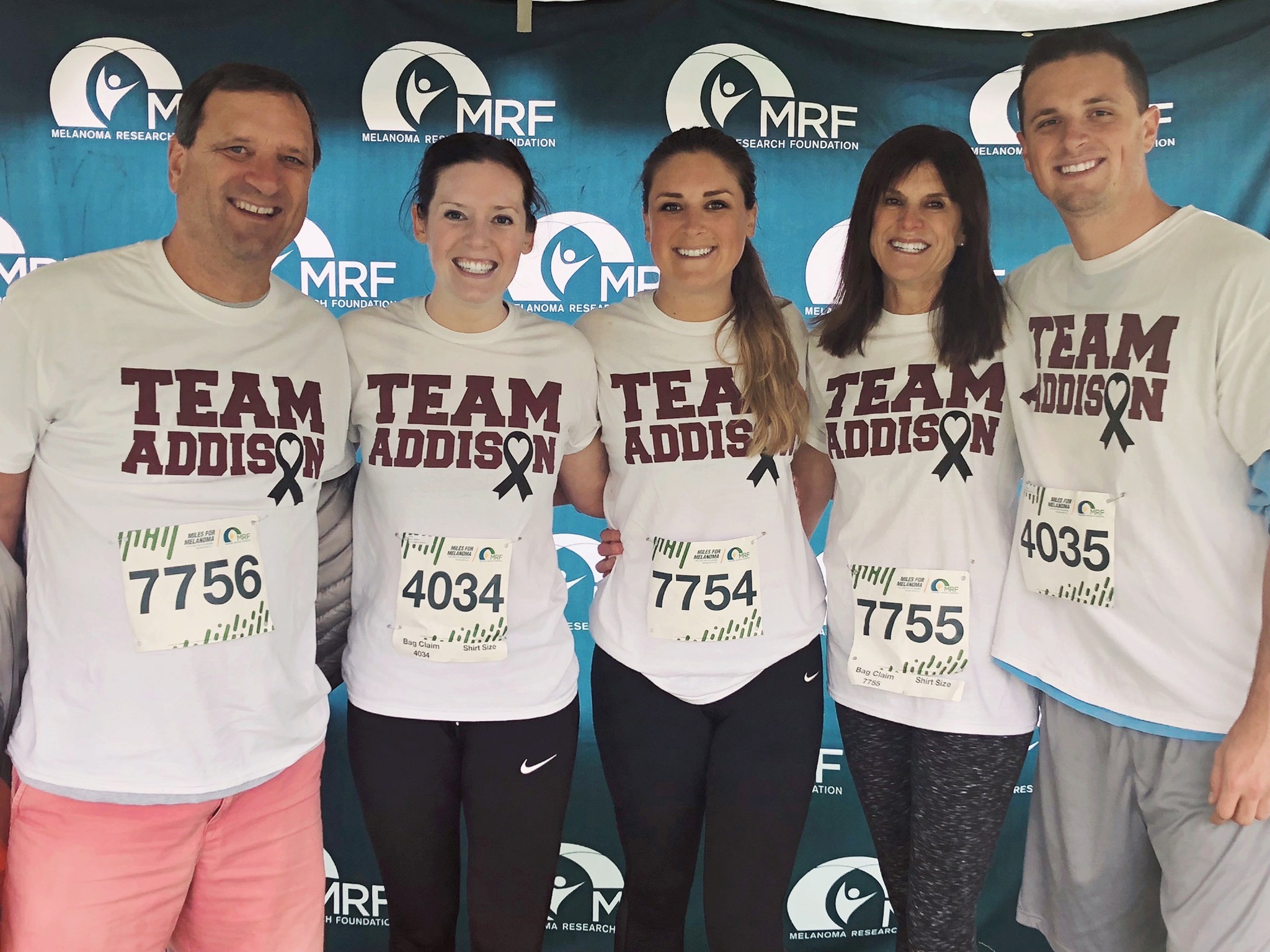 Addison Brush is an incredible advocate and strong supporter of the melanoma community. She is currently fighting stage four melanoma for the third time and wanted to share her powerful story with the melanoma community. Team Addison has taken part in numerous Melanoma Research Foundation (MRF) events throughout the years and continues to give back in new and creative ways. Click here to watch Addison share her story during the Virtual Denver Miles for Melanoma event!
This past May, Addison's friends and family came together to surprise her for Melanoma Awareness Month. They hosted and organized the Claw Out Cancer Challenge. The purpose of this challenge was to promote the importance of wearing sunscreen, raising critical funds for the melanoma community and to have fun! Team Addison challenged their friends, family and community to lather on their favorite sunscreen, open a White Claw beverage and donate to a great cause. They were able to raise over $20,000 for melanoma research!
Thank you to Team Addison and everyone who exemplifies what it means to live #AddStrong! If you have an idea for a creative fundraiser and awareness event like Claw Out Cancer, or want to learn more about the MRF CommUNITY Fundraising program, please email Development Associate Nicole Nishanian at events@melanoma.org.
Celebrate and Support Our Heroes at an MRF Gala!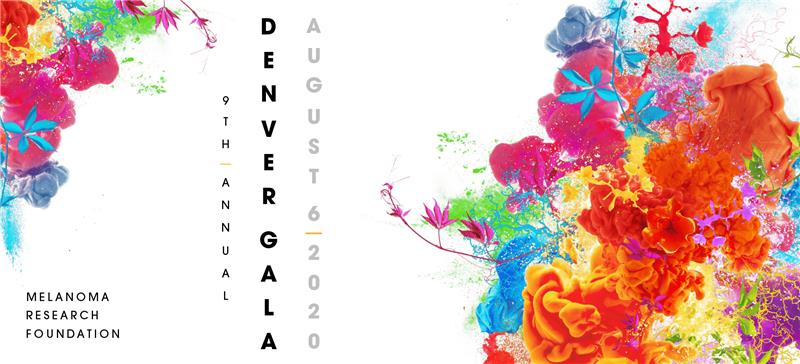 The MRF Denver Gala goes virtual! Over the last 9 years, the incredibly generous Denver community has raised over $1.45 million for life-saving melanoma research. Even though we cannot physically come together due to public health regulations, the Denver Gala is too important to miss so this year we will toast our heroes virtually! On Thursday, August 6, enjoy luxury in your living room (or participate in your pajamas) as we honor those leading the fight and celebrate courageous patients and survivors who have shown incredible bravery in facing melanoma. The MRF is excited to again welcome Mike Nelson, Chief Meteorologist at Denver7, as our emcee. The MRF will present a Humanitarian Award to Stephanie Frankel, MD, founder of Core Dermatology, in recognition of her outstanding commitment to patient care. The Excellence in Prevention Award will honor Robert Dellavalle, MD, PhD, MSPH, Professor of Dermatology and Public Health, University of Colorado School of Medicine, and Chief of Dermatology Service, Rocky Mountain Regional Veterans Administration Hospital for his amazing work nationally to fight for sun safety and melanoma education and prevention. For the strong commitment to health and prevention in pediatric patients, the Compassionate Care Award will be presented to Anna L. Bruckner, MD, Associate Professor of Dermatology and Pediatrics, Program Director, Pediatric Dermatology Fellowship. For the inspiring bravery they embodied while facing melanoma, Amy Eskola, Stefan Mokrohisky, MD, Carrie Rubin and Renee Wilson will be honored with Courage Awards.
In addition to an inspiring program celebrating our honorees, participants at the Virtual Denver Gala will have the opportunity to bid on exclusive silent auction items and an exciting chance to win a once-in-a-lifetime vacation package to either St. Thomas or Napa Valley - winner's choice! Most importantly, the Fund-A-Grant portion of the event will offer the opportunity for participants to directly impact the future of melanoma research and could contribute to the next exciting breakthrough in treatment development.
NEW: to add to the virtual experience, $50 of each ticket purchase can be redeemed for a gift certificate from in-kind sponsors Sushi Sasa, Tai Tai Japanese, ChoLon or Le Roux so you can still enjoy delicious selections from Denver's elite restaurants all from the comfort of home! Attendees will also have the option of designating the $50 value as an additional donation to the MRF.
Purchase your tickets to the Virtual Denver Gala today!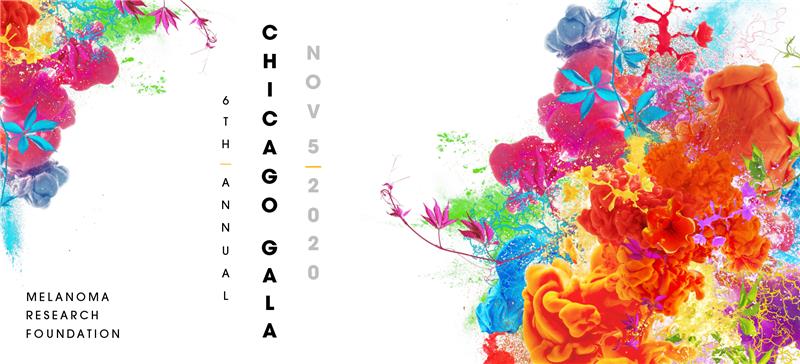 Over the past 5 years, Chicago's generous community and business leaders have contributed more than $750,000 for pioneering melanoma research and treatment development. This year's gala will build on that momentum while celebrating leaders in the research and medical community and the courageous patients and survivors who continue to inspire our work. The Humanitarian Award will recognize Pedram Gerami, MD, Northwestern Medicine, Professor Feinberg School of Medicine, for his dedication to patient care and improving methods for early diagnosis of melanoma. The Compassionate Care Award will be presented to Carolyn I. Jacob, MD, FAAD and Rachel N. Pritzker, MD, FAAD, Chicago Cosmetic Surgery and Dermatology, for their unmatched dedication to the patients in their care. Courage Award recipients will be announced in the near future. Gala attendees will celebrate together to help raise funding for critical melanoma research. Attendees will have the chance to bid and win once-in-a-lifetime items and experiences in an exciting silent auction, all while supporting life-saving advances in melanoma research. Multiple ticket packages and sponsorship opportunities are now available - mark your calendars now and join us at one of Chicago's most anticipated events on Thursday, November 5, 2020!
Purchase tickets for the 6th Annual Chicago Gala today!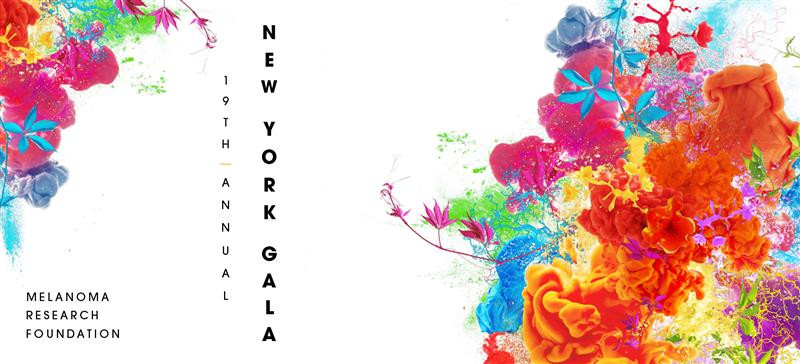 Save the date! Following the recommendations of public health officials and out of an abundance of concern for the health and safety of our community, the 19th Annual New York Gala has been rescheduled to January 14, 2021. The New York Gala is our largest event of the year, and the MRF remains committed to hosting an inspiring and unforgettable celebration to support the melanoma medical and patient communities. Stay tuned for additional details about the event - including new and exciting experiences. Mark your calendars today for the 19th Annual New York Gala on January 14, 2021!
Interested in sponsorship opportunities or other ways to support the MRF's flagship event? Email galas@melanoma.org to learn about the many ways individuals and organizations can get involved.
The MRF at ASCO!

As one of the largest scientific conferences in the world, the American Society of Clinical Oncology (ASCO) Annual Meeting unites researchers across the globe to share the latest news in cancer research and treatment development. Due to COVID-19, this year the ASCO meeting was held virtually from May 29-31. As in years past, the MRF convened their annual Breakthrough Consortium (MRFBC) meeting on the first day of the ASCO gathering, consisting of representatives from the 20 MRFBC member sites. Although unable to be physically in the same room, we were still able to discuss new collaborations, ongoing clinical trials, upcoming meeting preparations for the MRF Brain Metastases Summit 3.0 (to be held in 2021), and the impact of COVID-19 on melanoma clinical trials and research.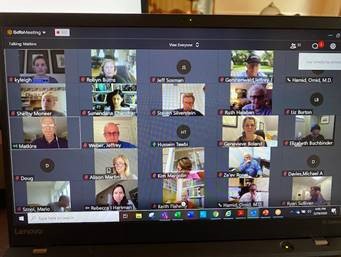 During the ASCO virtual meeting, several interesting melanoma trials were also presented. Some melanoma trials of note included:
· In the neoadjuvant space: the response to neoadjuvant therapy in patients with stage III melanoma has the potential to sort patients into those that do or do not need removal of nearby lymph nodes that contain melanoma. Abstract 10002
· In the front-line space: identification of patients responding to first line ipilimumab/nivolumab after 2 doses rather than the standard 4 may be possible. This identification will allow treatment decisions to be made earlier in the process with less toxicity. Abstract 10003
· After anti-PD1 therapy: encouraging data on a new therapeutic agent for patients with limited treatment options, specifically those who have had prior checkpoint inhibitor treatment. Abstract 10006
As the MRFBC and ASCO meetings clearly showed, encouraging progress in melanoma research continues even during a pandemic. Our scientific partners shared how they are advancing research, treatment and patient care in the COVID-19 era in this short video: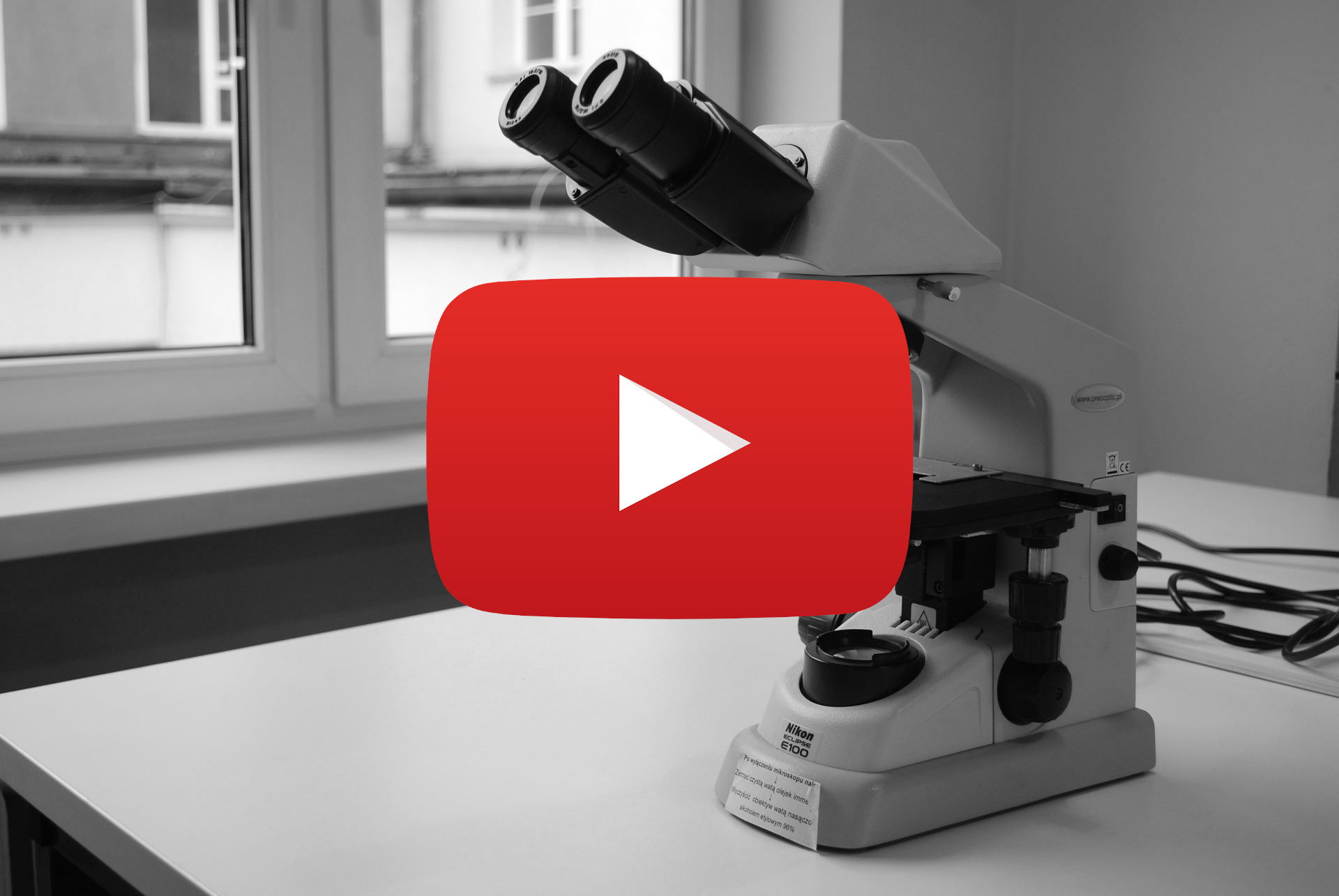 Melanoma and Skin of Color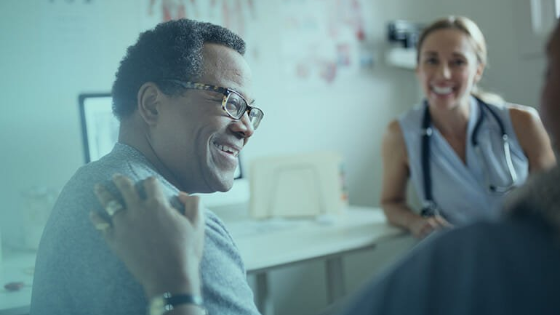 Melanoma is far more common in people with fair skin and although it is relatively rare in people of color, when it is diagnosed, it is often diagnosed in later stages, making treatment more difficult and resulting in higher mortality rates. As part of the MRF's ongoing commitment to offer the most helpful education and awareness resources, the MRF Education Institute includes a page titled Skin of Color and Melanoma which shares information related to melanoma awareness, diagnosis and risk factors for people with darker skin. For instance, did you know that the most common locations for melanoma on people of color are areas that don't often see the sun like the palms of the hands, soles of the feet, on fingernails and toenails and inside the mouth? The MRF also continues to expand our partnerships with advocates and organizations that can help important melanoma awareness messaging reach individuals who may not know they are at risk and communities facing issues like disparities in access to care. This important work will continue and the MRF team is eager to hear the needs, priorities, obstacles and opportunities where we can serve the melanoma community. If you would like to share your story or get involved, please email education@melanoma.org or become an MRF Advocate!
Don't Forget to Visit the MRF at the COVID Advocacy Exchange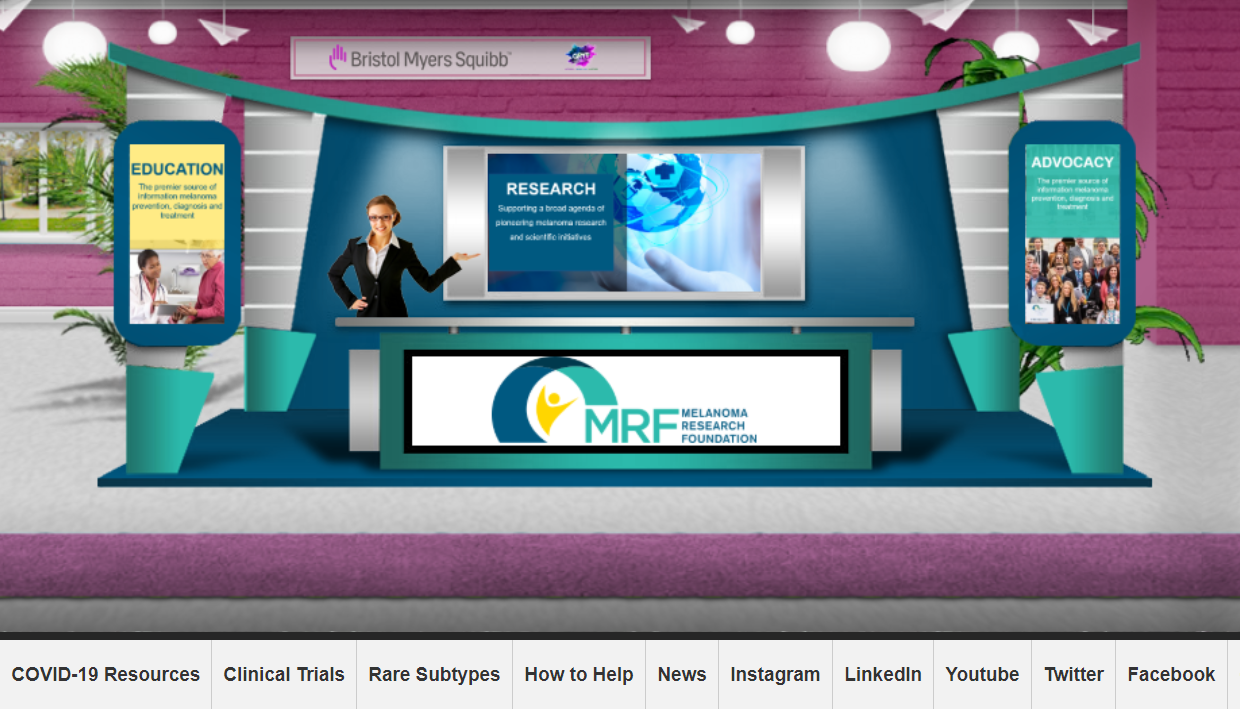 In response to the unprecedented and evolving situation related to the COVID-19 pandemic, last month the MRF joined our partners at Bristol Myers Squibb, GRYT Health and advocacy organizations across the globe at the COVID Advocacy Exchange. This virtual platform brings together organizations supporting multiple disease types to share resources and information that may be helpful during the current health crisis. Participants can visit the MRF's virtual booth 24/7, and live panel discussions will be hosted every Thursday featuring experts from a wide variety of patient advocacy organizations. Register today for the COVID Advocacy Exchange and be sure to "visit" the MRF booth in the virtual exhibit hall!
Attend a Rare Melanoma Summit
For our pediatric melanoma community, while we will continue to closely monitor the evolving situation and always place our community's health and safety first, the 7th Annual Pediatric Melanoma Summit is currently planned to proceed as scheduled. The Great Wolf Lodge recently enacted a number of new policies to promote health and cleanliness, which you can find detailed here.
Join young pediatric melanoma warriors, their siblings and family members at Great Wolf Lodge in Phoenix, AZ on September 25-27, 2020 to learn the very latest news in pediatric melanoma research and treatment development. In addition to hearing from world-renowned researchers and physicians, the summit is a great opportunity to meet other families - often for the first time - who understand what it's like to be a part of the pediatric melanoma community. For the younger crowd, or even the young at heart, pack a swimsuit and get ready to make a splash at the giant indoor water park! A full agenda with speakers, panel discussions and a wide range of activities for those of all ages will be available soon.
Register today for the 7th Annual Pediatric Melanoma Summit!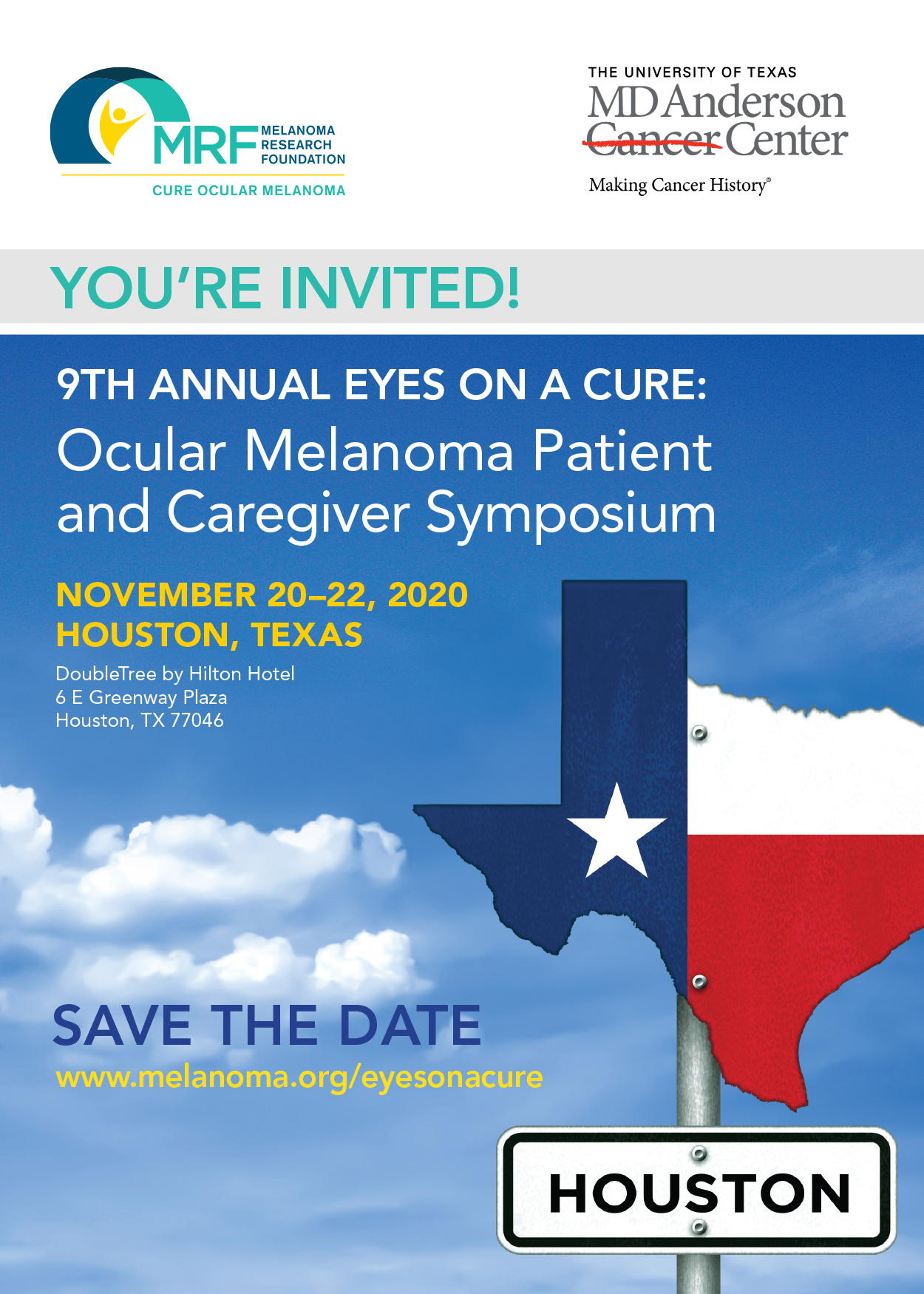 In response to national health guidance and travel restrictions, earlier this year the MRF made the difficult but necessary decision to postpone all of our spring events, including the highly anticipated Eyes on a Cure: OM Patient & Caregiver Symposium scheduled for April. While we had hoped to see all of our friends in Houston earlier this year, the time apart has left us only more excited to come together at the rescheduled summit on November 20-22, 2020! The venue and lodging will remain the same, with information about the discounted CURE OM room block available in the coming weeks - stay tuned! Note: If you had previously registered for the symposium when it was scheduled for April, we do ask that you complete a new registration for the November event. We appreciate your flexibility as we adapt to and work through changes on the national health landscape, and look forward to seeing everyone this fall!
Register today for the 9th Annual Eyes on a Cure: Patient & Caregiver Symposium!
Note: With the evolving situation related to the COVID-19 pandemic, we highly recommend purchasing trip insurance when making travel arrangements for 2020 events. Regulations and public health policies across the country are subject to change in the coming months which could force the MRF to make changes to these events. The health and safety of our community will always be our highest priority, and any changes will be communicated in as timely a manner as possible. The MRF is not liable for any funds lost to changes or cancellation of transportation or lodging reservations due to circumstances beyond our control.

Melanoma in the News
Below is a sample of recent melanoma and indoor tanning news.

"St. Jude Launches Pediatric Global COVID-19 Observatory and Resource Center," OncLive
"FDA Approves Keytruda for Cutaneous Squamous Cell Carcinoma," Healio
"Physicians Urge Cancer Screening to Avoid Second Health Crisis," Modern Healthcare
"Adjuvant Immunotherapy Improves Survival in Melanoma," cancernetwork

"Minority Children Die of Cancer at Higher Rates," Cancer Health
"Wearable Patch May Provide New Treatment Option for Skin Cancer," Purdue University
"Mucosal Melanoma Patient Refuses to Let Her Rare Diagnosis Dictate Her Life," Dana-Farber Cancer Institute
"This Tattoo Artist Keeps an Eye Out for Signs of Skin Cancer on Customers," News Brig
"Liquid Biopsy Predicts Outcomes in Stage III Melanoma," Clinical Oncology News
"Immunotherapy: Fighting Cancer and More?," National Foundation for Cancer Research

1420 K Street, NW 7th Floor Washington, DC 20005 | Tel: (800) 673-1290
Melanoma Research Foundation © 2021 All rights reserved.