Continuing Progress in the COVID Era
From the desk of MRF CEO Kyleigh LiPira, MBA:
Over the last few months, we have witnessed tremendous challenges. The COVID-19 pandemic has put incredible strain on our medical system and prevented cancer patients from seeing their doctors, accessing clinical trials and getting the critical care that they so desperately need.
The MRF has worked diligently in supporting our community and recently sent out a survey to patients and caregivers to better assess their needs so that we can develop resources and programs to help meet them. That survey provided some critical findings such as approximately 85% of respondents reported some amount of disruption in treatment, care or follow-up appointments and approximately 70% of respondents reported "a lot" or "some" difficulty connecting to one of their health care providers. Advocacy organizations are needed now more than ever to help fill the gaps in education and support created by COVID-19, especially for our very vulnerable cancer patients.
As an organization that depends entirely on the generosity of its supporters, we have seen a very sharp decline in our ability to raise the resources needed to support our community as we have had to transition many of our in-person events to a virtual platform. The funds raised at these events directly support our research grant program. Currently, we face a great challenge with the amount the MRF will be able to grant in research awards.
Over the last two decades, the MRF has supported over $18.8 million in research grants to medical institutions across the United States. These funds have led to new FDA-approved treatments, new researcher collaborations, patents and safer, more effective treatment options.
As an organization, we have seen first-hand that the research we are funding today will have an impact on the treatments of tomorrow and long into the future. However, because of COVID-19, we will not be able to fund these grants at the level we have in the past. Our organization faces difficult decisions, which include decreasing our grant funding due to the financial challenges imposed by the pandemic.
The melanoma community depends on research funded by the MRF. Reducing our funding will have a detrimental and far-reaching impact not only for melanoma researchers in the field, but also for our patients and their families. The next treatment breakthrough, or even a cure for melanoma, could be sitting on a shelf at this very moment, just waiting for our investment. So today, we are asking you to help Fund the Future by making a tax-deductible donation to help us increase our 2020 research grant funding. Any amount will allow us to do as much as possible for this community.
Nearly a quarter of a century ago, the MRF was founded by a patient seeking better treatment options, and today patients remain at the center of all we do. We cannot afford to have our research grant program decline and result in fewer treatment options for patients.
We are grateful for your support and consideration of helping the MRF continue to lead the fight against this disease.
Sincerely,

Fund the Future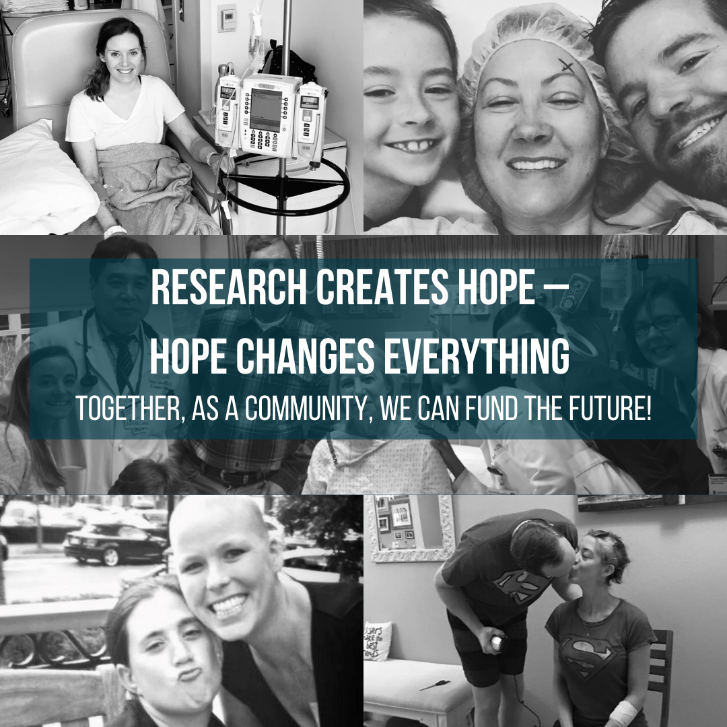 For over 20 years, the Melanoma Research Foundation has supported the most promising melanoma research and the development of new life-saving treatments, all through the incredible generosity of our community. Now more than ever, we need your help. Due to the impact of COVID-19, it has become more difficult to raise critical funds and this decline directly impacts our ability to advance research. This research could save lives and one day lead to a cure for melanoma.
We need your support to "Fund the Future" and help the Melanoma Research Foundation continue to lead progress in critical research and treatment development. Together, as a community, we can continue this life-saving work and ultimately find a cure.
Make a tax-deductible gift today and support research that could save lives!
A Toast to Heroes at the Virtual Denver Gala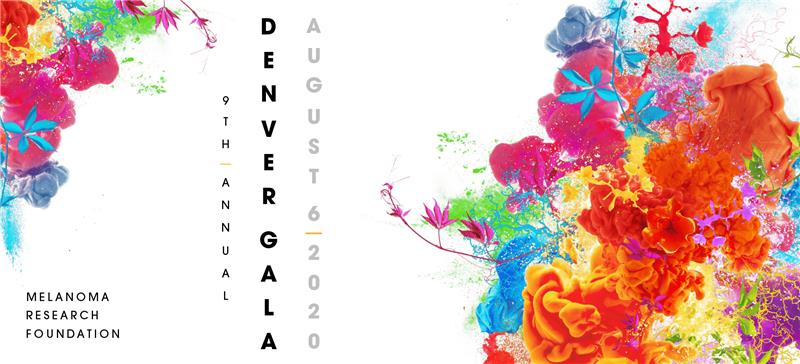 The Virtual Denver Gala is almost here! Over the last 9 years, the incredibly generous Denver community has raised over $1.45 million for life-saving melanoma research. Even though we cannot physically come together due to public health regulations, the Denver Gala is too important to miss so this year we will toast our heroes virtually! On Thursday, August 6, enjoy luxury in your living room (or participate in your pajamas) as we honor those leading the fight and celebrate courageous patients and survivors who have shown incredible bravery in facing melanoma. The MRF is excited to again welcome Mike Nelson, Chief Meteorologist at Denver7, as our emcee. We will present a Humanitarian Award to Stephanie Frankel, MD, founder of Core Dermatology, in recognition of her outstanding commitment to patient care. The Excellence in Prevention Award will honor Robert Dellavalle, MD, PhD, MSPH, Professor of Dermatology and Public Health, University of Colorado School of Medicine, and Chief of Dermatology Service, Rocky Mountain Regional Veterans Administration Hospital for his amazing work nationally to fight for sun safety and melanoma education and prevention. For the strong commitment to health and prevention in pediatric patients, the Compassionate Care Award will be presented to Anna L. Bruckner, MD, Associate Professor of Dermatology and Pediatrics, Program Director, Pediatric Dermatology Fellowship. For the inspiring bravery they embodied while facing melanoma, Amy Eskola, Stefan Mokrohisky, MD, Carrie Rubin and Renee Wilson will be honored with Courage Awards.
In addition to an inspiring program celebrating our honorees, participants at the Virtual Denver Gala will have the opportunity to bid on exclusive silent auction items and an exciting chance to win a once-in-a-lifetime vacation package to either St. Thomas or Napa Valley - winner's choice! Most importantly, the Fund-A-Grant portion of the event will offer the opportunity for participants to directly impact the future of melanoma research and could contribute to the next exciting breakthrough in treatment development.
To enhance the virtual experience, $50 of each ticket purchase can be redeemed for a gift certificate from in-kind sponsors Sushi Sasa, Tai Tai Japanese, ChoLon or Le Roux so you can still enjoy delicious selections from Denver's elite restaurants all from the comfort of home! Attendees will also have the option of making their entire ticket purchase tax-deductible by designating the $50 value as an additional donation to the MRF.
Run, Walk and "Crawl" with Virtual Miles for Melanoma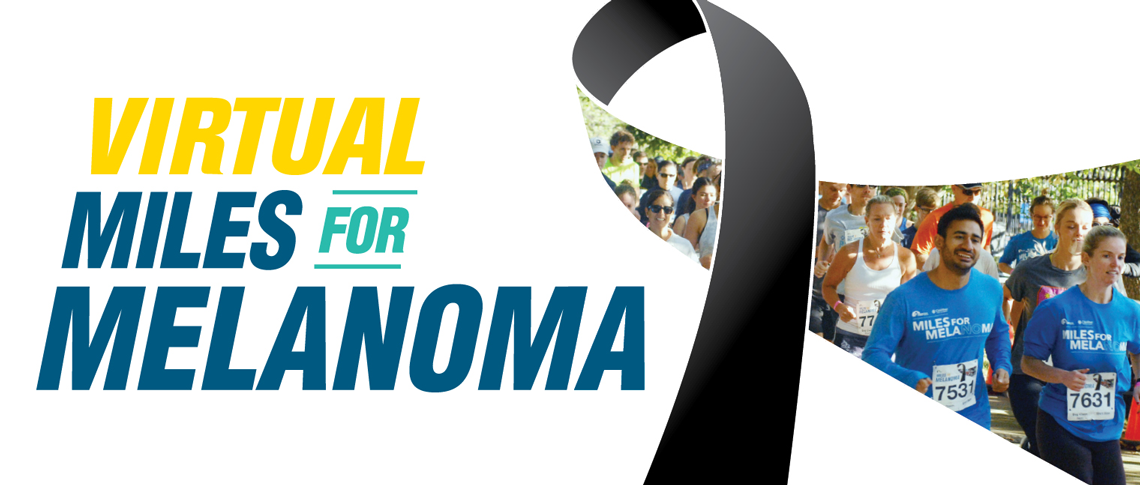 Our nationwide series of Miles for Melanoma run/walks may look a little different this year, but the enthusiasm, support and generosity of our community hasn't changed. While we miss the early morning hugs and handshakes at an in-person event, the transition to a virtual 5k in many of our host cities has created an exciting new format for 2020. This year, each Miles for Melanoma run/walk has expanded into a week-long "Fitness Crawl" featuring creative daily exercise routines to inspire socially distanced workouts throughout the week. Participants will also have the opportunity to win fun prizes through daily fundraising and team recruitment challenges, leading up to a virtual 5k on the originally scheduled date complete with a celebration ceremony, awards for top teams, speeches by survivors and special guests, and more. The expanded program began this month with the Virtual Miles for Melanoma DC run/walk on July 11th and the Virtual Miles for Melanoma New England run/walk on July 18th. In August, we're keeping things moving with four events coming your way! Register today for exciting and inspiring virtual events for the communities of Cleveland, OH (August 2), Memphis, TN (August 15), Twin Cities, MN (August 22) and Philadelphia, PA (August 29).
The MRF extends a special thanks to our National Sponsor Novartis, National Prevention Partner Neutrogena and National Apparel Partner Coolibar!
View the entire 2020 Miles for Melanoma calendar and register for a race near you!
CommUNITY Fundraiser: Warriors Against Melanoma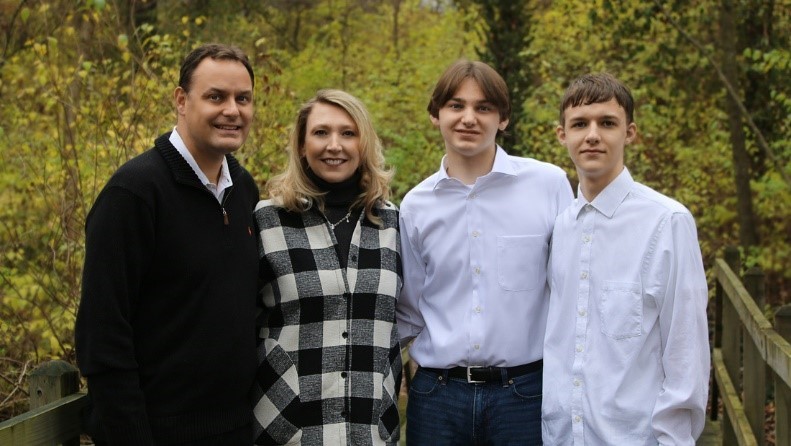 Melanoma warrior and advocate Carola Gloyd is a stage III melanoma survivor and the founder of Warriors Against Melanoma. She founded her nonprofit in 2014 to raise awareness and critical funds for the melanoma community. Through the hosting of various community fundraisers, Warriors Against Melanoma has donated over $150,000 to support melanoma research and the Miles Against Melanoma Family Assistance Program, which helps with medical expenses for families battling late-stage melanoma.
Due to the impact of COVID-19, their 6th Annual Trivia Night was on the verge of being canceled. To not miss an opportunity to raise life-saving research funds, Carola and her family decided to make this year's trivia night virtual. By live streaming the questions through an online platform, participants were able to compete in 8 exciting rounds of trivia. The Warriors team assisted in the scoring along with participants self-scoring themselves. In addition to a fun night of trivia, participants had the opportunity to win a St. Louis Blues jersey signed by 3-time NHL All-Star Vladimir Tarasenko.
Through her work with her own organization and participation at multiple MRF events across the country, Carola continues to give back and inspire those in her community. Thank you to the Warriors Against Melanoma team and we look forward to next year's trivia night on Saturday, April 10, 2021!
Do you have a great idea to raise funds and awareness for melanoma? Visit the MRF CommUNITY Fundraising page for free toolkits, planning documents and other resources to make your event a success!
Get Your Appointment Back on the Books
Over the past several months, businesses across the US have been forced to close their doors, and this includes doctor's offices, clinics and screening centers. While health care facilities have made impressive innovations to continue care through telehealth technology, millions of people were forced to cancel appointments and have missed critical check ups, screenings and surveillance exams. As restrictions begin to lift, it's time to get those appointments Back on the Books! The MRF is proud to join our partners at the Prevent Cancer Foundation to share the importance of regular screenings including mammograms, colonoscopies and full body skin exams, and how to safely get any appointments you missed back on your calendar in the coming months. Visit the Prevent Cancer Foundation's Back on the Books guide for a list of recommended screenings and vaccinations for different age groups, important COVID-related safety precautions you can take when you visit your doctor and more.
New Animated Videos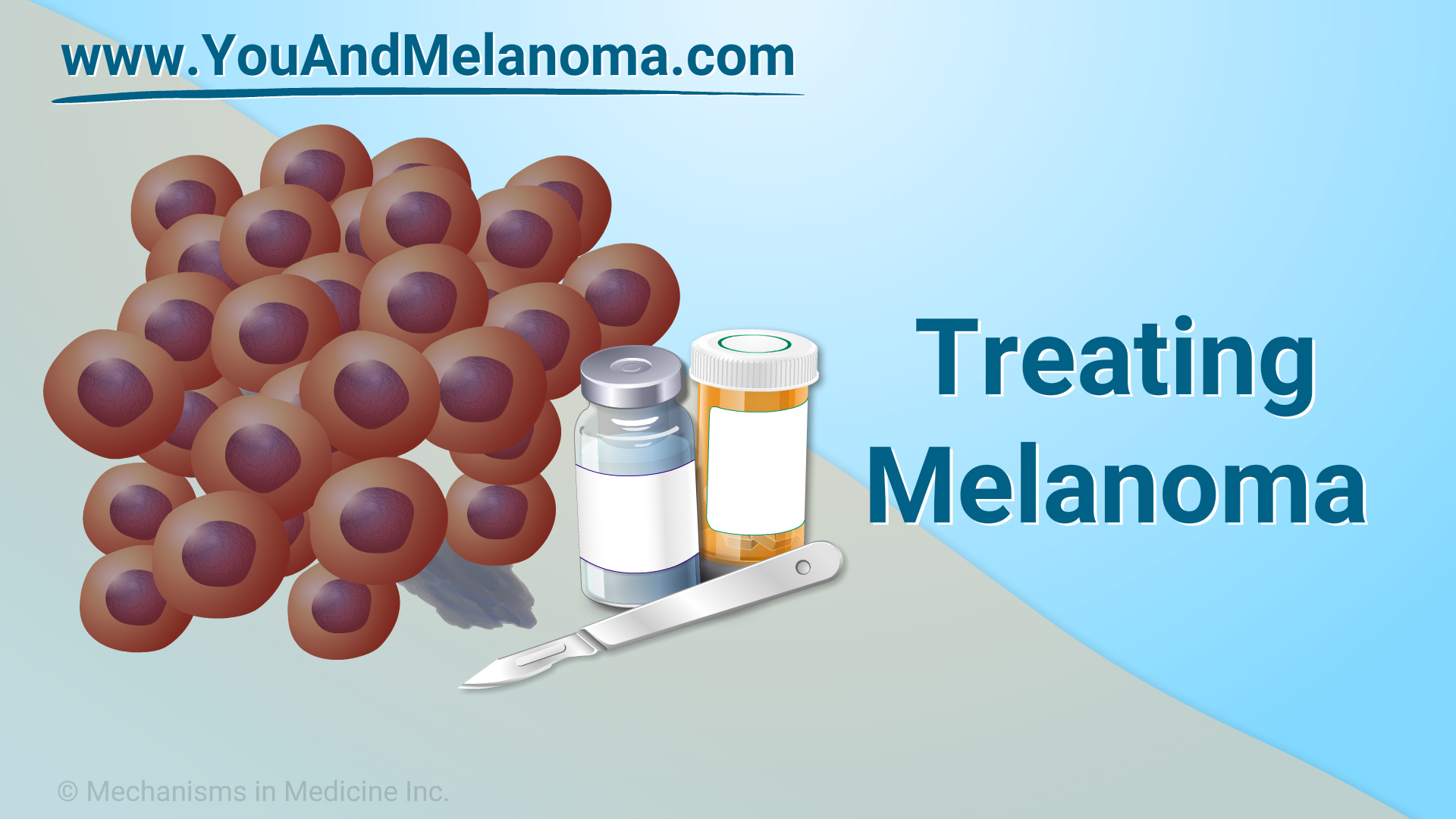 Continuing our commitment to advance melanoma awareness among patients, physicians and the general public, this month two new resources were added to the animated video series titled You and Melanoma: An Animated Patient's Guide in the MRF Education Institute. The first module, titled Diagnosing Melanoma, describes the tests and procedures doctors use to diagnose melanoma including skin examination, biopsy methods on the skin and lymph nodes and imaging tests such as MRIs, CT scans, PET scans and ultrasound. The animation also provides an overview of how melanoma is staged (how far the cancer has spread) which helps doctors decide how to best make a treatment plan. The second module, Treating Melanoma, explains the current treatment options for melanoma including surgery, immunotherapy, targeted therapy, radiation therapy, chemotherapy, vaccines for melanoma and clinical trials. It also describes potential treatment side effects and the importance of discussing all treatment options with your doctor or cancer care team, so you can make the best decisions that are right for you.
Find the entire collection of animated patient videos and additional resources in the MRF Education Institute!
Find Support or Become a Mentor with Imerman Angels

As you navigate the challenges of overcoming melanoma as a patient or caregiver, it's important to have a strong support network behind you. The MRF is proud to partner with Imerman Angels to provide free, one-on-one support services for cancer patients, survivors and caregivers. This resource connects support seekers with "Mentor Angels" who have been affected by melanoma, including rare subtypes like ocular, mucosal and pediatric melanoma, and can offer thoughtful and practical support. Patient, survivor and caregiver volunteers who want to help those currently facing melanoma can also apply to become Mentor Angels themselves. To apply as a support seeker or volunteer angel, visit Imerman Angels website and get involved today!
Learn about the other in-person and online resources offered by the MRF on our Find Support page.
The Pediatric Melanoma Summit Goes Virtual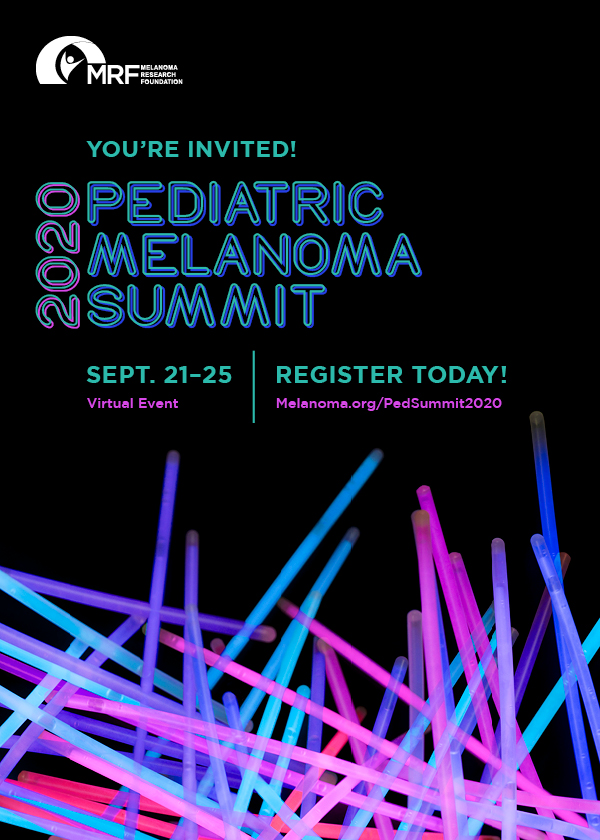 Due to ongoing restrictions related to COVID-19, the MRF made the difficult but necessary decision that our 2020 Pediatric Melanoma Summit will not take place in person this year. The 2020 event will transition to a virtual platform, and we have already confirmed next year's summit at the same venue in Phoenix, AZ on September 24-26, 2021.
While we had hoped to see our friends in Phoenix this year, the MRF team has been hard at work creating a weeklong, virtual Pediatric Melanoma Summit on September 21-25, 2020! We will host sessions from many of our original speakers and guests, including a Q&A session with pediatric melanoma experts, live and pre-recorded webinars, fun activities for the kids and more. We will also be selling 2020 Pediatric Melanoma Summit t-shirts starting August 17, 2020 with all proceeds supporting pediatric melanoma research. Shirts will be delivered in advance of the summit so everyone can show them off!
The Pediatric Melanoma Summit is held in September to commemorate Pediatric Melanoma Awareness Month, during which we share the latest pediatric melanoma news and research updates, inspiring survivor stories and more. We are currently looking for some of our courageous pediatric patients, caregivers, families and survivors to share their stories and experiences with melanoma during a Facebook Live event, pre-recorded session and/or a blog post. If you are interested in being a part of this, please email education@melanoma.org.
Stay tuned for more information regarding the weeklong virtual summit, the t-shirt fundraiser and more surprises we have in store! If you haven't done so yet, we ask that you register in advance for this weeklong event. We look forward to seeing our courageous pediatric melanoma families for an informative and exciting week of activities beginning on September 21. If you have any questions, please reach out to MRF Director of Education Shelby Moneer at smoneer@melanoma.org or Program Officer for Rare Melanoma Subtypes Lauren Johnston at ljohnston@melanoma.org.
Melanoma in the News
Below is a sample of recent melanoma and indoor tanning news.

"The Emerging Role of the Microbiome in Pediatric Oncology," Cleveland Clinic
"Research Could Lead to More Efficient Cellular Immunotherapies for Advanced Cancers," News-Medical
"Unusual Case Reveals How Some Tumors Resist Immunotherapy," Dana-Farber Cancer Institute
"What to Know About Sun Safety if You're Swimming Outside," U.S. Masters Swimming

"House Appropriations Committee Includes $20 million for Defense-funded Melanoma Research," Melanoma Research Foundation
"Novel PKC Inhibitor Trial to Expand Its Cohort of Patients with Solid Tumors," Targeted Oncology
"Nano-Radiomics Unveils Treatment Effect on Tumor Microenvironment," Nanowerk
"Who's At Risk for UV Damage," Reading Eagle
"Do You Need to Wear Sunscreen Inside? Experts Weigh In," NBC News
"House Appropriations Committee Approves Funding for Fiscal 2021 Labor, Health and Human Services Bill," Melanoma Research Foundation
"Second Systematic Review and Meta-Analysis Published Demonstrating DecisionDx-Melanoma as Independent Predictor of Recurrence, Distant Metastasis and Overall Survival in Cutaneous Melanoma," Odessa American
"Pencil Beam Proton Therapy: What to Know," MD Anderson Cancer Center
"Governor DeSantis of Florida Signs Sunscreen Bill," Melanoma Research Foundation
"Real-World Data Show Survival Benefit for Adjuvant Immunotherapy in Stage III Melanoma," The ASCO Post
"Research Finds Why Immunotherapy Fails Some Melanoma Patients," Brisbane Times
"Yes, Black People Can Get Skin Cancer — It Happened to Me at 22," InStyle

1420 K Street, NW 7th Floor Washington, DC 20005 | Tel: (800) 673-1290
Melanoma Research Foundation © 2021 All rights reserved.