25 Years of Progress and Hope

From the desk of MRF CEO Kyleigh LiPira:

As the MRF continues to celebrate its 25th anniversary we are continually reflecting on how far the melanoma community has come over the last quarter century. Twenty-five years ago there were no FDA-approved treatments for melanoma. Today, we have 16 with the promising news of two new potential treatments which have been accepted for priority review by the FDA with one being in uveal melanoma – a true breakthrough for this rare form of melanoma which currently has no FDA approvals. You can read more about this exciting news below.

We need to recognize how much progress has been made and the hope this provides patients and their families, but we know that we still have a long way to go in the fight with this disease. That's why I am so excited for our largest event of the year, the 20th Annual New York City Gala on Thursday, October 14! Emmy Award-winning host and producer Andy Cohen will serve as Gala Emcee as we celebrate two decades of progress and come together to raise life-saving funds in support of the more than 1.3 million Americans living with melanoma. We will also recognize and be inspired by all of those who have paved the way for this progress: the brave patients who have enrolled in clinical trials, advocates who have shared their stories with lawmakers to help increase awareness and funding for research and the many families who continue to honor the legacy of their loved ones. It will certainly be an unforgettable evening; I look forward to seeing you there.
Hope Changes Everything!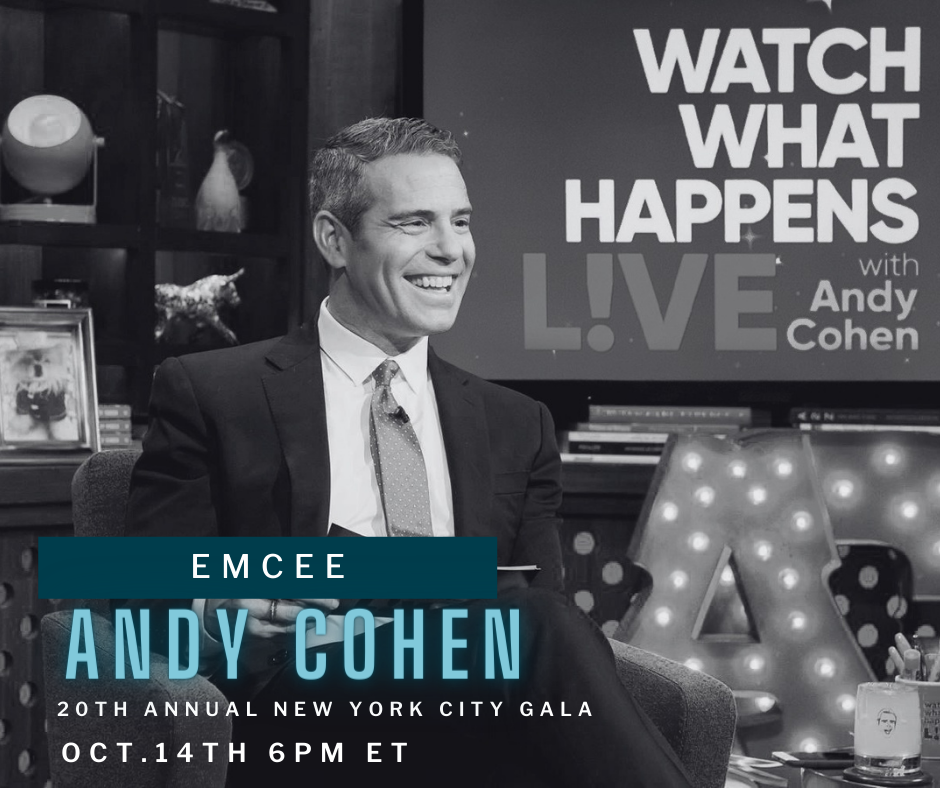 .
FDA Fast Tracks New Melanoma Treatments

The past decade has been an encouraging time in melanoma research, as new FDA-approved treatments gave more melanoma patients a reason for hope. However, these new treatments don't work for all patients, and for those facing rare subtypes like ocular melanoma there are still no FDA-approved treatments currently available. Two recent developments, however, indicate good news may be on the horizon. A recent study demonstrated that the combination of relatlimab plus nivolumab doubled progression-free survival when compared with nivolumab alone. This establishes a third immunotherapy checkpoint target in the clinic and the FDA has agreed to a priority review of this combination; therefore, melanoma patients should have a novel therapy within the next 6 months.

On September 23, historic research results were published in the New England Journal of Medicine: for the first time ever, a therapy called tebentafusp was shown to have an overall survival benefit in metastatic uveal melanoma. The novel immunotherapy, which was tested for use in patients with a specific antigen called HLA-A*02:01, will now be submitted for FDA approval as the first ever approved treatment for metastatic uveal melanoma. Additional research will continue to further improve the survival benefit and to determine how best to treat patients who are not HLA-A*02:01-positive.
New treatment advances give the melanoma community reason for hope, and your support could lead to the next research breakthrough. Please consider a tax-deductible gift to support continued progress in melanoma science.

25th Anniversary: What's Changed in Pediatric Melanoma? Pretty Much Everything.

As the MRF continues to celebrate its 25th Anniversary, each month we are highlighting members of our scientific community who have worked towards new breakthroughs in melanoma research and treatments. This month we shared a guest blog by Vernon K. Sondak, MD (Department of Cutaneous Oncology, Moffitt Cancer Center), Jane L. Messina, MD (Departments of Cutaneous Oncology and Anatomic Pathology, Moffitt Cancer Center) and Alberto S. Pappo, MD (Department of Oncology, St. Jude Children's Research Hospital). The informative blog shares how pediatric melanoma diagnosis has advanced in recent years, and how new molecular tests are helping physicians more effectively diagnose and treat melanoma in children and adolescents. Click below to read the new blog, and stay tuned for a follow-up article on pediatric melanoma treatment coming next month.

Medical Students: Apply for Research Funding

The Request for Proposals (RFP) for 2022 Medical Student Research Awards is now available! Applications will be accepted until November 15, 2021 at 5pm ET. The goal of these awards is to promote research opportunities to medical students early in their careers by funding clinical or laboratory-based research projects focused on better understanding the prevention, biology and treatment of melanoma, including its rare subtypes. The RFP is posted in the MRF Research Center, and questions about this or any other funding opportunities may be directed to research@melanoma.org.

New Animated Patient Videos

On September 21, the newest module in our "You and Melanoma" animated patient video series was added to the MRF Education Institute. Genetic Mutations and Melanoma discusses the different cellular changes that can occur in melanoma and how genetic testing can help determine the most effective treatment options. In addition to the animated overview of melanoma genetics, the module includes four additional videos from melanoma expert Laura Ferris, MD, PhD, Professor of Dermatology at the University of Pittsburgh. Click below to view this free patient education resource and learn more about melanoma genetics:
Pediatric Melanoma Awareness Month

September was Pediatric Melanoma Awareness Month and an important opportunity to highlight those fighting this rare subtype of melanoma that is diagnosed in only 400 children each year. Because it is rare and can differ in appearance from melanoma in adults, pediatric melanoma can be overlooked or misdiagnosed, making education and awareness all the more important. The MRF introduced new educational materials featuring campaign mascot Spot the Dog to teach parents and children how to "spot the difference" between normal freckles and those that may be cause for concern, as well as how to practice sun safety from a young age. We were also inspired by the courageous stories of 3-year-old Keasy and melanoma warrior Mille, who was diagnosed before her fifth birthday.

For an expert scientific perspective, in addition to the pediatric melanoma blog referenced in a previous section, Steering Committee member Elena Hawryluk, MD, PhD (Pediatric Dermatologist, Boston Children's Hospital) discussed the encouraging increase in sun safety practices and the joy of celebrating sunburn-free summers with her young patients.
Thank you to everyone who helped increase awareness about this rare melanoma subtype and the families it affects. We look forward to seeing many of you at the Pediatric Melanoma Summit on January 28-30 in Phoenix, AZ!

Welcome New York Gala Emcee Andy Cohen!

In addition to celebrating the MRF's 25th Anniversary in 2021, this year also marks the 20th Anniversary of the New York Gala, our largest and most anticipated event of the year. In celebration of two exciting milestones, the MRF is excited to announce that Emmy Award-winning host, producer and New York Times best-selling author Andy Cohen will be Emcee of the New York Gala on Thursday, October 14! As part of an unforgettable evening to celebrate melanoma patients, survivors and caregivers as well as the physicians and researchers pioneering life-saving treatment advances, Andy will share his personal connection to this community and the importance of melanoma awareness and early detection. Tickets and sponsorships opportunities are still available, but capacity is limited and this event will sell out soon. Don't miss your chance to be a part of an unforgettable evening to celebrate the melanoma community; click below to purchase your tickets before they are gone:

a
Thank You, Denver!

MRF Galas are back! The 10th Annual Denver Gala was held September 23 and as the first in-person gala since 2019, it was a long-awaited reunion for many in the Mile High City's melanoma community. During an inspiring evening to honor leading experts in the medical field and a decade of courageous melanoma patients and survivors, gala attendees raised more than $300,000 in support of life-saving melanoma research, education and advocacy! Photos from the event can be viewed on the MRF Facebook Page. It's not too late to show your support; click below to make a tax-deductible donation in support of the Denver melanoma community. Thank you to everyone who made our first gala of 2021 such a success!

Six Figures in September!

After a much-anticipated return to in-person run/walks in August, Miles for Melanoma raced through September with three exciting events in New England (September 11), New York City (September 18) and New Jersey (September 19). Together, these communities raised over $100,000 for melanoma research, education and advocacy!
Next up is a return to our nation's capital for Miles for Melanoma DC on October 9, followed by a Windy City welcome at Miles for Melanoma Chicago on October 23. There's still time to register for both events and we look forward to seeing you there!

Can't attend in person? Download the new Miles for Melanoma app to track your fastest times, view top teams on the leaderboard and more! Download the free app in the Apple App Store or Google Play.

The MRF thanks Miles for Melanoma National Sponsors Neutrogena, Coolibar, Novartis, Natera and Pfizer. For the full calendar of 2021 Miles for Melanoma events, click here:

MRF Offers Free Estate Planning Guide

Are you ready to plan your will or trust, or need language and resources to finalize your plans? The MRF offers a complimentary Estate Planning Guide that may help you to successfully plan your estate and avoid an accidental disinheritance. Our Estate Planning Guide allows you to easily record your family information and your estate distribution plans. To request a free copy of our guide, simply email the MRF's Chief Development Officer, Susan Vogel at svogel@melanoma.org and she can send you a digital copy or mail a personalized guide to your home.
To better connect with the needs of our donors, the MRF recently added a planned giving resource to its website, www.melanoma.org/legacy. The interactive pages enable us to immediately respond to inquiries, provide educational materials for gift planning, and assist the melanoma community with additional resources on topics such as retirement, taxes, social security and more. You can also subscribe to our free e-newsletter to stay current on topics of financial health.

1420 K Street, NW, 7th Floor, Washington, DC 20005 | Tel: (800) 673-1290