Gratitude and Giving

From the desk of MRF CEO Kyleigh LiPira:
As the end of 2021 approaches, the entire Melanoma Research Foundation (MRF) board and staff wish you and your family a healthy and peaceful holiday season. Whether you made a tax-deductible donation, attended a Miles for Melanoma 5K run/walk, Gala or a virtual education event, we are so grateful for your many contributions in support of the MRF's mission.

Together we accomplished:
Research: funded $1,063,000 in peer-reviewed research grants to help leading clinician-scientists advance their work in developing better treatment options for melanoma patients including ocular and mucosal melanoma.
Scientific Meetings: hosted five collaborative scientific meetings to advance key issues impacting the melanoma community such as brain metastases and non-invasive skin cancer detection.
Advocacy: advocated for $40 million in Department of Defense funded research for melanoma.
Education: distributed over 65,000 free educational materials to physician offices and community partners.
None of this would be possible without you! As we close the year on the Foundation's 25th anniversary, we look back to our beginnings with the HOPE of one young patient named Diana Ashby who did not have any FDA approved treatments for her advanced melanoma. Today we have 14 approved treatments with more anticipated in the coming weeks. Thank you for putting your trust in the MRF and helping us support the scientific and patient community to create better outcomes for all. We look forward to our continued work advocating for patients and their loved ones.

With gratitude,




.
Exciting Melanoma Research in the News

As the year draws to a close, it has been one of encouraging advances and new reasons for hope for those facing melanoma. Among the most exciting news is the anticipated FDA approval of tebentafusp for metastatic uveal melanoma, which would be the first FDA approved drug for this disease. The anticipated approval follows results of a phase 3 clinical trial showing improved overall survival for patients with first line metastatic uveal melanoma that were first presented at AACR in April, with additional data presented at ASCO in June.
In June, positive results for the phase 3 trial of Relatlimab (RELA) and Nivolumab (NIVO) in untreated advanced cutaneous melanoma were reported at ASCO. This marked the first positive phase 3 trial of a checkpoint inhibitor that targets the lymphocyte-activation gene 3 (LAG-3). This agent is now undergoing FDA priority review for the treatment of unresectable or metastatic melanoma.
During the inaugural ASCO Plenary Series in November, the results of the DREAMseq trial were presented by Dr. Michael Atkins, Co-Chair of the MRF Scientific Advisory Committee. The data provided overwhelming evidence that immunotherapy should be provided first followed by targeted therapy, if needed, for patients with advanced metastatic, BRAFV600 mutant melanoma. Additional information on the trial can be found through ASCO and ECOG-ACRIN.
Lastly, December started with a new FDA approval, the first for pembrolizumab as an adjuvant treatment for stage IIB and IIC melanoma patients over the age of 12. Phase 3 clinical trial data presented at ESMO showed significant improvement in recurrence-free survival for patients on the therapy. In addition, the long-term outcomes of patients with active melanoma brain metastases (MBM) treated with Ipi/Nivo were published in Lancet and supported the use of this combination in patients with asymptomatic MBM. Patients with symptomatic MBM may have some benefit; however, the long-term response rates are much lower. The need for more treatment options in this patient population underscores why meetings like the MRF Melanoma Brain Metastases Summits are so critical.
Learn more about our broad scientific agenda in the MRF Research Center:

Apply for 2022 Melanoma Research Funding!

In 2022, the MRF will offer Established Investigator Awards (EIA) and Career Development Awards (CDA) through the 2022 Request for Proposals (RFP), as well as Medical Student Awards, Mid-Career Bridge Grants, and a Young Investigator Team Award to advance the field of translational immuno-oncology, which are detailed in separate RFPs on the MRF Research Grants RFP page.
Application deadlines and eligibility requirements can be found at the link below:
25th Anniversary: A New Model in BRAF-induced Melanoma

In celebration of the MRF's 25th Anniversary, throughout the year we have highlighted leading members of the scientific community who have advanced new breakthroughs in melanoma research and treatments through the support of the MRF. This month we shared a guest blog post by Martin McMahon, PhD, Senior Director of Preclinical Research, Principal Investigator at Huntsman Cancer Institute. Dr. McMahon received the Diana Ashby Senior Investigator Award (in memory of Linda A. Transou) in January 2006 and currently serves on the MRF Scientific Advisory Committee. In a time when federal funders like the National Cancer Institute weren't willing to fund the early-stage, "high risk/high reward" research collaboration he proposed, a grant from the MRF made the work possible. This innovative research resulted in the development of a brand new model of BRAF-driven melanoma which has since been adopted in multiple labs in both the private and public sector. To learn more about the lasting impact of MRF-supported research, read Dr. McMahon's blog below.
Collaboration is Key in Advancing Science

Over the last few weeks, the MRF held two virtual scientific meetings. The first was a multi-disciplinary consensus conference on pigmented skin lesions held on November 30th, sponsored by DermTech. The goal was to build a consensus in the field on the most common and important clinical questions that might arise when seeing a patient, following a logical progression as a clinician evaluates a pigmented lesion. Discrepant areas discussed during the workshop were identified through an initial survey distributed ahead of time, and over 50 dermatologists, medical oncologists, and family practice physicians shared their perspectives on these topics during the meeting. A white paper summarizing the discussions is currently being drafted, and we look forward to sharing the findings.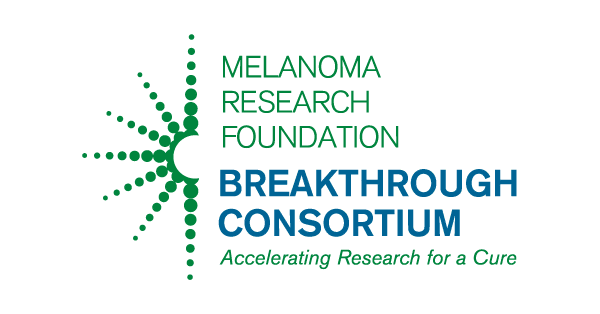 The second virtual workshop was the fall MRF Breakthrough Consortium (MRFBC) meeting. The MRFBC is a national network of 22 centers of excellence in melanoma that collaborate to accelerate melanoma research. Over 40 researchers convened on December 6th to discuss the development of clinical trials, novel PD1 resistance research and facilitating collaborations around translational questions involving clinical specimens. Learn more about the MRFBC here.

Register Today: Pediatric Melanoma Summit

The Pediatric Melanoma Summit is less than one month away! We are excited to welcome pediatric melanoma patients, siblings and parents at the Great Wolf Lodge in Phoenix, AZ on January 28-30, 2022 for a long-awaited reunion. Click here to learn more about the event including health and safety protocols at Great Wolf Lodge, how to make a hotel reservation and more. For any additional questions about the summit or the MRF's pediatric melanoma program, please email education@melanoma.org.

2022 Virtual Advocacy Days

Save the date: the 2022 Virtual Advocacy Days will be March 7-11, 2022! The MRF's Advocacy Days is the largest melanoma advocacy event of the year and unites melanoma advocates from across the country to meet with members of Congress to urge them to make melanoma a national priority. Due to the continued impact of the pandemic, the 2022 Advocacy Days will be entirely virtual, but we will still be a powerful voice on Capitol Hill! For questions about the event or the MRF's Advocacy program, please email advocacy@melanoma.org.
The MRF thanks 2022 Advocacy Days sponsors Bristol Myers Squibb and Pfizer.

Miles for Melanoma at the Finish Line

After a brief break for the holidays, the Miles for Melanoma season will conclude next month with the Miles for Melanoma Los Angeles 5k on January 22, 2022. Thank you to all of our friends in cities from coast to coast for helping make our return to in-person run/walks such a success, and we are looking forward to crossing the finish line together in LA!

Don't forget: you can now download the new Miles for Melanoma app to track your fastest times, view top teams on the leaderboard and more! Download the free app in the Apple App Store or Google Play.

The MRF thanks Miles for Melanoma National Sponsors Neutrogena, Coolibar, Novartis, Natera and Pfizer. Stay tuned for the 2022 calendar of events coming soon!

Shop and Support the MRF!

Love to shop for a cause? Join Farber Auctioneers & Appraisers, a global destination for individuals looking to sell or purchase fine jewelry, timepieces and collectibles, for a special auction on January 11, 2022, at 10:00am ET. Farber will donate a percentage of all auction purchases and sales arising from the Melanoma Research Foundation (MRF) in support of critical melanoma research. Register online using MRF in the company field or contact info@farberauctions.com or (215) 798-3203 and mention MRF when speaking to a Farber associate.
Peruse the online catalog here.


1420 K Street, NW, 7th Floor, Washington, DC 20005 | Tel: (800) 673-1290