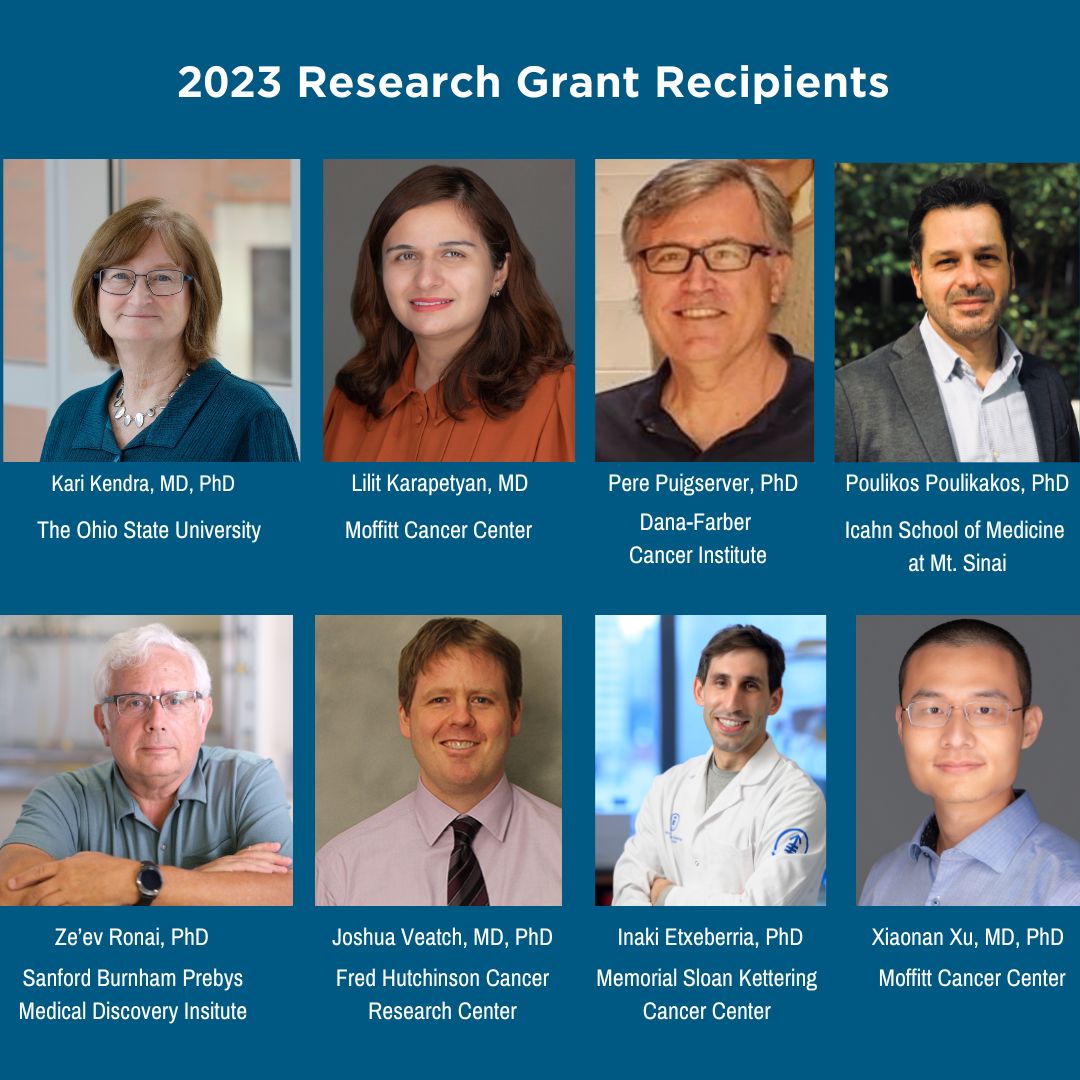 Congratulations to our Newest Grant Recipients!

From the desk of MRF CEO Kyleigh LiPira:
We are thrilled to announce that the Foundation will award $1.2 million in peer-reviewed research grants to help advance melanoma research and improve the treatment options available to melanoma patients and their loved ones. Eight Career Development and Established Investigator Awards will support innovative research focused on immunotherapy resistance, the treatment of melanoma brain metastases patients, understanding uveal melanoma metastasis and more. Three recipients received grants funded entirely by the generosity of donors including: Lilit Karapetyan, MD of Moffitt Cancer Center funded by the Silverstein Family Research Grant Challenge for Women in Science and matched by the 3rd Annual #GetNakedJax event; Joshua Veatch, MD, PhD of the Fred Hutchinson Cancer Center funded by the Cavan Family Foundation; and Kari Kendra, MD, PhD of the Ohio State University funded in honor of Cameron Reese Ward. To-date the MRF has funded over $24.4 million in research grants which has led to patents, new clinical trials and most importantly FDA approvals. To learn more about each research project, visit the funded research page.
In addition to funding innovative new research poised to benefit the melanoma community, we are excited to announce the launch of the MRF Mucosal Melanoma Translational Working Group. As we strive to make research advancements, identify new treatment options and support this rare melanoma community, we are hopeful that this Working Group will encourage collaboration amongst researchers and help pave the way for tremendous progress for the mucosal melanoma community. Interested researchers are encouraged to email research@melanoma.org for more information.
The MRF remains committed to supporting researchers at all stages of their scientific careers and advancing the most promising scientific pursuits to develop more effective treatments, improve patient outcomes and, one day, find a cure for melanoma. This work is only possible because of the incredible generosity of our community - thank you!
With gratitude,

.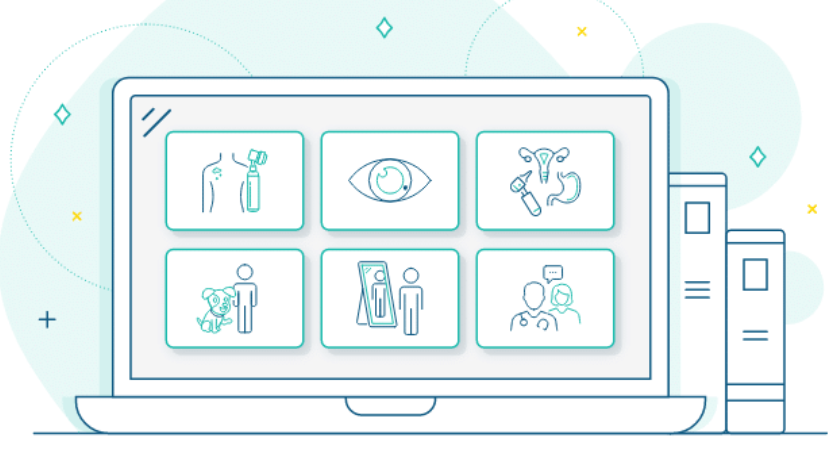 Educational Programs and Resources

Ask the Expert
We hosted two exciting Ask the Expert webinars in August and September. On Tuesday, August 29, we had an informative discussion on an emerging new tool that assists with monitoring melanoma featuring Dr. Alan Tan, Director of the Genitourinary Oncology Program & Co-Lead of the Precision Medicine Program at the Rush University Medical Center. More recently, on September 19, we held a special Ask the Expert: Hispanic Heritage Month edition where Dr. Correa-Selm, Associate Professor of the Department of Dermatology at Morsani School of Medicine in the University of Florida and melanoma survivor and advocate, Jose Gonzalez. If you were unable to join the live webinar, or want to revisit the presentation, the recording is now available on the MRF YouTube channel.
Thank you to Natera for sponsoring our August webinar and Eisai for sponsoring our September webinar.
Save the date for two upcoming webinars!
Tuesday, October 3 7-8pm ET
Newly Approved Liver Directed Treatment for Uveal Melanoma
Featuring Dr. Marlana Orloff from Thomas Jefferson University and Dr. Jonathan Zagar from Moffit Cancer Center. Register Today!
Tuesday, October 17 7-8pm ET
Current Treatments and the Future Research for Mucosal Melanoma
Featuring Dr. Carvajal and Dr. Shoushtari and patient Mary Harper - generously sponsored by Alkermes. Registration coming soon!
Pediatric Melanoma Awareness Month
During September, we honored pediatric and AYA melanoma communities through our pediatric melanoma awareness month campaign SPOT-ing The Difference. All month, we elevated awareness of pediatric melanoma through patient testimonials, provided sun safe resources including our SunAWARE Babyproofing pamphlet and SunAWARE Youth Prevention infographic to help protect your children and raised critcial funds towards pediatric melanoma research and advocacy.
Hispanic Heritage Month
Throughout Hispanic Heritage Month (September 15 - October 15) and beyond, the MRF is committed to amplifying Hispanic melanoma patient journeys and providing resources to help this community remain sun safe. All month, we continue to encourage everyone to protect their skin and receive an annual dermatological skin-check, no matter the skin type. Access helpful educational resources both in English and Spanish at www.ustedymelanoma.com.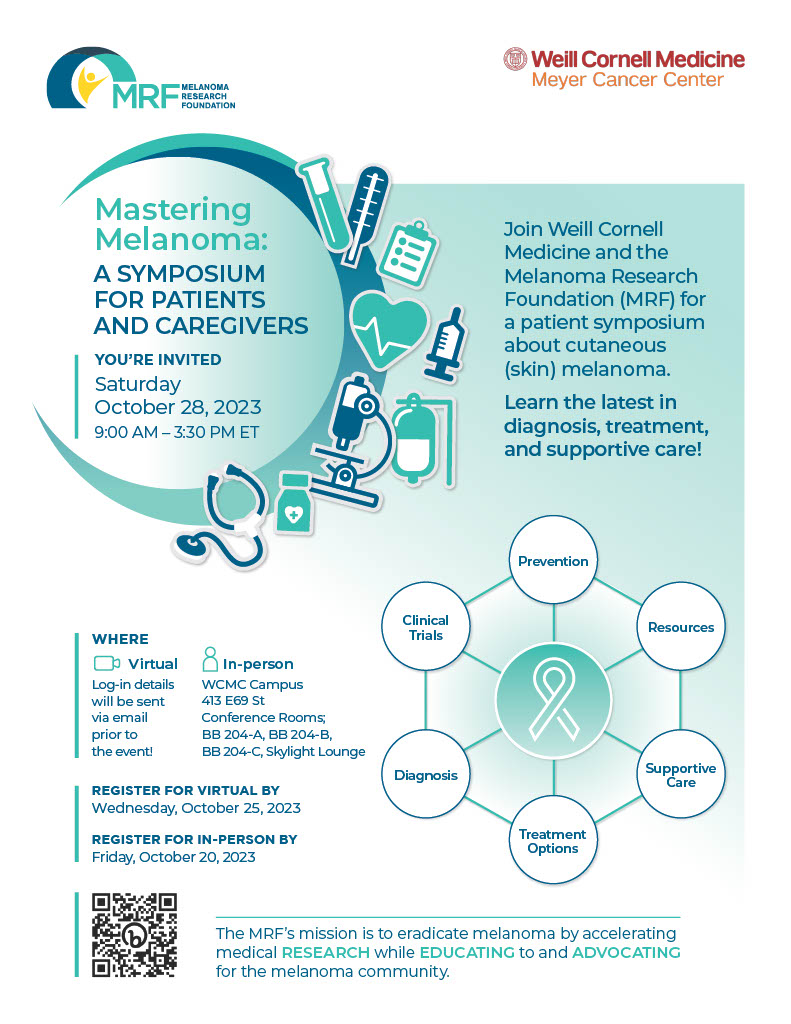 Patient & Caregiver Symposia Series
The next in-person and virtual cutaneous melanoma patient symposium will be hosted in partnership with Weill Cornell Medicine on Saturday, October 28. Additional information including a draft agenda is included here; mark your calendars today and plan to join us for an informative symposium in October. Recordings from our previous patient symposia series are available to view on the MRF YouTube page.
12th Annual Denver Gala Recap
On September 21, the melanoma community gathered in Denver, CO to celebrate its 12th Annual Gala. Around 300 people were able to hear the amazing stories of Crystal Crowley, Mary Harty-Prather and Keith Woolley. We presented each with Courage Awards as they shared their impactful patient journeys and highlighted the need for melanoma prevention and continued funding for research that will lead to a cure. Click here to watch the video shown at the Gala highlighting each of their stories. We were also thrilled to honor Zeina Dajani, MD, Denver Skin Doctors with the Excellence in Prevention Award, and Stacey Sepp, Survivor and Advocate with the Advocate Award.
Check out this video from MRF's National Prevention Partner, Neutrogena, featuring Neutrogena Ambassador, Jennifer Garner, as she welcomed our attendees to the Denver Gala.
If you are still interested in making a donation, click here.
UPCOMING: 22nd Annual New York Gala

We look forward to welcoming the melanoma community at the MRF's 22nd Annual New York Gala on Thursday, October 26. Attendees can enjoy cocktails, a splendid dinner, an exceptional auction and an awards program. Udai S. Kammula, MD, FACS will receive the Humanitarian Award in recognition of his significant contributions to melanoma research and treatment. Additionally, Samer Jaber, MD, will be honored with the Excellence in Prevention Award for his dedication to melanoma prevention and early detection. Teddi Mellencamp, this year's #GetNaked spokesperson, will receive a special Courage Award for bravely sharing her own melanoma journey and utilizing her platform to raise awareness. Chris White, a resilient survivor and advocate of mucosal melanoma, will also be presented with a Courage Award for his valor in facing melanoma and his tireless efforts to increase awareness of this rare melanoma subtype.
Limited tickets are still available, don't miss out on purchasing your ticket today! For further information about the New York Gala, to purchase tickets, learn about sponsorship opportunities or make a tax-deductible donation, please visit the event page here or email galas@melanoma.org.
Miles for Melanoma Races Ahead
During September, the Miles for Melanoma season maintained momentum with two events. On September 16 in Seattle, WA, and on September 17 in Morristown, NJ, our community gathered to honor and celebrate the melanoma community. These events collectively generated over $80,000 to support crucial melanoma research and education initiatives. Coming up in October, we have four back-to-back weekends including Los Angeles, CA (October 7), San Diego, CA (October 15), New York, NY (October 21) and Atlanta, GA (October 29). Registration is now open for San Francisco, CA (November 12) and Fort Myers, FL (December 9).
Thank you to our National Prevention Partner, Neutrogena and National Apparel Partner, Cabana Life, for your generous support of the Miles for Melanoma program.
Donor Highlight: Jason Sessions and the Upcoming #GetNakedJax Event
Back in 2012, Jason Sessions and his wife, Kim, had just finished their yearly exams with a local dermatologist. They decided they were tired of spending money on a doctor who looked at them for 30 seconds with zero regard for their health, so they decided they weren't going back. Fast forward two years, Kim was diagnosed with Basal Cell Melanoma and Jason had two spots of melanoma that needed immediate attention. Read Jason's full story in this special blog post ahead of their upcoming third annual #GetNakedJax event.
On Thursday, October 5, CommUNITY Fundraisers Jason and Kim Sessions will host the third annual #GetNakedJax event in Jacksonville, FL. Last year's event raised over $156,000! Each year we hope to see Jacksonville's most generous business and community leaders gather to invest in the research needed to cure melanoma. Tickets and sponsorship opportunities are currently available but selling fast; visit the event page here for more information and then grab your flip flops (and sunscreen!) and get ready to #GetNakedJax!
Planned Giving: IRA Charitable Rollover
Do you want to be a part of an extraordinary opportunity that will help sustain the Foundation's efforts to fund and advance critical melanaoma research and ultimately eradicate melanoma?
Through planned giving, you can have a lasting impact on the melanoma community by funding the future of melanoma research. By incorporating planned giving into your estate planning, you have the ability to make a profound difference in the lives of countless individuals affected by melanoma. Whether through a bequest in your will, a charitable trust, or other planned giving options, you can provide critical resources to support innovative research initiatives, patient support programs, educational outreach and advocacy efforts.
If you are 70½ or older, you may be interested in a way to lower the inome and taxes from your IRA withdrawals. An IRA charitable rollover is a way you can help continue our work and benefit this year.
I invite you to visit our campaign website here to learn more about the MRF planned giving options and explore a multitude of ways you can get involved. Every contribution, big or small, will bring us one step closer to a world without melanoma.
1420 K Street, NW 7th Floor Washington, DC 20005 | Tel: (800) 673-1290
Melanoma Research Foundation © 2023 All rights reserved.