Join us for Florida Virtual Miles for Melanoma!
The Melanoma Research Foundation would like to welcome you to the NEW 2021 Virtual Florida Miles for Melanoma event! After a short hiatus from the Sunshine State, the MRF is bringing the Miles for Melanoma program back in a virtual capacity this year. We are challenging the northern and southern parts of the state, specifically our friends in Tampa and Miami, to raise the most funds for the opportunity have an on-the-ground Miles for Melanoma event in your city in 2022!

This week-long virtual event, dedicated to the Florida community, will bring together current melanoma patients, survivors, care partners, supporters and healthcare heroes to fundraise and help continue the fight against melanoma. A virtual event will still raise essential funds to support melanoma research, engage the melanoma community and build awareness while ensuring all Miles for Melanoma supporters stay safe! This virtual week-long program will offer various fitness and team fundraising challenges throughout the week leading up to the Virtual 5k and Celebration Ceremony on June 19th. Check out the event week program HERE.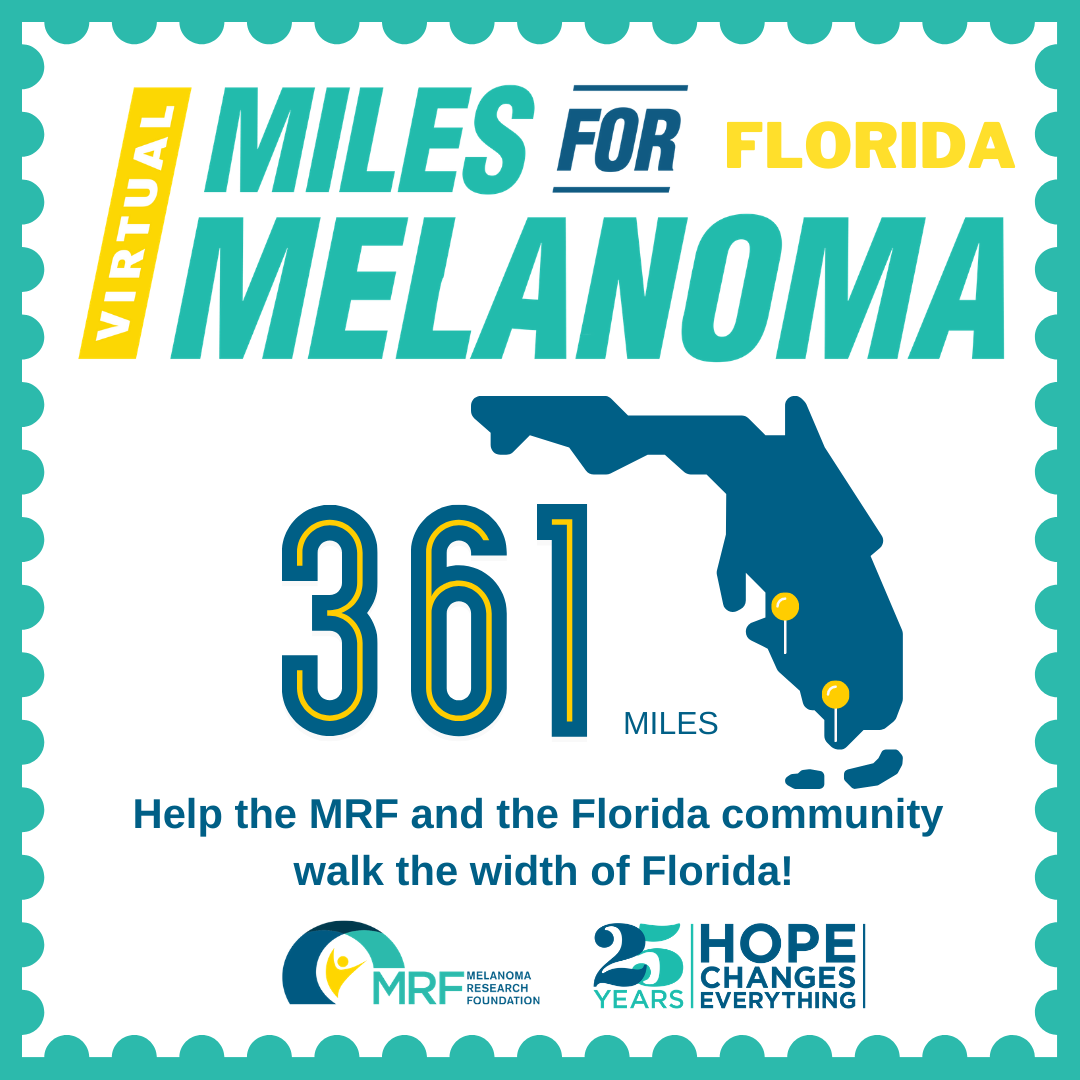 How to get started? Follow the steps below:
1. Register  for our VIRTUAL Florida Miles for Melanoma 5K! Sign up today and invite friends, family and colleagues to join your team. Virtual participation is FREE until April 19th with code FLMILES!
2. Fundraise. Tell people why you are supporting the MRF and melanoma community, then ask for their support. Make it personal to make it powerful.
3. Walk or Run with your 'I Walk For' banner wherever you are! You can download your banner here and send us your photos of you and your family from your local park or neighborhood, an iconic site in your area, your yard or even your living room! 
4. Tune in to our Florida Miles for Melanoma Virtual Celebration Ceremony on Saturday, June 19th at 10am ET!
5. Download our App. Make sure to use our NEW real-time app, available in app stores May 1st, to track your time track your time, view the leaderboard and much more all in one place.
Don't forget to submit your activity so we can track all of our miles throughout the week-long virtual event!


Submit your completed activity information HERE!
Click HERE to see all of the collective miles walked so far!